Tommy's Pub Has a New Home
The Plaza Midwood dive bar will reopen on Eastway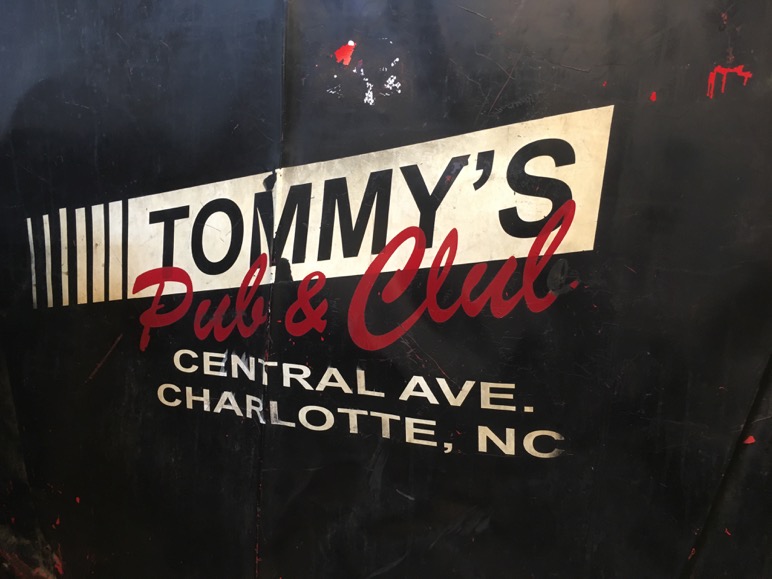 UPDATE: Tommy's Pub will open its new location on Saturday, Oct. 14, at 4 p.m. The spot will be cash-only for now.
Beloved Plaza Midwood dive bar Tommy's Pub has found a new home. It will reopen later this year on Eastway Drive near Central Avenue, in Eastway Shopping Center, the strip mall that houses the Atlantic Farmers Market.
Stepping into the space is eerily reminiscent of the old Tommy's. Just as the divided, old brick building the bar used to inhabit, this one too is narrow, holding a long, L-shaped bar with a few seats past the corner. The old refrigerator and coolers came over from the original space, as did the decorations and posters collected over decades. The black bar stools still have tears in the seats, where guests can sit and order a can or beer or mixed drink poured using two-liter bottles of soda. There aren't any draft lines, just beers and sodas, some still kept cold in the pistachio-green, 1970s refrigerator that Tommy, the restaurant's name sake, bought for $50 in 1986. It's now covered in stickers.
Jim McNally, who you could often find at Tommy's, sitting in his seat at the corner of the bar with his elbows on the surface, remembers helping Tommy carry that fridge. When Tommy passed away in 2001, Jim took over ownership of the bar. More than 15 years later, he's now passing ownership of Tommy's to Jamie Starks.
Regulars of Tommy's know Jamie as their favorite cap-wearing bartender, though his role went far beyond the bar. He's been looking for the bar's new home for about two years, when Jim learned Tommy's might have to close. Jamie signed a lease on the space on Eastway, which used to be a salon, on June 1. It looks like a new space, but Jamie says the artwork they brought over from the original space should be enough to cover all the walls. That leaves just one missing piece on recreating the old dive bar feel, and that can't be remedied until the bar opens, hopefully in early August.
"All the old decor will be back in here and back in place, but it's going to be all the customers that came here," Jamie says of how Tommy's will come back to life. "It wasn't all about decorations."
Many of the decorations were gifts from patrons, including a lot of NASCAR memorabilia. Several regulars at Tommy's are on NASCAR teams; you'll find car parts, such as tires and metal, and racing gear in the bar. The new space will have a shiny, lit up Tommy's Pub sign out front as required by the landlords, but the old shamrock sign will hang on the inside, marking the evolution of this favorite neighborhood hangout.
"Unfortunately, we're not going to be able to really lay the claim to saying,'Hey, we're a dive bar,' because we're in a new spot," Jamie says. "But you're going to see remnants and plenty of reminders of the old place. And we'll start a whole new thing here."