Town Tavern Is Now Sip Charlotte
Grand opening of the newly renovated Uptown bar is April 12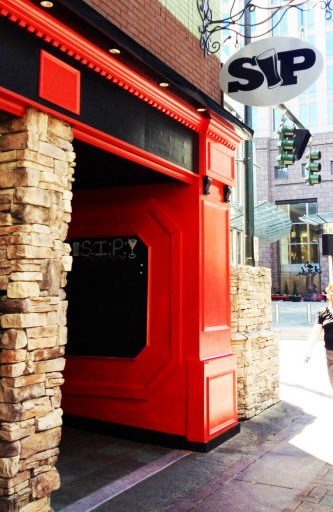 Over the last few weeks, the owners of Town Tavern have gradually been renovating the bar at the corner of North Tryon and East Fifth streets into a new concept. Now, they're getting ready to welcome you to the grand opening of Sip Charlotte on Friday, April 12.
I popped into Sip on Saturday night, during the bar's soft opening. If you'd ever visited Town Tavern, you'll immediately notice the changes. Town Tavern had become a place to frequent for cheap drinks, good DJs, and to watch football games during the NFL season. Sip will still feature DJs, on the main level and downstairs just as it predecessor had, but they're classying up the joint.
The walls surrounding the entrance are now bright red, and the main level has more of a sophisticated look. Gone are the numerous illuminated beer signs; replaced by a few wall mirrors. The bar counter and the area behind it have been completely transformed, now reminiscent of what you'd find at a trendy cocktail lounge.
Speaking of, cocktails are being positioned as the main attraction. The bar is named Sip Charlotte, after all. The new drink menu wasn't posted when I visited last night, but I asked one of the bartenders about it. It sounds like they're going to be creative, beyond the Jägerbomb you'd grown accustomed to drinking between these walls. Sip Charlotte's Facebook page describes it as: "We specialize in taking your classic cocktail up a notch by creating a unique blend of flavors that are certain to be your new favorite drink. Let our friendly and attentive staff pour you a frosty pint, mix up a fabulous martini, or suggest some of our signature beverages."

Credit: My Windows Phone
A DJ was playing on the main level while I was there. I wanted to check out downstairs, but it was roped off and the bartender said they were still putting the finishing touches on the renovation. When this spot was known as Town Tavern, downstairs, with its own bar and DJ booth, was basically a dance club on weekends. I think you can still look forward to getting your party on down there, but expect a more upscale look with the décor and furniture.
You can come try it all for yourself, during the grand opening party this Friday, 9 p.m.-2 a.m. You're encouraged to come by anytime this week and pick up a ticket for free admission to the party.
Going forward, the bar plans to host a weekly after-work event, Fridays, 5-8 p.m., featuring a complimentary appetizer buffet, drink specials, and live acoustic music.
Sip Charlotte, 200 N. Tryon St., 704-334-3315, sipcharlotte.com (website coming soon), facebook.com/sipcharlottenc, twitter.com/sipcharlotte. Hours: Mon.-Thu., 4 p.m.-2 a.m.; Fri. and Sat., 2 p.m.-2 a.m.; Sun., 8 p.m.-2 a.m.

Be sure to bookmark www.charlottemagazine.com/Blogs/Dusk-Till-Dawn to stay plugged into Charlotte nightlife. Follow me on Twitter @HollidayInk; email me at jarvish@grownpeopletalking.com.