Trade and Tryon, 2:45 p.m., Wednesday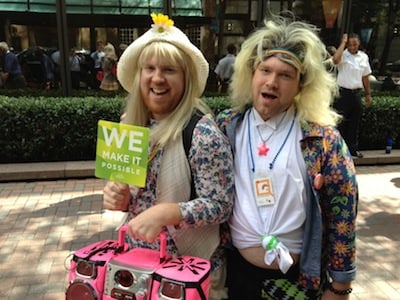 Yesterday afternoon, I had five minutes to kill before heading into a panel discussion featuring four mayors, including our own (more on that later). Turns out, you can see a hell of a lot in five minutes at Trade and Tryon during the DNC:
There were people everywhere, coming, going, standing, sitting, shouting. Cops were massed at every corner. There were seventeen on bicycles behind me. Lots of people stopped to take their picture, like they were some sort of tourist attraction. I asked one, who preferred not to give his name, whether or not that bothered him. "Not me. I served a couple tours overseas. Over there, cameras were everywhere. But it bothers some of the guys. I mean, they get right up in your face."
There were half a dozen street preachers with amplified loudspeakers. Mostly of the right-wing persuasion, although one or two appeared to be equal opportunity. Their voices all blended into a sort of carnivalesqe cacaphony. A Segway tour floated by. A caravan of FOX News suburbans went north on Tryon, with a videographer standing up through a sunroof. As part of the arts project Quasimodo, two local actors in drag performed a "random act of culture," then posed for pictures. Pedicabs navigated the madness. The streets were filled with black suburbans, windows tinted to the world, buses, and trucks bearing billboards.
I heard several different languages. Around their necks, everyone wore some sort of credentials–the official currency of the week. Overheard, helicopters, always circling. Young women wearing black polos adorned with the MSNBC logo filtered through the crowded sidewalks, handing out credentials to the show at EpiCentre.
There was a drummer. There was a woman in a white dress and a sign that read "Sodomites. Demoncrats. Canaanites." Vendors manned tables selling buttons. Everywhere, buttons.
A breeze came through, carrying with it the aroma of grilled food.