Tropical Trailblazer
An Elizabeth homeowner hasn't let Charlotte's climate stop him from creating a landscape filled with tropical showstoppers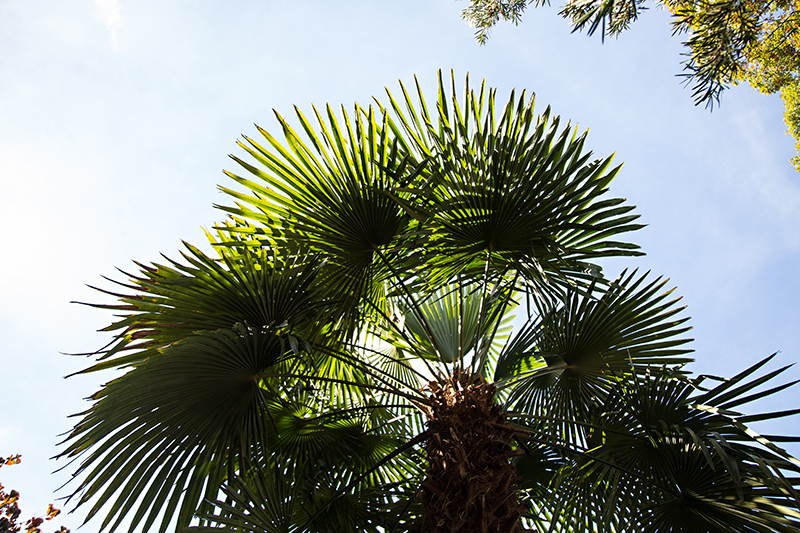 ASK JOHN DENTI where he lives, and he'll describe his home in the Elizabeth neighborhood as "the big brick house with the palm trees."
The tropical landscape he's created on his corner lot is a significant departure from the house's aesthetic when Denti purchased it in 1986.
Three decades ago, the brick house was abandoned. The windows were broken or boarded up, beams were sagging, and squatters had taken up residence in the living room. Cars often drove across the property, which was a tangle of weeds, debris, and tire tracks.
"One of the first things I did was put up a fence to keep traffic out of the front yard," Denti recalls.
To make the most of the small lot, Denti also built a brick wall at the back of the garden, blocking access to the original driveway. With plenty of street parking, Dentil opted to turn the expanse of gravel into a cozy spot for a fire pit.
Safe from the risk of cars mowing down his landscape, Denti started digging. It wasn't long before his shovel hit the foundation of a detached garage that had burned to the ground.
Undeterred, Denti added brick pavers to create a small patio and, thanks to the construction of a tiki bar made from bamboo harvested from the property, the site has become the most popular spot in the backyard.
A broken player piano destined for the landfill was reimagined as the backdrop of the tiki bar, and Denti accessorized the entire bar with just the right amount of kitsch, including a parrot wind chime and colorful leis hanging overhead.
Opposite the tiki bar, a set of metal patio furniture sits atop a floating deck, offering the best vantage point for watching movies on the outdoor screen. At night, twinkle lights illuminate the entire garden.
Denti calls the landscape, which has an eclectic collection of plants ranging from palm trees and orchids to knockout roses and wisteria—but not a single blade of grass—"a landscape architect's worst nightmare."
"This is not a formal garden," he says. "I just dig holes and put stuff in; there is no plan."
There might not be a plan, but there is a theme: Denti has a passion for tropical plants—and he refuses to let the not-so-tropical winters in Charlotte deter him from incorporating them into his landscape.
At one point, there were 103 palm trees in the yard. Denti has since culled the collection down to the hardiest varieties, which include multiple palmettos, needle palms, jelly palms, and blue Mediterranean fan palms. A windmill palm in the backyard, which has grown to a towering 16 feet tall, grew from a one-gallon pot purchased at a Walmart in Tampa.
The landscape is also dotted with tropical fruit trees, including banana plants and a grapefruit tree. The fruit on the grapefruit tree, a cross between a true Florida grapefruit and a North Carolina trifoliate orange, is too sour to eat, but, as Denti says, "It looks cool and it's fun to have a citrus tree in your backyard."
The front yard has a similar eclectic, tropical vibe. Flagstones wind through the massive beds, planted with everything from winter jasmine and Japanese climbing fern to lantana. Denti even designed a custom stone fountain to resemble the patterns on the trunks of his beloved palm trees.
The combination of tropical plants, tiki bar, and a pond replete with a waterfall and goldfish makes the yard feel more like the grounds of a resort than a home just steps from Central Avenue—which is exactly what Denti intended.
"This is unlike anything in Charlotte, where most of the yards have lots of lawn and a few bushes," he says. "I wanted to do something different."
Although Denti, who manages the greenhouse at the UNC Charlotte Botanical Garden, has a higher-than-average knowledge of plants, he isn't afraid to experiment with unfamiliar varieties. He even admits to not knowing the names of some of the plants in his garden. In contrast, several of the more unusual tropical varieties are marked with signs bearing their botanical and common names, as if the garden were open to the public—and sometimes it is.
Denti has participated in weekly home and garden tours and often finds himself acting as an accidental tour guide when he's out working in the garden.
"I can't be outside without someone stopping to ask questions, wanting to know about this plant or that plant," he says.
While he insists the garden doesn't take much effort to maintain, it has taken a lot of patience to watch his original plantings mature.
Most of the plantings in the garden started out as mere miniatures. The weeping cherry in the front corner of the garden—a tree Denti says stops traffic when its delicate pink flowers burst forth in spring—came from a seedling. Denti dug up a small wisteria vine growing wild near Independence Boulevard not long after he purchased the house.
"I couldn't believe I bought a Southern house without wisteria," he says. "So, I planted one and, 30 years later, it's still here."
With retirement looming, Denti, thinking about downsizing, is wistful about selling the house and leaving the garden he's nurtured for the better part of three decades.
"It's been a lot of fun to watch it grow," he says.