Troutman Chair Company Keeps Front-Porch Tradition Alive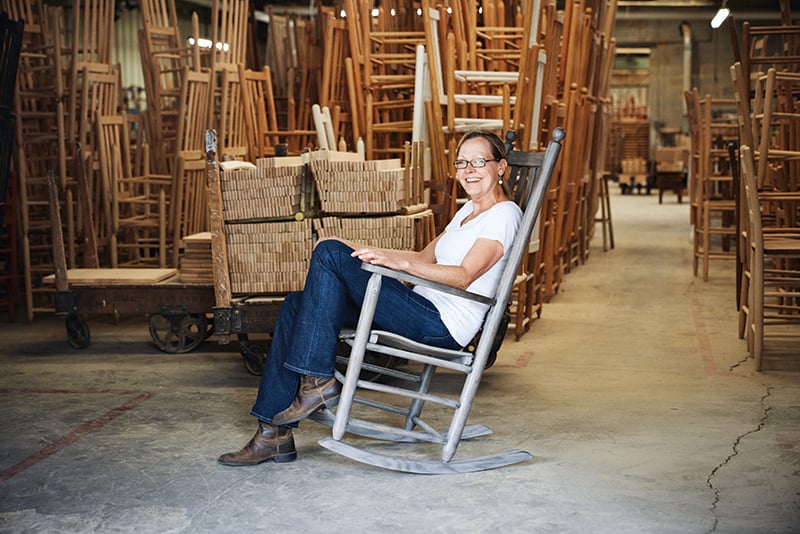 FURNITURE MANUFACTURING, once a leading industry and cultural mainstay in North Carolina, is becoming a lost craft. Since 1990, 60 percent of the state's furniture-making jobs have left for factories in Asia, drawn to their lower material and labor costs.
Considering how much has changed in the industry—and what's been lost in the transition—what's most remarkable about Jean and Champ Land and the nearly century-old company they own, Troutman Chair Company, is all the changes they haven't made.
"Part of the reason we're still here," says Jean, "is because we've stayed true to our niche."
True to their state, too. Nothing in the company's assembly process happens anywhere but North Carolina. Troutman Chair purchases oak from local loggers and mills the lumber on site. The pieces of wood for the slatted seat, ladder back, narrow arms, and runners are cut to dimensions so precise, they fit together without glue or screws. The rockers, which the company has made since 1924, are the product of the opposite of mass production. It takes 22 people about two weeks to make a single rocking chair—in a mill that sits on, yes, Rocker Lane.
The Lands went against the manufacturing current when they bought Troutman Chair two decades ago. In 1999, Champ, now 66, worked as a sales rep for a manufacturer in Columbia, South Carolina, when he learned Troutman Chair was for sale. An entrepreneur at heart, he convinced Jean, now 60, to move to the Lake Norman area and continue the company's tradition of making furniture in North Carolina.
Jean hesitated about taking over a family-run business that had prospered for generations. "You don't want to be the one who messes it up," she says. But she loved the idea of making furniture that transcended generations, from rocking babies to rocking into old age—and the fact that rocking chairs were so associated with Southern living.
"Back in the 1920s, people in the South spent a lot of time on their porches—it's where families gathered and neighbors came over to visit—and rocking chairs were the main furniture on porches," Jean says. "To this day, when people think about sitting on the porch, they think about rocking chairs."
The Lands have put their own stamp on the business. A Troutman chair, once shipped unfinished, now comes stained or painted in one of 20 colors that range from natural finish to black and cotton-candy pink. The Lands have introduced new pieces, including rocking chairs for children, stools, and farmhouse tables. But that's about the extent of their alterations.
"These are chairs you can keep forever (because) the style is understated," Jean says. "It works on the porch of a farmhouse or a craftsman (home) or a log cabin because the rocking chairs don't compete with the design. They just enhance it."
Troutman rockers line the atrium at Charlotte Douglas International Airport, the veranda at Duke Mansion, and the world's longest porch, the 660-foot stunner at the Grand Hotel on Mackinac Island, Michigan—all physical invitations to sit a spell with a glass of sweet tea. The care that Troutman Chair takes in making their rockers shows in their prices, which range from $199 to north of $500.
Then again, if big-box cheapness is what you're after, or are willing to settle for, you'll have no trouble finding vendors. The Lands and their company are happy to run against that grain. "We're not mass-producing commodities," Jean says. "We're building something that matters to people."