Try This At Home: How Restaurateur Bruce Moffett Is Navigating COVID-19
The shutdown forces him to pass dishes from his five-restaurant food empire from curb, window, and doorway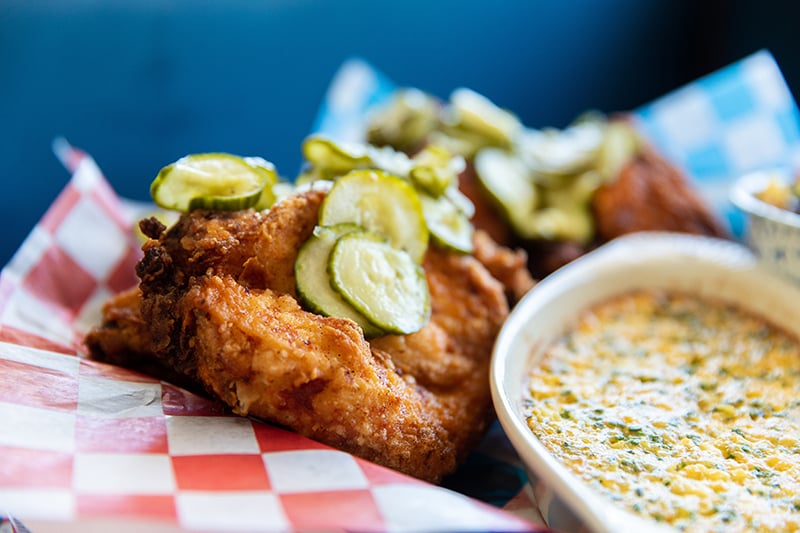 AT THE START of 2020, Bruce Moffett looked forward to celebrating the 20th anniversary of Barrington's, his first restaurant in Charlotte. "For the first time in several years, I wasn't hemorrhaging money on a new restaurant," he says with a laugh. Over the last two decades, he's added Stagioni, Good Food on Montford, NC Red, and Bao + Broth to his portfolio. Business was good. Then COVID-19 came to Charlotte, and Governor Roy Cooper ordered all restaurants and bars to halt dine-in service. In late March, Moffett had to lay off 50 of his 70 employees.
The longtime chef had to pivot—fast. Like many Charlotte restaurant owners, he had to switch to takeout and curbside pick-up. His remaining staff, all of whom agreed to a "massive" pay cut, rallied. They took phone orders, wore rubber gloves, packed meals in boxes, and used extra sanitary measures at every turn. "I made a decision to cut down on our menus and offer less prep-intensive items," Moffett says. "A lot of people are looking for comfort food right now, so we're adapting our menus to be more family-style. Barrington's chicken, which has been on the menu since it opened, is still a go-to item."
Diners who once came to Moffett's restaurants for the atmosphere and distinctive table experience now line up in their cars to grab their dinner to go. The Nashville hot chicken from NC Red is still hot, and the steamed buns from Good Food are still delectable. But a huge piece of the Moffett experience is lost in the age of COVID-19. A 24-ounce Narragansett will always taste better on a patio with friends gathered around a table covered in bowls of empty clam shells.
Moffett, whose flagship restaurant withstood dips in business after 9/11 and the 2008 financial crisis, says this one has hit him harder. "In this instance, the governor gets on TV and says you're no longer allowed to support the 70 people that work for you—that's tough," he says. "Is this it for independent restaurants? That's the scary part."
In 2015, Moffett took his staff to Aruba to celebrate the 15th year of Barrington's. He'd hoped to do something similar for the 20th. "A really nice 20th anniversary would just be getting back to working with my people," he says. "Seeing everyone gainfully employed, doing the stuff we know how to do—that's what I want."
As Charlotte continues to participate in "The Great American Takeout," Moffett hopes diners no longer take restaurants for granted. "We operate on small margins, and we're in it because we love it," he says. "We have a vital place in this community, and when this is over, I think restaurants will be the first place a lot of people go."
TAYLOR BOWLER is lifestyle editor of this magazine.