TV Anchor Morgan Fogarty's South Charlotte Home Reflects Artistic Side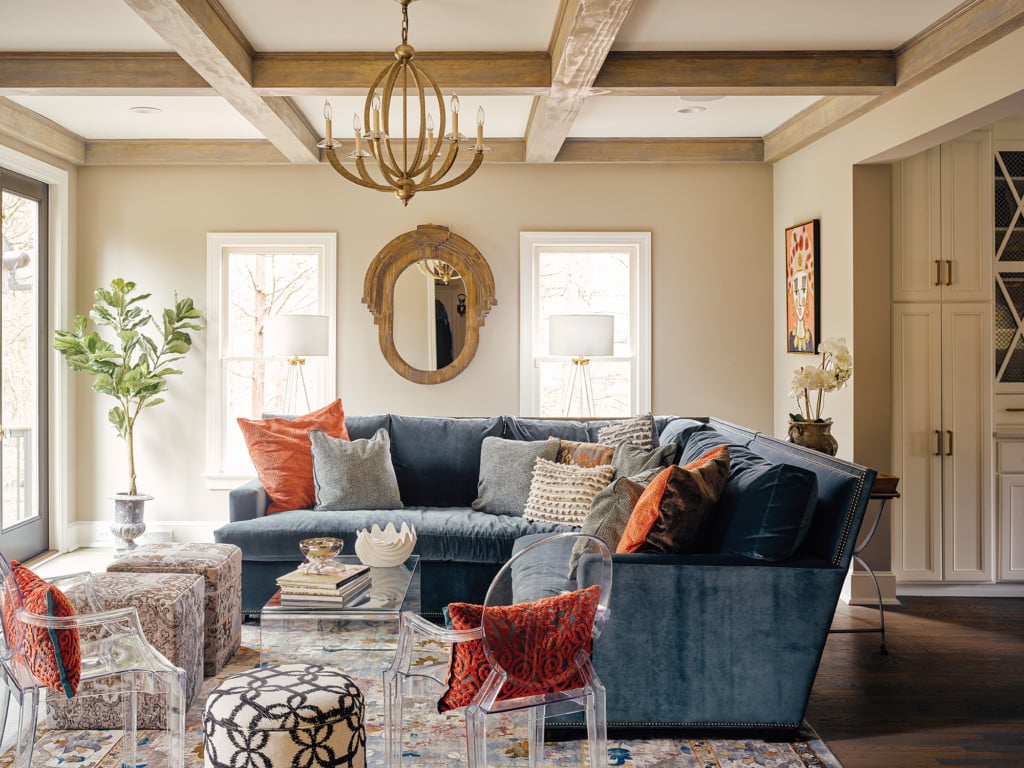 MORGAN FOGARTY, the WCCB anchor, opens the door of her south Charlotte home wearing boyfriend jeans, leopard-print slippers, and a black fleece jacket. "Can I get you some coffee?" she asks, as she ushers me into her beautiful foyer and dining room.
The focal point of the dining room is a round reclaimed wood table, which sits under a white beaded Regina Andrew chandelier. Taupe and cream wallpaper with a geometric design highlights one wall, and two Ro Sham Beaux sconces made of metal reeds with wrapped ends add whimsy to the space. The back plates of the sconces are made of mercury glass, which ties into a bar area in the family room. The day of our visit, a bench sits against a wall and is stacked with board games.
"My house is not a museum," Fogarty says. "I sometimes refer to my dining room as the LEGO room," she laughs. But with the help of interior designer Marcie Padgett, of Southern Style Designs, she now has designated storage spaces both upstairs and downstairs to keep clutter at bay.
Fogarty found Padgett on Facebook. The designer responded to Fogarty's post seeking help for creating custom bedroom curtains. "Then I decided to hire her for the rest of the house, because I really liked her style, her approach, and her demeanor," Fogarty says. Melton Interiors owner Steve Melton, who frequently collaborates with Padgett, oversaw the home's structural changes.
Fogarty's home was built in 1988, so she knew she'd want to make updates—but she resisted moving to a bigger place. "I love my home's deep backyard, my great neighbors, and the area's top schools, Fogarty says. "So I decided I just need to better utilize the space I have."
One of the first changes was to eliminate a wall that abuts the front staircase. "That eliminated a wall in the dining room, as well, so now most of the staircase stands alone," Padgett says. "That added much more light to the whole space."
The staircase handrail is painted a deep black, and a unique and colorful design element catches the eye: an ombre palette on the stair risers. Each riser is painted a different Sherwin-Williams custom shade of peacock, descending from a pale indigo at the top of the staircase to a deeper indigo at the bottom. The effect is subtle but striking, and is one of Fogarty's favorite features. "The stairs are a moment of artsy fun right when you walk in," she says, "and that speaks to my artsy side."
Fogarty's artsy side is also evident in the colorful paintings scattered throughout her home. She likes to frequent art galleries during her travels, and particularly enjoys abstract and landscape paintings from Paris, Charleston, New Orleans, and even Charlotte. A fanciful portrait of a woman's face, titled "Betsy," by Charlotte artist and doctor Michelle Rivera is a focal point in Fogarty's family room. Padgett mounted an abstract rectangular piece bought in Paris in Fogarty's office, unexpectedly placed between the door frame and the crown molding.
The kitchen décor continues the artsy vibe, but also boasts functionality and high-end finishes. For the remodel, walls were removed, a pass-through from the kitchen to a hallway was sealed off to allow room for a Sub-Zero refrigerator, and a cramped area that housed a double oven became a large walk-in pantry. Black-and-white bistro chairs from Serena and Lily flank the new, white-and-gray quartz center island, providing seating for four. Large beaded-wood pendant lights juxtapose the high-polished finishes and hardware throughout the rest of the kitchen, making it feel fresh and modern.
A Wolf range was installed in the bay window that formerly served as a breakfast nook. The middle window was sealed off to allow for a tile backsplash and range hood. The two adjacent windows, left intact, allow plenty of light and views of the side yard.
When picking new pieces for the family room, Padgett mixed several complementary styles. She paired a custom-made Wesley Allen turquoise velvet sectional with two square ottomans made from vintage Turkish rugs and a pair of acrylic three-legged lamps from Target. "I'm definitely a fan of mixing higher and lower end pieces to help stay within budget," Padgett says. Mixing metals is also a favorite of Padgett's. "We used both gold and silver fixtures," she says. "David Yurman has done it in jewelry for years, and we think it looks fresh for interiors."
The remodeled downstairs powder room echoes the colorful, modern feel of the home. The formerly dark bath now showcases a white porcelain shower and floor, complete with bold pink wallpaper and a silver pavé chandelier. Padgett says not to be afraid to commit to wallpaper: "If you change your mind later on, wallpaper is one of the easiest things to change."
Fogarty says she loves the fresh and fun but livable design, and she hasn't quite finished it yet. Both she and Padgett agree that negative wall space is important, so there is no rush to find a piece of art for every wall. "I like taking my time to fill my house with things that are meaningful to me," Fogarty says. "My story is not over."