UNCC Shooter Pleads Guilty, Sentenced To Life In Prison
Former student, 23, had planned April attack for months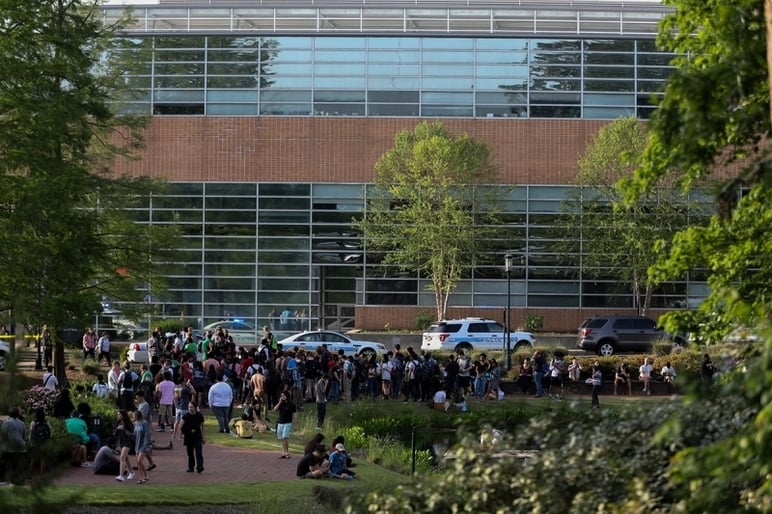 The legal end of the shooting at UNC Charlotte in April that left two students dead, four wounded, and a campus in shock concluded Thursday, when 23-year-old Trystan Andrew Terrell pleaded guilty in Superior Court to two counts of murder and other charges.
By pleading guilty, Terrell avoided the possibility of a death sentence, which prosecutors planned to pursue at trial. Instead, Judge Robert Bell sentenced him to two consecutive life sentences in prison without parole. Terrell pleaded guilty to two counts of first-degree murder, four counts of attempted first-degree murder, and discharging a firearm on educational property.
On April 30, Terrell burst into room 236 of the Kennedy Building, where students were giving anthropology presentations on the final day of classes, and opened fire with a handgun. Ellis Reed Parlier, 19, of Midland was shot several times and killed. Riley Howell, 21, of Waynesville rushed and tackled Terrell and was fatally shot in the process; campus police arrived shortly afterward, and Howell was hailed in the days that followed as a hero for his actions, which officials said saved multiple lives. Nonetheless, UNCC Chancellor Philip Dubois referred to April 30 as "the saddest day in UNC Charlotte's history." Terrell, a former student who had dropped out, had planned the mass shooting since August 2018 but told no one about his plans, authorities said; along with the handgun, police recovered an empty 17-round magazine and 17 fully loaded magazines.
"Today's sentence brings to justice the man responsible for taking the lives of Reed and Riley and for inflicting unspeakable harm upon their families, the surviving victims, and the entire UNC Charlotte community," District Attorney Spencer Merriweather said in an official statement. "No court proceeding can ever provide true closure to those who have suffered this kind of trauma. But the sentence handed down today does acknowledge the gravity and magnitude of the loss experienced by these families, by those on campus, and by people all across this county. It ensures the man who committed these horrible crimes will never harm anyone again."
Four others were injured but survived: Rami Alramadhan, 20, of Saihat, Saudi Arabia; Sean DeHart, 20, of Apex; Emily Houpt, 23, of Charlotte; and Drew Pescaro, 19, of Apex. Houpt was able to walk across the stage for her diploma 12 days after the shooting, and Pescaro has turned to activism, speaking before the N.C. General Assembly in August to urge action on a pair of gun-control bills.
"For anyone who was not inside of Kennedy 236 between the time of 5:30PM – 6:00PM on April 30 and wants to TELL ME HOW TO FEEL, keep it to your self," Pescaro tweeted before the plea Thursday. "You can't feel what I feel and don't try to tell me how to feel."