UNC Charlotte's New CIPHER Center May Help Unlock the Secrets of the Next Pandemic
By breaking through the barriers that separate researchers from each other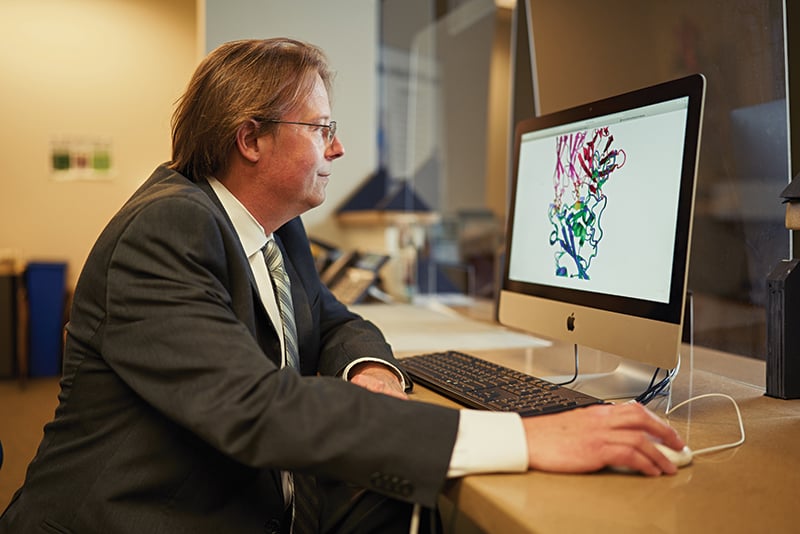 Finding your way to Dan Janies takes effort. I pass the student union, the education building, turn left, and descend what seems like a hundred stairs. Janies, a professor of bioinformatics and genomics at UNC Charlotte, has told me to meet him at the bronze eagle statue on campus, and I finally see it, wings spread above its plinth. Janies leads me deep into brick, L-shaped Woodward Hall, then down a long corridor to his fourth-floor office.
Funny how a built environment can mimic or even reinforce a cultural one. College campuses often feel like labyrinths, with mismatched buildings, endless hallways, doors, and walled-off labs and offices; UNCC is hardly the worst offender. Sometimes the barriers serve a purpose. In the sciences, they can inhibit the sharing of knowledge, which risks obstructing the science. This is not ideal during a pandemic.
Janies, 55, joined the UNCC faculty in 2012. Four years before, he'd led a research team at Ohio State that analyzed genetic data and confirmed that the SARS virus, COVID's older brother, originated in bats. Janies, a biologist by training, has developed an expertise in zoonotic diseases—those that start in animals and jump to humans (or vice versa). For several years, he's led the university's Bioinformatics Research Center, which analyzes molecules of DNA, RNA, and other genetic material for abnormalities or changes—a powerful tool for epidemiologists to trace viruses' origins and track them as they mutate. Janies advocated for a place on campus where specialists could collaborate in person.
He didn't get far until COVID demonstrated the need like nothing else could. In September 2020, the N.C. General Assembly awarded $9 million to the research center to support COVID research and testing, and the university began to convert 24,000 square feet on the fourth floor of the Bioinformatics Building—on the other side of the football stadium, about a 15-minute walk from Woodward Hall—into a realization of his vision: the Center for Computational Intelligence to Predict Health and Environmental Risks (CIPHER). As of early May, the university expected the $10.5 million project to be finished sometime in summer.
"If you work on just one thing—and we're often trained to be reductionist—you're not going to figure it all out, the animal piece and the microbial piece and the environmental piece," Janies tells me in his office. "So what we're trying to foster is team science, where we hire scientists who are open to collaborating and working in teams on projects. So we'll have a zoologist, a microbiologist, and maybe an environmentalist or behaviorist working on problems like the emergence of new viruses that can cause harm in the human population."
As we talk, Janies lets his scientist's stoicism drop a few times. "We shut up some naysayers," he says at one point, and he enthuses over the prospect of the work to come and "a co-director named Adam"—Adam Reitzel, a professor of biological sciences, who'll oversee the environments that biological samples are drawn from and the effects of environmental change; Janies will concentrate more on data analysis. The two have known each other for decades, having met at the University of Florida in the 1990s.
"Because we'll all be together, we can have these conversations in real time and under one roof. It facilitates faster action across what have been these traditionally siloed disciplines or approaches," Reitzel says. "It's also going to spur a bunch of new ideas and new ways to think about how we can do the science better."
In some ways, the university already has. UNCC used part of the $9 million from the state to pay for an interdisciplinary program, begun in August 2020, to test wastewater for the presence of SARS-CoV-2, the scientific name for the virus that causes COVID. ("COVID" is often used as a shorthand for the virus, but it's an abbreviation of the disease that the virus causes, in the same way that HIV causes AIDS.) The wastewater testing program was mentioned in an August 2020 New York Times article and was part of a program that won a national award for excellence and innovation in pandemic response a year later.
The altered approach reflects a turn in academia, at least in the sciences, toward research as a team effort. At times during his career, Janies says, he's been frustrated with some colleagues' general dismissal of animal disease research. But COVID painted the consequences of academic siloing in bright colors that were impossible to ignore. He and Reitzel hope CIPHER improves the odds of detecting the next plague.
"SARS-CoV-2 just exceeded, I think, everybody's worst nightmares—that something so transmissible and so deadly to certain groups of people could emerge. … Knock down your disciplinary boundaries, and don't call this an animal disease. It's now in humans," Janies says. "I think the mission orientation is going to be the biggest thing—and hiring people who come in understanding that they're part of that mission."
GREG LACOUR is the editor.