UndocuBus Coming to Democratic National Convention, Riot Gear on Order, Anniversary of Obama's Speech
Plus, The New York Times Publishes 'Unconventional Guide to Charlotte and Tampa'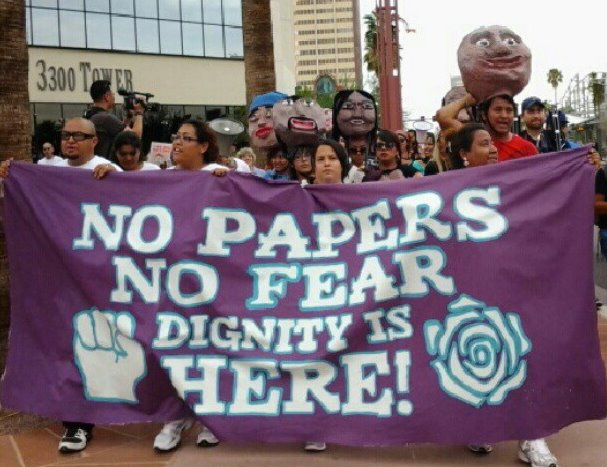 Some quick news items of interest in relation to the Democratic National Convention:
A group of undocumented immigrants are heading to Charlotte in time for the DNC. UndocuBus, also known as the "No Papers, No Fear Ride For Justice," is a multistate tour to protest what its organizers believe are unfair immigration policies and deportation procedures in this country. According to the organization's website: "The tour will begin on July 29 in Phoenix, Arizona, following a week of action calling for Sheriff Arpaio to be brought to justice and for the federal government to stop collaborating with Arizona's crisis. We will head through key states, including New Mexico, Colorado, Texas, Louisiana, Alabama, Georgia, and Tennessee. The tour will end in North Carolina at the Democratic National Convention where the party that promises reform but has thus far produced records deportations will decide whether to include or exclude the undocumented leaders who will have braved so much to get there." Visit nopapersnofear.org for more details.
This isn't necessarily related to the previous news item, but is a reflection of the security preparation efforts underway for such protests. According to the RT network, the Department of Homeland Security has ordered an abundance of riot gear equipment to prepare for the Republican National Convention, Democratic National Convention, and next year's presidential inauguration. The DHS, reportedly, on Wednesday ordered about 150 sets of riot helmets, thigh and groin protectors, hard-shell shin guards, and other riot gear.
Another guide to Charlotte has been published by a national media outlet in relation to the Democratic National Convention. This time it's The New York Times with "An Unconventional Guide to Charlotte and Tampa." The Times offers "suggestions for working and relaxing in either city, all drawn from locals who include an immigration lawyer, a real estate agent, a tour guide and a hair stylist, among others: a group known for dispensing wisdom to newcomers long after the newcomers' interest in that wisdom has surpassed its sell-by date." Remember, this is an unconventional guide, with such Charlotte tips as Best Place to Soothe Your Throat Run Ragged From Patriotic Fervor (Whisky River at EpiCentre and Blue Bar on Central Avenue) and Best Diner in Which to Find Your Real American Story (Dish in Plaza Midwood and The Landmark Diner on Central Avenue). Read the guide here.
Yesterday marked the eight-year anniversary of then-State Senator Barack Obama's famous 2004 Democratic National Convention speech. ABC News' Jake Tapper asked White House Press Secretary Jay Carney "what would that state senator think about the campaign being run right now by this president?" Click here to read (and watch) their exchange.