Unique gift ideas your bridesmaids will love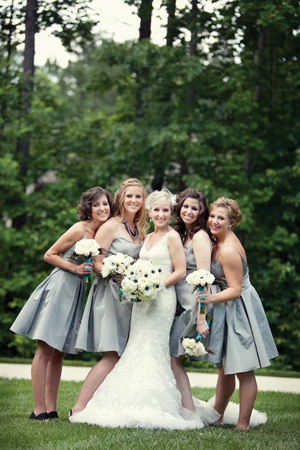 We've taken inventory of some of the freshest ideas around that are sure to have your girls beaming with joy. You've got the perfect girls, so don't skimp on finding them the perfect gift.
1. Write it down
They may be a little overdone, but I'm a big fan of monograms when it comes to a classic way to add a personal touch. Paper is timeless, elegant and a gift that never goes out of style and your bridesmaids will surely love the thoughtful touch of having their name or monogram on their own stationary set. Pair it with a leather journal, planner and Kate Spade pen set.
Where to buy:
Paper Source
6800 Phillips Place Court
2. Relax and unwind
There will be times leading up to your wedding where you'll be tired, stressed and overwhelmed – that much is a given, even for the best of us who keep Bridezilla at bay. But your girls can experience the same stress you do in having dresses altered, nails done, dates lined up and making sure they're looking after you. Treat them to a day of pampering at one of the Queen City's fantastic salons and personalize it by pairing with a pajama set or sleep mask.
Where to buy:
Spa at Ballantyne
10000 Ballantyne Commons Parkway
Oasis Day Spa
2036 East 7th Street
Urbana Wellness
7510 Pineville-Matthews Road
3. Pack your bags
Tote bags are a tried and true gift that everyone loves. They're useful not only the day of the wedding for keeping up with makeup, hairspray and cell phones but they make for great beach bags or travel bags for years to come. Make the gift extra special by stocking it with goodies your girls are sure to love—Paddywax candles, a pair of Sidekicks foldable ballet flats for their tired soles after a night of dancing, and a monogramed tumbler.
Where to buy:
Mudpie Monograms & Gifts
9848-D Rea Road
4. A-tisket, a-tasket
I love using Pottery Barn baskets for storage and decoration around the house. They're both beautiful and practical and can be used as the base of a great gift. Stock up on several of these for your 'maids and fill them with everything they'll need to unwind after your big day—bubble bath, a bottle of champagne, a cozy throw, and monogramed boxers (a nice alternative to the traditional robe).
Where to buy:
Pottery Barn
4400 Sharon Road

5. All dolled up
If you want your bridesmaids to look picture perfect for your wedding day but feel guilty asking them to dish out another dollar (we know those dresses weren't cheap…) treat your ladies to manis and pedis a few days before the wedding and cover the costs of getting their hair done for the big day. They'll love getting made up and saving some cash. Make sure they have a little something to take with them though, so stuff a few goodie bags with nail polish, a sleep mask, and a pair of stud earrings.
Where to buy:
Varji & Varji
720 Governor Morrison Street