Updating Tradition
Caroline Brackett designs a cozy, beautiful home for a family of five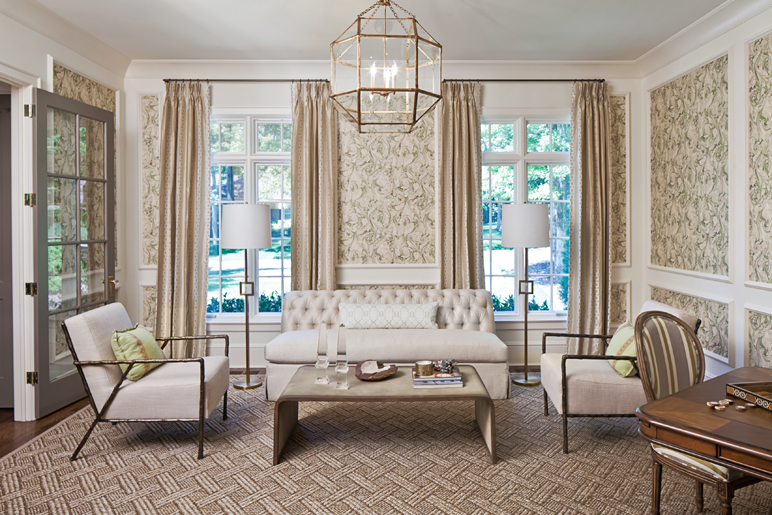 When Caroline Brackett first met her clients, Nady and Mary Hamid, they were under contract for a home in Cotswold. Then a family of four with a baby on the way, the couple moved their family to Charlotte after both spending years in residency at various hospitals. They wanted a home that would accommodate their growing family and that would also work well for entertaining.
But the Cotswold home was not what Brackett had envisioned for the family. So when they got the call that the contract had fallen through and their real estate agent had found them another home, this time in Foxcroft, Brackett was optimistic. "Seeing this house felt so right and so much better," the designer explains. "It felt like a house they could be in for a long time."
The Georgian home features a traditional layout, with living and dining rooms as well as a foyer and staircase at the front. A den and kitchen are off the back of the home; bedrooms are all on the second floor. This layout is what drew the family to the home, as they planned to use each room on the main floor for entertaining—the living and dining rooms for drinks, music, and board games, and a kitchen large enough to accommodate an overflow of people without feeling cramped. "We loved the inviting layout with so many windows for natural light," says Mary.
Having moved from city to city for years, the couple had very little in terms of furniture and décor—Brackett got to start fresh. Since the budget wouldn't need to accommodate renovations, she could focus her efforts on installing a traditional-meets-modern aesthetic throughout the 6,000-square-foot home. "They're traditional, but they definitely have an edge," says Brackett of her clients. "They wanted color and clean lines—a fresh and young feeling."
To accomplish this coupling of old and new, the designer established a neutral base from which she layered splashes of color and patterns in accessories, draperies, and flooring.
"That's usually my way of designing," explains Brackett, "keeping the upholstery and flooring neutral and adding color in accessories and lamps." When her clients would allow her, Brackett pushed the envelope a bit by adding wallpaper, such as the paneled walls in the living room, covered in a Lewis & Wood green marble wallpaper. "It did take some convincing to do the wallpaper," says Brackett, "but we didn't want to take down the paneling, so we wanted to do something so it wasn't just a white room." Using the wallpaper as the color inspiration, the designer kept the rest of the room neutral with a textured sisal rug, off-white upholstery on the armless Hickory Chair sofa, and Anna French window coverings with a touch of green. An antique reproduction of a Lillian August lief secretary and occasional chairs by the game table keep the room grounded in tradition while the sleek lines of the metal armchairs by Bernhardt adjacent to the sofa provided a modern edge to the space.
The family room is less traditional, pulling together transitional elements with modern touches to create a cozy yet sophisticated room. Traditional finishes such as the thick crown molding, coffered ceilings, and the metal chandelier mesh well with the clean lines of the chaise by Hickory Chair swathed in a Jim Thompson fabric, a Bernhardt sofa—also in a Jim Thompson fabric—and a neutral rug by Stark. The modern elements come in the color, which Brackett introduced in the cocktail ottoman with a bold-blue indoor/outdoor vinyl by Perennials to keep it kid-friendly and the artwork above the fireplace by Trip Park—not to mention the layering of an animal-print rug.
"They wanted it to be fresh and light with some color and excitement to it," says Brackett. "They definitely like color but not an overuse of it." Plans for window treatments were tossed when the homeowners and Brackett discovered the wealth of natural light in the space.
In the kitchen, white cabinetry coupled with white subway-tile backsplash and granite countertops is offset with lighting by Regina Andrew and counter stools by Sunpan covered in a kid-friendly indoor/outdoor Perennials fabric. The dining room's includes Norbar silk window treatments with Robert Allen trim, a chandelier by Visual Comfort, and an antique reproduction dining table by Hickory Life. To add a modern edge to the otherwise traditional décor, Brackett added a mirrored sideboard by Bernhardt, armchairs covered in a chic Theo velvet, and lamps by Simon Pearce.
Though the home is not overwhelmingly colorful, Brackett infused color throughout—and the Hamids delighted. "We love everything and could not be happier," Mary says. "It definitely feels like home."