Valentine's Day Decadence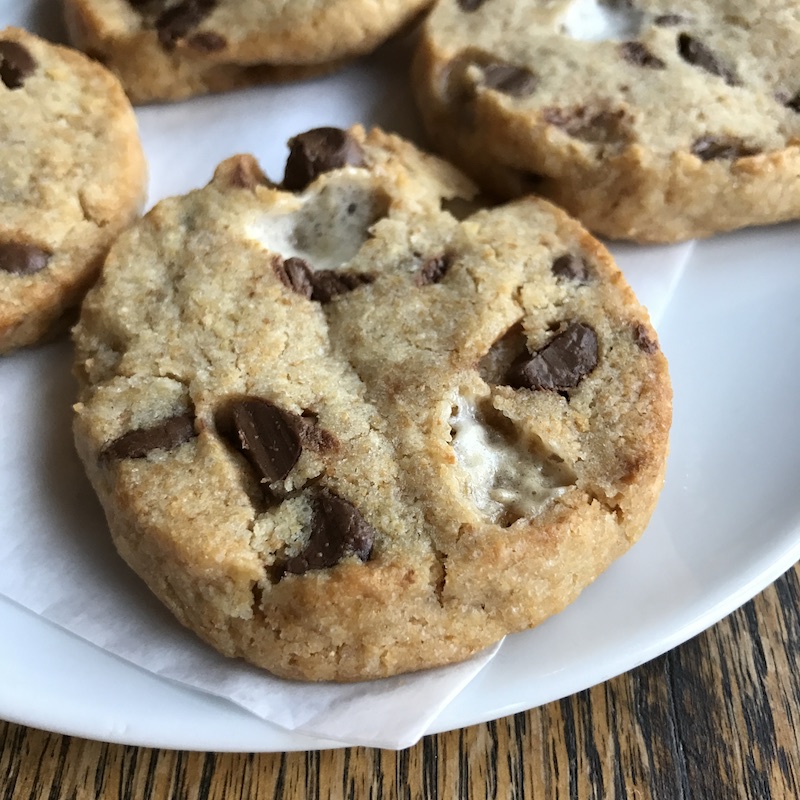 Besides the holidays, it's hard to think of a better occasion for which a bit of gustatory indulgence should be encouraged than Valentine's Day. Even if you're not a big fan of Cupid's big moment, it's at least a good excuse to order that gooey chocolate number that you've been longing for while being good in the new year.
Here's a list of decadent desserts around town that will make you weak in the knees, today or any other day. (I'd throw a cheese plate from Dilworth Tasting Room or Corkbuzz on here if I thought any of you would let me get away with it.)
8 MINUTE COOKIES // LITTLESPOON
I've met the occasional crunchy cookie lover here and there, but I think most of us agree that the soft, chewy cookie that just came out of the oven is hard to beat. LittleSpoon gives their cookies exactly eight minutes to reach that magical moment when they can just barely be called "done." A mixture of marshmallows, milk chocolate chips, and graham cracker crumbs conspire to make these cookies a comfort-food craving for kids and grown-ups alike.
CHOCOLATE BROWNIE // GOOD FOOD ON MONTFORD
Biscoff ice cream and Biscoff spread make a good brownie one that you'll talk about for days after. You may have encountered the spiced Biscoff cookie, also known as speculoos, on a recent flight. They taste like the holidays; maybe that's what makes it hard to resist scraping every last bite of this dessert from the plate.
ZEPPOLE // STAGIONI
Stagioni serves these fluffy pillows of fried dough and powdered sugar in a simple brown bag, so they stay warm right up to the moment that you're ready to dip them into the accompanying salted caramel sauce. You might end up ordering two bags for the table. I've seen it happen.
THE DONUT // STOKE
This donut weighs a full pound but you wouldn't know it, the way it melts in your mouth. It arrives at your table resting on a large cutting board, dusted with sugar, filled with diplomat cream, and topped with crushed Heath bar. Best enjoyed with others.
BETTIE LOU'S COCA-COLA CAKE // SAVOR CAFE
This ultra-dark chocolate cake may be the richest one in Charlotte and, as the name suggests, it has some Coca-Cola in the mix. Instead of a tall cake made with many layers, it is a single layer covered by an intensely chocolate ganache.
BREAD PUDDING WITH WHISKEY SAUCE // FENWICK'S
Chef-owner Catherine Rabb got the recipe for this traditional New Orleans-style bread pudding from her mother-in-law. The golden whiskey sauce that surrounds the pudding is made all the richer by the use of egg yolks, and the pudding itself is a soft custard that tastes like caramel cream.
PARIS-BREST // AIX EN PROVENCE
The shape of this classic French dessert is said to resemble a bicycle wheel. It was created by a chef in 1910 to commemorate a race that runs from Paris to the city of Brest and back again. Traditionally, the round pastry is sliced and filled with a praline cream; here at Aix en Provence, the delicate filling is made with hazelnuts and coffee. If you have to have chocolate, consider the soufflé instead. Or get both.
SEASONAL SELECTIONS // 300 EAST, BLOCK & GRINDER, THE FIG TREE RESTAURANT
This list would be incomplete without including desserts made by Pastry Chefs Ashley Bivens-Boyd of 300 East and Heritage, Josselyn Perlmutter of Block and Grinder and Sweet Affairs, and Samantha Ward of The Fig Tree Restaurant. While each has at least one dessert for which they've become known, they're better known for the creativity they bring to each season and the beautiful compositions of their special dessert plates. If you like a little surprise with your romance, give one of their latest creations a try this Valentine's Day.