Vegan Panzanella
The classic salad gets a vegan twist from Nourish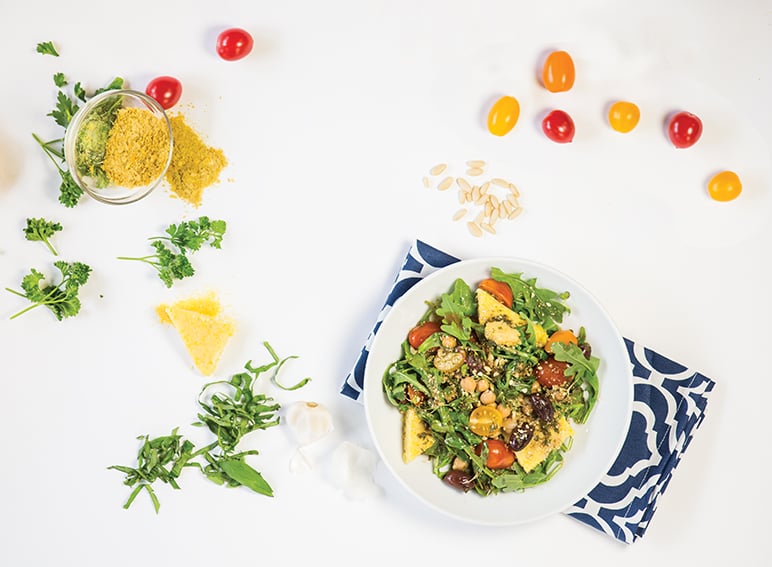 Two things make this classic Tuscan summer salad great: chunks of dressing-soaked stale bread and fresh tomatoes. But Julia Simon, co-owner, executive chef, and kitchen manager of organic, vegan delivery service Nourish, gives it a vegan twist that's even more delicious, using cubes of polenta in place of bread. "Panzanella is kind of a fun mess," says Simon. "It's basically this bowl with these beautiful crusty bread cubes … polenta does the same thing." Best of all, the salad is easily customizable—just toss in the veggies that are currently in season. "Anything you get from the farmers market and grill would be amazing in this salad," says Simon. "Grilled eggplant or zucchini—perfect."
Tip: Simon's recipe for roasted garlic: Steep a head of garlic in vegetable broth in the oven for 40 minutes at 400 degrees—she uses a steel muffin tray covered with aluminum foil. Refrigerate roasted garlic immediately and toss it after two or three days.
Tip: To chiffonade the basil, Simon stacks the leaves, rolls them into a cigar shape, and thinly slices them with a ceramic blade to avoid bruising the herb.
Tip: Vegetarians have been eating nutritional yeast for decades," says Simon. "It's deactivated bread yeast. You can get it at any health food store. It's really delicious on popcorn."
Tip: For this recipe, a firm polenta is a must. "Chill the polenta while you finish the rest of the salad," says Simon. "You want a very stiff texture. If you shake it in the fridge and it's like pudding, it's not done yet." When it's ready, fold it into the salad gently.
Panzanella with Pignoli-Sesame Seed "Parmesan"
From Nourish
Serves 4-6
For polenta:
2 cups water
1 clove garlic, minced
½ teaspoon sea salt
1 tablespoon nutritional yeast
½ cup organic, medium to coarse-ground corn polenta
For salad:
For the salad:
¼ cup cup golden balsamic or white wine vinegar
1 clove garlic, minced
2 cloves roasted garlic
3 tablespoons lemon juice
1 teaspoon oregano, dry
1 tablespoon parsley, fresh, whole leaf
1 ½ teaspoon salt
Pinch black pepper
¼ cup good quality extra-virgin olive oil
2 cups Sungold cherry tomatoes, halved
1 cup Cannellini beans, drained and rinsed; Simon prefers organic, canned beans
¼ cup Kalamata olives, pitted, drained
3 cups spinach, whole leaf, washed and spun
1 cup arugula, whole leaf, washed and spun
10 large leaves basil, chiffonade
Pignoli-Sesame Seed "Parmesan"
Yields approximately 1-1/2 cups "cheese"
¾ cup pine nuts, toasted
¾ cup sesame seeds, white
¼ cup nutritional yeast
1 teaspoon sea salt
½ teaspoon granulated garlic
In a food processor fitted with an S-blade, pulse all ingredients until a crumbly, Parmesan-like texture is reached. Do not run the motor continuously—it'll turn to paste.
To make the polenta: Bring the first four ingredients to a simmer in a small saucepan, and then turn heat to low. While whisking, pour polenta into the pot in a stream and cook, whisking continuously, 10-12 minutes or until just firm. Pour out onto a baking sheet and smooth with a spatula. Chill in the refrigerator until firm.
For the salad: In a blender, combine vinegar, regular and roasted garlic, lemon juice, oregano, parsley, salt, and pepper, and process until smooth. Drizzle in the olive oil while the motor is running. Set dressing aside.
In a large bowl, combine tomatoes, beans, olives, spinach, arugula, basil, and dressing. Toss. Chop chilled polenta into bite-sized pieces and add to bowl. Fold polenta into the salad gently with a rubber spatula. Top generously with pine nut "Parmesan" and serve.