Vera Wang for David's Bridal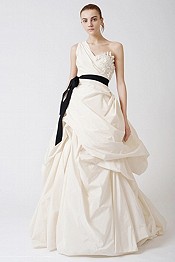 "You do not alter a Vera to fit you, you alter yourself to fit Vera." —Bride Wars
The fashion world is abuzz today and with good reason! Vera Wang, who has designed spectacular and dreamy bridal gowns for the likes of Jennifer Lopez (wedding number three), Ivanka Trump, and Jennifer Garner, is bringing her couture designs to the masses.
According to Women's Wear Daily, Wang has partnered with ultimate mass bridal boutique, David's Bridal, to bring her cult-like coveted bridal designs to the many admirers who may not be able to afford her high-end collections (some of her gowns can cost upwards of $12,000). As excited as we are, unfortunately, we'll have to wait for the debut of the twenty-dress collection until Spring 2011. The collection—currently untitled—will range in prices from $600 to $1,500 with most dresses under $1,200.
What's even more fantastic? The entire collection will be available up to size 30.
So what do you think about Vera Wang's partnership with David's Bridal? Is it a good or a bad thing for the Vera Wang brand?