Visiting Ashe County
How do they make the famous cheese of the High Country? Come see for yourself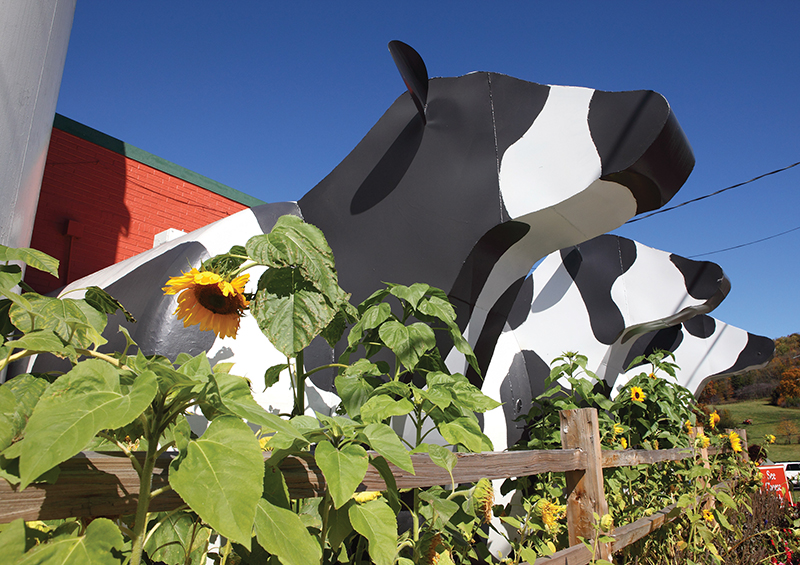 THEY DON'T listen. They don't move. They don't make a sound. But the three cows standing on Main Street are some of West Jefferson's best marketers.
They are actually metal tanks disguised as larger-than-life Holsteins. Local artist Stephen Willingham worked with the welding class at Ashe County High School to give the cows heads, ears, and black-and-white paint. They mark the entrance to the Ashe County Cheese plant, which has been operating since 1930. The cheese produced here shows up in specialty shops and gourmet retailers throughout North Carolina and in surrounding states. Whenever people taste it, they often pursue a pilgrimage to its source. Some tie in the stop with leaf-peeping journeys or trips to cut their own Christmas trees; others come here solely for Ashe County Cheese.
On cheese-making days, tourists walk around the cows to the viewing room, where a glass window, smudged with curious fingerprints, overlooks the operation. As dainty as cheese has become—served alongside glasses of wine and elegantly presented on small-plate menus—the production process is a mess.
Milk arrives on tanker trucks. It is unloaded, pasteurized, and streamed into vats that hold 20,000 pounds. It coagulates. The curd and whey separate. The cream is saved for butter. The curd is washed and drained. Salt goes in. Big metal fingers whir and stir. Workers in blue gloves, hairnets, and galoshes dip out 22 pounds of curd, check the weight, and pile it into round forms called daisies. After pressing, drying, and waxing, the cheese is packaged. (Some products are aged first; one version of cheddar, in fact, is aged five years.) That process happens nearly every day, often enough to produce about 40,000 pounds of cheese a week.
In the viewing room, a couple of older men anxiously watch, waiting for the dipping. A few kids peek in and beg for samples.
The sampling happens across the street. The Ashe County Cheese Store sells mild cheddar, aged cheddar, cheese with spices, cheese with herbs. It also stocks jams, jellies, trail mix, fudge, wine, frozen Moravian chicken pies, and T-shirts.
On busy days, customers swarm inside. The sampling counter has three glass domes and toothpick dispensers. Sharp cheddar and smoked cheddar are tasty, but cheese curds offer an unexpected bite. When teeth hit curd, it makes a squeak. The texture is rubbery. The taste is cheesy. And the experience is purely Ashe County.