Warm Up This Fall With a Backyard Fire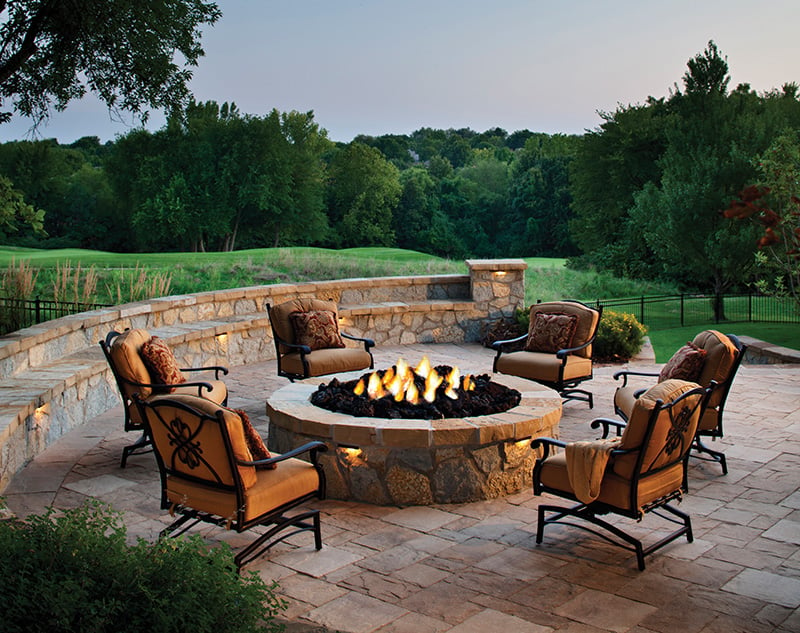 ON CHILLY October nights, there's no place I'd rather be than outside, glass of wine in hand, the smoke from a hot fire drifting up to the dark autumn sky. Backyard fire pits, fire tables, and fireplaces are increasingly popular—and increasingly easy to customize to suit your home. We turned to Christy Ratchford and Barb Luzum of Charlotte's Blue Max Materials (the company is merging with Georgia-based SiteOne Landscape Supply this fall) to sort through the options before striking a match of our own.
Safety First
Luzum says it's important to check your yard for hazards, such as lowhanging tree limbs and areas of dry pine needles. Local ordinances vary, but as a general rule, outdoor fires should be at least 10 feet from any structure, including overhangs. "A lot of people want to put it right near a covered porch, and that's a big no-no," she says.
Campfire or Fireplace?
Decide how rustic or extravagant you'd like your bonfire to be. "It could be as simple as putting a ring of little boulders in your backyard, almost like a campfire setting," Ratchford says. For a more finished look, Blue Max sells simple fire pit kits, with pre-cut stone pavers, for $600-$800. Custom-built stone fireplaces and sleek, gas-burning fire tables can run several thousand dollars.
Where There's Smoke …
Consider whether billowing smoke is something you and your guests will enjoy. "Some people are very sensitive to smoke, and some people love the smell of wood smoke," Luzum says. If you're burning real logs, be ready to hunt for firewood delivery services—or sharpen your ax.
Natural Stone or Pavers?
Flagstone or other raw stone can be dressed up or down, creating modern or rustic looks. Ratchford recommends stone blocks not only for DIYers, but also for people hoping to complement existing retaining walls or landscape features.
Don't Forget the Extras
Outdoor fire pits and fireplaces are for more than aesthetics. Last year, for example, Ratchford put a metal grate over her fire pit and roasted oysters for friends. Others can accommodate skewers for s'more roasting. And don't overlook seating options. Luzum says customers are choosing to build simple stone walls around fire pits: "It's so much easier than dragging out a bunch of chairs."