'We Don't Want to Lose Our Waiters': Inside the Creation of Charlotte's Comprehensive Plan
This year, the city will present to the public a proposed plan—the first like it in Charlotte since the 1970s—to solve our runaway city's biggest and most complicated problem: Land is getting too expensive for many people to afford to live on it. Will the plan be enough, or will it require even more radical measures to work?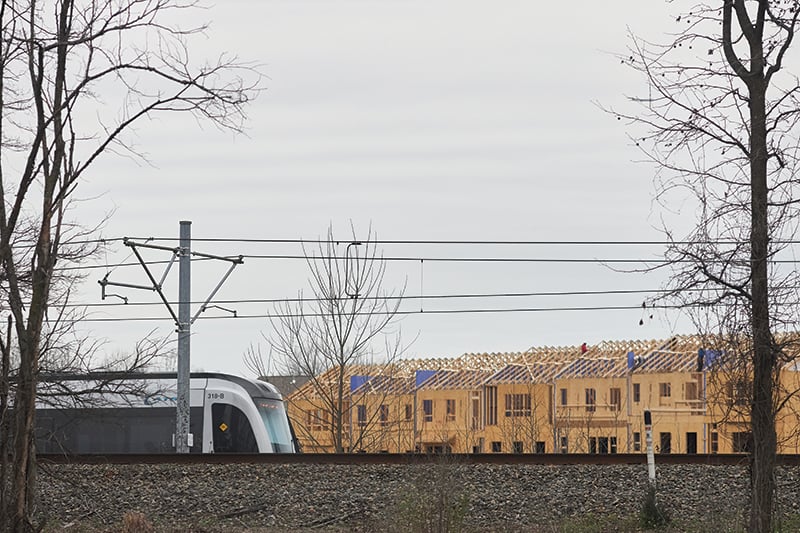 THE BUILDING A CHARLOTTE FOR ALL SUMMIT draws 250 people across age, ethnicity, and economic class, a remarkable feat on a rainy Saturday morning in January.
The summit is part of an ongoing series of events, hosted by Charlotte Center City Partners and the city, about Charlotte's dominant problem: economic and population growth intense enough to force poor and working-class people to live miles outside the city where they work. The slender, soft-spoken man who takes the stage in the auditorium at UNC Charlotte Center City frames the issue humbly.
"We don't want to lose our waiters," Taiwo Jaiyeoba says. "We don't want to lose the people who don't have as much money in our city."
The ability of "the people who don't have as much money" to live in Charlotte is determined mainly by the soaring value of the land they live on, whether they own or rent homes on it. Jaiyeoba, 51, has been the city's planning director for a little less than two years, and he's in charge of developing a plan to counteract the real estate market's surge toward escape velocity. He expects this year to unveil a draft of a comprehensive city plan—the first of its kind in Charlotte in 45 years—that reflects the desire of a population as varied as this audience for all Charlotteans, not just the rich, to be able to live affordably in the city. "We live in different geographies," Jaiyeoba says in the lyrical cadence of his native Nigeria, "but at the end of the day, we are all Charlotteans."
Another man in the auditorium this morning drove roads far more familiar to Charlotteans to get here. Peter Kelly is 62, white-haired and bespectacled, with an accent that echoes his Massachusetts origins and a fixation on numbers that reflects a career in the most Charlottean of professions—banking. He's a member of the city's Planning Commission and, in retirement, has founded a nonprofit called Equitable Communities CLT, which marries his career skills and his newfound passion for persuading his adopted city to find room for everyone. Equitable Communities' slogan: "History. Data. Action."
Kelly has a talk to deliver this morning at UNCC Center City, and its cumbersome title, "Why Charlotte Needs an Affordable Housing and Economic Equity COMMUNITY PLAN," does not exactly sing. But an odd thing happens: He's supposed to make his presentation in a ninth-floor classroom, and so many attendees ascend to the ninth floor that it quickly becomes clear he's going to need a bigger space. Back down the throng rides to the 300-seat auditorium, where Kelly, in a nasal and dispassionate voice, presents a series of slides with hard numbers and an equally blunt message: Whatever Charlotte may be doing to achieve "equitable development"—a catchphrase uttered often during the summit—it's nowhere near enough.
***
IN THE PAST FEW YEARS, the city has more than tripled the size of its Housing Trust Fund and trumpeted its commitment to developing and preserving affordable units, often in partnership with businesses and nonprofits. But don't kid yourselves, Kelly says in the auditorium. "The real math is that we're losing units much faster than we're building them," he says. "We built the Blue Line. But the Blue Line isn't serving the people who need the Blue Line. It's serving the people who don't need the Blue Line. We have to be honest about what we're doing. We're not building a city for the waiter."
His slides outline stark realities: From 2014 to 2017, according to his data, four times as many affordable homes were demolished as were built. The $39 million invested by the city and Foundation For The Carolinas for housing in 2019 will create 778 affordable units—and during their estimated construction time of two years, Charlotte will lose roughly 4,000 such units. From 2006 to 2017, the median rent in Charlotte increased 16 percent, while the median household income is only now creeping back to pre-recession levels. Any effective program, Kelly says, has to tackle issues of income, not just the number of available units. "We can't build our way out of this crisis," he says.
Jaiyeoba and his team's plan is a critical document, maybe the critical document, in the effort to keep the waiters here, Kelly tells me when we meet a few days later over coffee. But it fulfills only a fraction of what's needed. It has to have teeth, and the teeth have to be made of money. For the plan to accomplish its goal—to establish a framework for city policy that can prevent Charlotte from becoming the near-exclusive domain of the rich—the city has to find a way to pay for it, he says, probably by reserving a portion of the increasing property tax revenue from appreciated land to subsidize affordable housing along with job training, education, and minority business ventures. Without that, he argues, this plan will collect dust like the others.
"I think the plan, the way it's going—nothing against Taiwo—is going to hurt the community," Kelly tells me. "Unless you change the focus to preserving communities, the plan is going to be about density and market value, and that equals displacement and dissolution of neighborhoods."
I mention an analogy coined by a friend and colleague: that planning Charlotte's growth in 2020 is like trying to throw a saddle on a horse in mid-gallop. "The current approach is worse than that, because it's not even throwing a saddle on it," Kelly replies. "We're clearing the pass so the horse can run faster."
People like Jacqueline Lopez get left in the dust. Born to Dominican immigrants and raised in Corona, Queens, Lopez moved from New Jersey to Charlotte in 2017 with her husband, Carlos, and two children, now 11 and 9. She was tired of the cost and aggravation of living in the New York City area—Bergen County is just across the Hudson River from the city—and thought she'd be able to buy land around Charlotte, maybe even start a business. A cousin of hers had moved down around 2010 and said the cost of living was manageable.
An agent from Allen Tate began showing her and Carlos around. They'd rented a two-story house in Bergen County for $1,700 a month, and they were looking for something similar for $1,000, maybe $1,100. As the agent drove them to available properties, Lopez's heart sank. Anything close to that price was in an area where she didn't want to live, and anywhere she thought she'd want to live cost as much as or more than what they'd paid in New Jersey. I might as well be back there, she thought. In August 2017, she and Carlos settled for a two-bedroom apartment for $840 per month at Arrowood Villas, a 120-unit complex near Nations Ford and East Arrowood roads that accepts Section 8 housing vouchers.
They're still there. "We don't really go out walking the neighborhood," Lopez tells me. She home-schools her children while Carlos does manual labor for a printing company. Her dream is to move to the country, maybe Lincoln or Union County, where they could buy land and start a farm with the help of a U.S. Department of Agriculture Rural Development loan. Even then, "We would have to commute," she says. "We kind of went backwards moving to Charlotte, you know?"
***
CITY COMPREHENSIVE PLANS typically look 20 years ahead. Charlotte's last one was published in 1975. Jaiyeoba keeps a copy, and he pulls it from a shelf as we talk in his office on the eighth floor of the Government Center. It's obviously a product of the '70s—with a garish orange cover and broad, sans-serif fonts, nothing computer-generated in sight.
Why's it been so long? Starting in the early '90s, city planners developed "Small Area Plans" for particular parts of Charlotte, such as the Wesley Heights SAP, adopted in 1999, and the SouthEnd Vision Plan, adopted in 2018. The idea was to enhance neighborhoods by enlisting neighborhood leaders to help envision their future in detail. The city created 57 of them. But they weren't complemented by a citywide vision—and Jaiyeoba believes the focus on SAPs contributed to the isolation of individual neighborhoods that in turn evolved into places where poor and working-class people couldn't afford to live. "We just started—I don't want to use the word, but it's really the only word I can use—balkanizing different areas," he says. "And what you find is that different areas have different ideas as to how they want to grow."
During a series of public meetings, planners tried to solicit opinions from as broad a mix of ethnicities, ages, and income levels as they could—even developing a comprehensive plan-themed board game called "Growing Better Places" that more than 1,800 people played in person or online in July and August 2019. The feedback revealed broad support for four things: investment in an additional high-traffic corridor; investment in bicycle paths and sidewalks to give people more transportation options; more goods and services in neighborhoods; and more high-density housing to reduce displacement.
All, one way or another, reflect a desire to help people across economic classes live in and travel to, from, and within the city. It'll be up to the City Council, to which Jaiyeoba plans to submit a draft of the comprehensive plan in September, to create policies to meet that desire after they adopt the plan. That vote is expected in spring 2021, and a follow-up vote on a rewrite of land use regulations based on the plan is expected in fall 2021. "It's going to have to be a heavy lift," Jaiyeoba says, "because there will be trade-offs." One of those will likely be a massive further expansion of the Housing Trust Fund; voters in 2018 approved $50 million in bonds for the trust fund every two years, up from $15 million.
I ask Jaiyeoba how much bigger the fund would have to be to meet the need, about 30,000 units and counting. He laughs mirthlessly. "That would be huge," he says. "How willing is the community going to be? From $50 million to where? There's only so many times we can go to the well."
Clearly, Kelly tells me, as he told the eager group at UNCC Center City, something has to give. The notion that building apartment complexes in densely populated areas, like those near light rail stations, will help keep rents affordable presumes that something or someone can or will cap rents—and, to this point, no one is. That means local governments and other institutions must set aside money so the poor and working-class—the waiters—can afford to live here. Otherwise, "We'll quickly turn this into a city where nobody can live who makes below $50,000," Kelly says. "I mean, we're just going to push people away."
I ask him if there's an example of what Charlotte could become if we push people away. Without hesitation: "Atlanta," he says. "That's exactly what it's going to be."
Greg Lacour is the senior editor for this magazine.