Wedding dance lessons: boom or bust?
Brides, you're in for a treat. We have special guest blogger Alex Zsoldos, owner of First Dance Charlotte, with us to discuss the ins and outs of planning your first dance.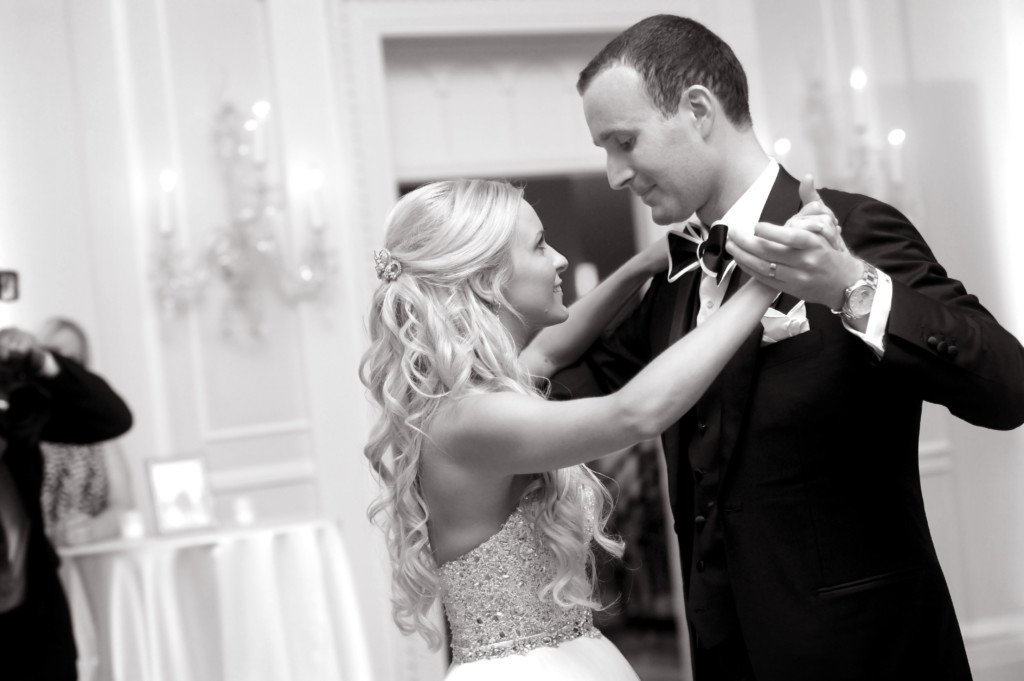 Listen up brides! Guest blogger Alex Zsoldos, owner of First Dance Charlotte, has written an exclusive Bride + Groom piece to discuss whether or not planning and prepping for a first dance is necessary. Read on to get Alex's professional advice.
You've got the ring. You've got the dress. The venue's secured. The band is booked. All that's left to do are the little things – handcrafting favors, finding the perfect thank-you gifts for your bridal party and choosing a song for your first dance as a married couple.
That's the easy part.
Worrying about what you are going to do during your first dance can add a layer of stress to an already stressful wedding planning process. Here are the Top 10 reasons why you should set aside time a few months before your wedding to learn how to dance.
You only get one first dance.
Once it's gone, it's gone. Why not make the most of it? Plus, your husband or wife becomes your dance partner for life, so you might as well start learning how to dance now.
Reduced stress on the wedding day.
The wedding ceremony itself gets a whole rehearsal, but you're just supposed to wing it for your first dance? Actually preparing for your first dance can drastically reduce the feeling of stress or dread leading up to that moment.
Learning a new skill together helps you stay strong as a couple.
Almost every article on how to keep your marriage strong includes "learning something new together." Wedding dance lessons allow you to overcome challenges as a couple. There's nothing like succeeding at something together to make you feel closer.
Wedding dance lessons are a great stress-reliever during the planning process.
Taking dance lessons allows you and your partner to spend time connecting without distractions or to-do lists. Even if you mess up or feel silly at first, most couples find themselves relaxing, smiling and laughing more during lessons.
Feel more graceful and elegant on your wedding day, even in a giant ball gown.
A wedding dress adds a whole other dimension to the first dance. Knowing when to step forward and when to step to the side will assuage the fears of stepping on the dress or tripping the beautiful bride.
Learn to spin/dip in a way that doesn't make you or your loved one resemble a pretzel.
Anyone who has danced with an overzealous leader knows the feeling of having your arm nearly yanked out of its socket. Wedding dance lessons can help you learn the proper way to turn and dip so you look elegant and avoid injuring yourself before the honeymoon.
Extra exercise makes you feel (and look) better.
Depending on the speed of your dance, you can burn around 150 to 320 calories per hour lesson. Skip the wedding exercise routine on the day you have lessons and burn calories without even realizing it!
Show off your personality with a custom-choreographed first dance.
Modern weddings are bespoke affairs with the tiniest details reflecting everything about you as a couple. A choreographed first dance can show off your personality through unique song choices and dance moves.
Get amazing pictures and wedding videos.
The average wedding couple spends big bucks on their photographer and videographer to capture every moment during the wedding day. Taking wedding dance lessons ensures you'll make the most of the investment with beautiful results.
The (muscle) memories last forever.
After the wedding, you'll be left with one husband or wife, a beautiful gown or handsome tux, leftover cake and the skills you learned during your wedding dance lessons. And while we all dream of doing something with the gown, dance skills are the one thing you're sure to use again.
Alex Zsoldos if the owner of First Dance Charlotte, a boutique wedding dance studio specializing in wedding dance lessons and custom first dance choreography. Contact her at firstdancecharlotte@gmail.com or 704-916-9399.