Wedding socialization 101
Whether your wedding is an intimate celebration with just family and friends or an extravagant party with 300 guests, we're here to help you socialize on your wedding day.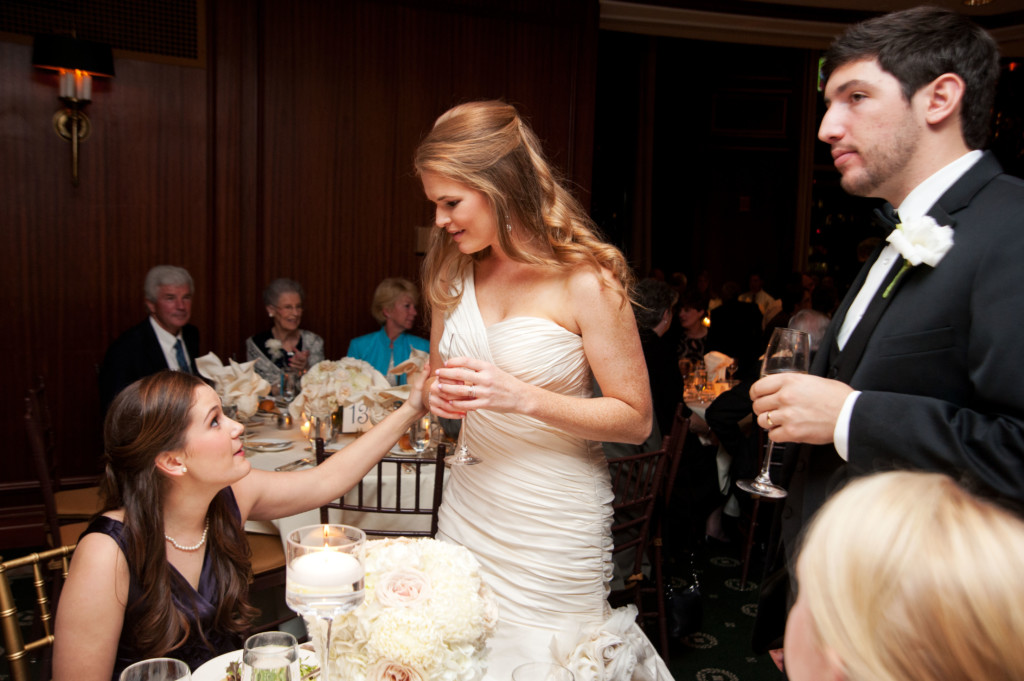 We've all been there – the wedding you attend where you don't even get the chance to speak to the bride and groom, only to end up hoping they glance at the guest book post-honeymoon as proof you made an appearance on the most important day of their lives.
Socializing with 200 of your closest friends and family isn't easy. We're making it simple and outlining your options.
Cocktail socialization
For weddings with fewer than 100 guests, greeting and thanking attendees is a little less stressful, as it's easier to connect on a personal level and offer more meaningful conversation.
Socializing during cocktail hour is a great way to make guests feel welcome and appreciated; however, ensuring you speak to each guest can often get chaotic, as they'll likely be flocking you for pictures and questions about your wedding hashtag. To keep from getting cornered by Aunt Rose and her tales of her wedding day, have your Maid of Honor be responsible for chauffeuring you through guests and making sure you speak to everyone in a timely manner.
Receiving line
If your wedding consists of more than 100 guests, properly conversing with each individual gets a little trickier – that's why it's essential to have a game plan to speak with everyone.
One of the most traditional and popular forms of mingling with guests at a large wedding is the formation of a receiving line. A receiving line takes place either immediately after the ceremony (before formal pictures) or at the start of the reception, and consists of the bride and groom and the couple's parents, though it's common to have just the newlyweds in the line.
One of the biggest perks of instituting a receiving line is it ensures at least a few seconds of face-to-face time with each guests. However, hugging and kissing 200 of your closest friends and family does a little wear-and-tear on your makeup and hair, so be mindful of too much contact.
The biggest critics of a traditional receiving line argue that it's too time consuming.
If you're set on a receiving line and a guest is lingering too long, a simple, "I can't wait to talk more during the reception," usually does the trick to get them moving.
Dinner greeting
An increasingly popular choice for brides looking to greet wedding guests is visiting each table during dinner, and this method works well for weddings of all sizes.
If your reception location allows, have your caterer plan a private dinner for you and your husband after formal pictures, while guests enjoy cocktail hour. Spend 30 minutes relaxing, eating dinner and embracing the first few breaths of married life. Once cocktail hour closes and guests arrive at their tables for dinner, you'll be able to visit each table while not stressing about getting to enjoy your meal.
If possible, try to visit with guests who traveled the farthest first.
Warm Welcome
Helpful especially for large weddings with many out-of-town guests is greeting family and friends with a welcome bag in their hotel room. Consider putting together goodie-bags full of your favorite treats, items that reflect you as a couple, or signature staples of the wedding location.
If you're operating under a tight budget, you don't have to spend a fortune to welcome your guests with a heartfelt greeting; often, a handwritten note is a thoughtful expression of thanks guests will appreciate. Though welcoming guests with a goodie bag upon their arrival isn't exactly the same as an in-person greeting at the reception, it will relieve the burden of feeling like you must talk to each guest.