Weekend Social Events (Feb. 16-19)
The annual Bartender's Ball and the Banana Bar Crawl are just two of the events making their return this weekend.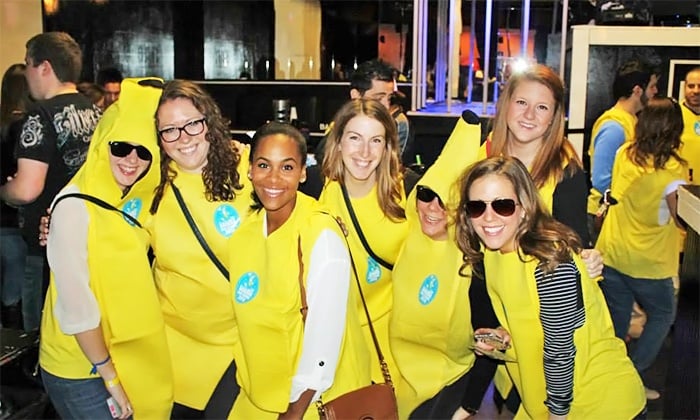 The obvious big parties this weekend are for the National Basketball Association's All-Star Game. Wait, no, those were moved. Well, at least New Orleans' social calendar benefited this weekend. Even with the lack of NBA-themed parties, there's still a lot to do this weekend, Charlotte. See y'all out there!
THURSDAY
TACO SOCIALE KICKOFF FIESTA
Vida has offered its weekly Thursday taco party for a while now, but this party celebrates a "newer and cooler" Taco Sociale. The party tonight from 5 until 7 features party favors, food and drink samples, $2 select tacos, $4 craft beers and $3 Corona Light drafts. There's no admission to this event at 210 E. Trade St.
FRIDAY
BECHTLER BY NIGHT
It's the third Friday of the month, which means this monthly event returns. The theme to this month's free evening of activities is traveling abroad. The monthly party also features free appetizers and a special cocktail for purchase. The Bechtler Museum of Modern Art is at 420 S. Tryon St., and this event is from 5 p.m. until 9 p.m.
ONESIE PARTY
You'll want to dress down not up for this party. Specifically, you'll want to wear your onesie. Otherwise, you'll pay an entry fee. The best onesie also wins $200. The pajama party runs from 10 p.m. until 2 a.m. at Whisky River, 210 E. Trade St.
Exactly as the name suggests, this evening is filled with comedy and cuisine. A stand-up comedian will be followed by a live cooking demonstration. Tickets to this party from 8 p.m. until midnight at the Harvey B. Gantt Center for African-American Arts + Culture, 551 S. Tryon St., cost $35.
Turn back the clock tonight to benefit the Cystic Fibrosis Foundation. The downstairs of Draught, 601 S. Cedar St., turns into a time machine tonight as the dance floor features a different decade of music every half hour. Tickets to this party, which include the beer, cost $12 in advance or $15 at the door. The party is from 9 p.m. until 1 a.m.
SAVED BY THE BAR
Draught isn't the only place turning back the clock tonight. Blackfinn, 210 E. Trade St., goes back to the '90s tonight. The party features '90s music all evening plus prizes for the top three '90s outfits. There's no admission fee to this party from 9 p.m. until 2 a.m.
SATURDAY
FITZGERALD'S FIVE-YEAR ANNIVERSARY
Fitzgerald's is turning five tonight, and you're invited to the party. To help celebrate, the pub at 201 E. Fifth St. is offering $3 drafts, $5 vodka-Redbulls and $5 Fireball shots. There's no admission fee to this event.
The annual gathering of potassium-packing partiers returns this weekend to Uptown. Shame on you if you don't already have your banana suit from prior years (this is the fifth-annual Banana Bar Crawl, after all), but a $24 ticket buys you entrance to the bar crawl plus a banana costume. If you're a "returning banana," there's a special treat in store for you if you email the event promoters. Registration is at Whisky River, 210 E. Trade St., from 5 p.m. until 7 p.m. and then travels to Blackfinn, Suite, Lucky's, Fitzgerald's, Prohibition, Whisky River, SIP, Bubble and Rooftop210.
STRIKE OUT DOMESTIC VIOLENCE BOWLING EVENT
The Steve Smith Foundation hosts this annual event today that features two games of bowling, a silent auction and more. The only tickets still available at press time were for an entire lane (up to six people) for $370. The charity party is from 1 p.m. until 3 p.m.
SUNDAY
The 16th-annual Bartender's Ball takes a cue from Mardi Gras this year, so prepare to let the good times roll. This semi-formal party includes more than 15,000 square feet of heated tents (though, we're not sure you'll need it this year) at Rooftop 210, 210 E. Trade St. A $69 ticket includes access to five DJs, an open bar, food from local restaurants and more. The party starts at 7 p.m.
Verify dates, times, prices, and other info at the web addresses listed for each event.
Be sure to bookmark www.charlottemagazine.com/Blogs/Dusk-Till-Dawn to stay plugged into Charlotte's nightlife and social scene. Click here to sign up to receive the weekly Dusk Till Dawn e-newsletter.
Want your event featured in Dusk Till Dawn? Send me an email at dusktilldawnblog@gmail.com.