Weekend Social Events (Feb. 23-26)
The CIAA tournament isn't all that's happening this weekend. Prepare for a busy weekend, Charlotte.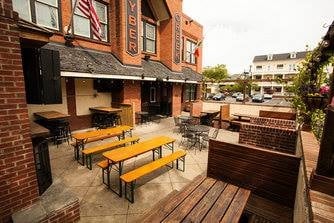 The Central Intercollegiate Athletic Association (CIAA) returns this weekend, which means it's, arguably, Charlotte's biggest social weekend of the year. We've already created an additional webpage for all things CIAA, including the celebrities in town this weekend and the weekend's top CIAA parties. But those parties aren't the only things happening this weekend. Here's a rundown of some of those parties plus all the other social events in the Queen City this weekend. See y'all out there!
THURSDAY
INSTABEERUPCLT
The first InstabeerupCLT was 2 ½ years ago (feel old yet?), and the event heads back to where it all began: VBGB, 920 Hamilton St. The monthly networking and beer-drinking event is from 6 p.m. until 10 p.m., and there's no admission fee.
FRIDAY
This annual two-day blow-out party returns this weekend. The party starts at 7 p.m. on Friday and goes until Sunday morning at 2 at Tyber Creek Pub, 1933 South Blvd. A weekend pass, which includes access to the live music and entry in the Flip Cup tournaments, costs $12. Registration for the cornhole tournaments is extra and costs $24 per team.
Yo Gotti is just one the celebrities flocking to Charlotte this weekend, and he's heading to Rooftop 210, 210 E. Trade St., for this concert and party. A ticket to this party from 9 p.m. until 2 a.m. costs $41.
New Orleans might have Mardi Gras, but we have Pardis Gras. DJ Loui Vee is the star of the turntable tonight at Bubble, 210 E. Trade St. Tickets to this "musical journey" from noon until 5 p.m. cost $22.
Play hooky from work today to enjoy this day party at Blue, 206 N. College St. The party features two DJs to turn the tables while you enjoy drinks and lunch. Tickets to this day party cost $22.
SATURDAY
MARDI GRAS BEAD PARTY
New Orleans celebrates Mardi Gras this weekend with Fat Tuesday on Tuesday, and if you can't make the trip to the Big Easy, this party's for you. Get ready to catch your share of beads and "let the good times roll," as they say. The party is at On the Roxx, 19532 One Norman Blvd., from 10 p.m. until 2 a.m. There's no admission fee, but there are $3 Corona, Corona Light and Modelo specials.
Children's Theatre of Charlotte is throwing its annual grown-ups-only party tonight from 7 until 11, and you're invited. A $100 ticket ($60 of which is tax-deductible) includes an open bar, food, live music, auctions. The gala is at ImaginOn, 300 E. Seventh St. (Editor's note: Jared Misner is Children's Theatre of Charlotte's media relations and social media manager)
WEST END CHILI COOK-OFF
Blue Blaze Brewing, 528 S. Turner Ave., hosts this chili cook-off today from 1 p.m. until 5 p.m. Sampling is from 1 p.m. until 4 p.m., but all chili must incorporate Blue Blaze's brews. There's no admission fee to this event.
King Entertainment is putting on this party, and its motto is "We didn't invent the day party; we just perfected it." So keep your expectations appropriately high for this party. Two DJs are on hand from noon until 6 p.m. at Enso, 210 E. Trade St., and tickets cost $22.
SUNDAY
DJ Kid Capri and DJ Quest host this rooftop party at Rooftop 210, 210 E. Trade St., today from 12:30 until 7:30. There's free admission before 4 p.m. with an RSVP. Otherwise, a ticket costs $17.
Verify dates, times, prices, and other info at the web addresses listed for each event.
Be sure to bookmark www.charlottemagazine.com/Blogs/Dusk-Till-Dawn to stay plugged into Charlotte's nightlife and social scene. Click here to sign up to receive the weekly Dusk Till Dawn e-newsletter.
Want your event featured in Dusk Till Dawn? Send me an email at dusktilldawnblog@gmail.com