Welcome to the World, Son
A father's letter to the greatest thing in the world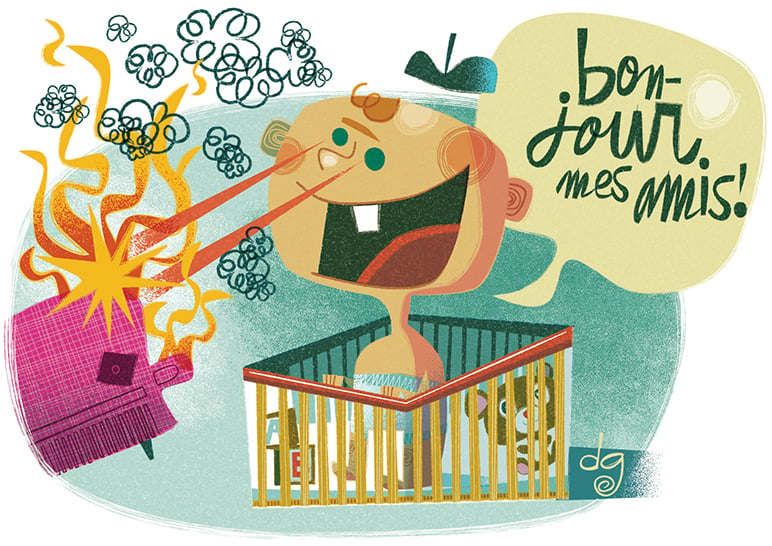 A few weeks ago, on a hot Saturday, I helped move a swing set. It's a big, two-story thing, the McMansion of playhouses, with a yellow slide and a mini rock wall and a roof. It took six of us to take it apart, pluck it up out of a backyard, squeeze it into a box truck, and haul it down the road. After we unloaded it, I took a sip of beer and stared at it. It's so heavy, I thought. I don't remember how to put it back together. And I barely even know the guy we're moving it for.
That guy happens to be my son.
As I write this, he hasn't been born, but if everything goes according to plan, he'll be here by the time you read this. I think I've gotten enough advice. Some of you have already warned my wife and me of the impending DiaperStorm. He will try to pee on you, you've said. You'll never sleep well again. And my favorite: Your days of X are over; X meaning anything from bungee jumping to cattle rustling to avoidance of the Disney Channel. Some of you merely listed the worst baby things you could think of and then ended the conversation with "greatest thing in the world." My kid fires laser beams out of his eyes and caught the couch on fire before farting mustard gas and speaking French. Greatest thing in the world.
What I do know for sure is soon, there will be a living, breathing new member of my family, and my life will change. I know this, but I don't know how. Part of becoming a first-time father is that it happens to thousands of men every day, but it still feels like it's only happening to me. It happens enough that you can read books and go to classes to learn how to swaddle and there is a whole wing at the hospital dedicated just to having babies—but somehow, in that moment, I'm sure I will feel like I'm going through something that nobody else in the world has experienced.
I will look down, and my son will look up, and I will melt.
I've done what I can do. I painted his nursery blue a few months ago, and it's slowly filling up with baby stuff, things like a crib and a dresser and a changing tray and toys that the dog thinks are for her. I moved my homebrew out of the closet and moved a whole rack of onesies in. I installed a car seat and watched videos of childbirth and bought that swing set.
After my friends left, I found myself in the backyard, the sun beating down, with bolts and screws and planks and plastic arranged in a pile. I don't have the instructions, I thought. But this is for my son. My days of being selfish are over. I'll work as long as it takes to make sure the pieces fit.