Well-Dressed Men Really Do Exist in Charlotte
And here, we're going to prove it.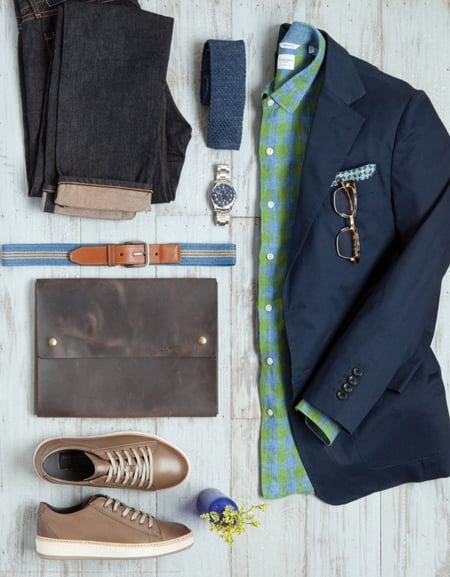 I was talking to a friend about this blog and she said, "Men's style in Charlotte is guys in khakis that don't fit and blousy dress shirts, right?"
It's an easy dig. Charlotte, to be sure, is not Milan or Paris or New York. People love to hate on the fashion sensibilities of the guys who live here because, let's be honest, we've made it pretty easy to do so. The business casual trend of the late '90s somehow made it okay for us to stop caring what we look like. We became less Don Draper and more Milton from Office Space. Last year, the executive editor of this magazine wrote about how guys here don't wear ties anymore.
But it's unfair to say there aren't stylish men here. Walk uptown's sidewalks at noon. Pull up to the bar at Soul on a Thursday night. Attend a weekend charity gala. You'll find hipsters and lumbersexuals (it's a thing, I swear) walking beside guys sporting Brunello Cuccinelli suits from Italy.
Style, to me, is subjective. It's about being comfortable in our own skin, wearing our personalities on our backs and feet. There's lots of that in Charlotte. From menswear mainstays like Bruce Julian to random dudes with tats and tanks, our city is full of guys ready to express themselves.
So here, I hope to launch a mini-crusade against the notion that men's style and Charlotte are mutually exclusive. Know of a rakish guy we should profile? A new product we need to hear about? Trends you love and hate? Get in touch.
In a recent style story for this magazine, I quoted Mark Twain, who once said, "Clothes make the man. Naked people have little or no influence on society." I've always thought Twain meant that it doesn't matter what you wear, so long as you own it, that it's authentically you. We have plenty of that in the Queen City.
Let's try to kick the sloppy business casual stereotype, okay?