West Coast Modernism Meets Southern Charm
Ashley Walker Delapp punches up clean lines with a pop of color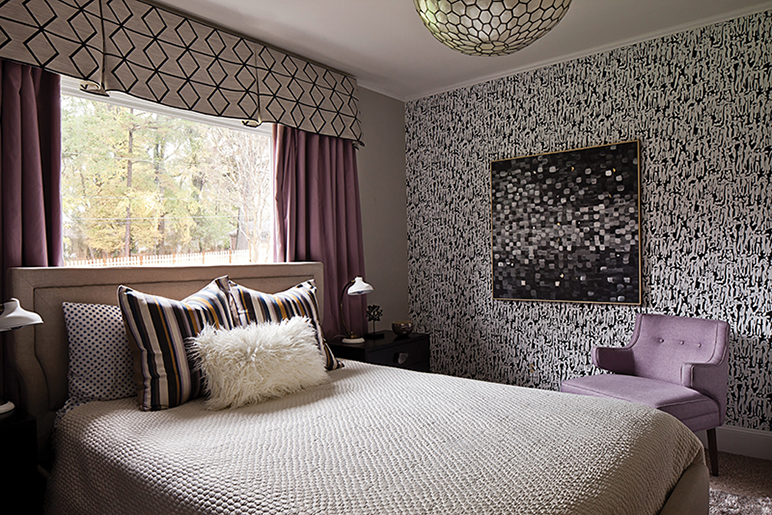 THREE YEARS AGO, when Ashley Walker DeLapp of Evaru Design and her husband, Mark Lassiter, were looking for the right home to combine their two families, there was quite a bit to consider. Location and size were big factors, and the couple has a great appreciation for mid-century modern architecture and design.
"I help other people design their homes every day, but it was so refreshing, and just plain old fun, to design my own home," Ashley says. "Each client has an individual style, but even if it's not my style, I can't help but be inspired by it."
She found an online listing and decided to drive by the home. "I was so nervous, because I had no idea what the place was going to look like," she recalls. "But once I saw it, I knew that Mark and I could turn it into something great." The couple started renovations on the space as soon as the sale was final, before even moving in.
One of the largest projects for the couple was the complete overhaul of the lowest level into a master floor, complete with a lounge, master bedroom, spacious dressing room, and bathroom. Moving the master bedroom and bathroom from the second floor to the ground level helped give and Ashley and Mark a separate space from their kids, and utilized the full potential of the structure.
In her design of the home, Ashley used patterns and color, creating a bright, playful space. Incorporating hot pink, orange, and cobalt might seem daunting or overdone in mid-century modern architecture—usually associated with clean lines, geometry, and a neutral color palette—but these punchy colors give warmth and vibrant energy to the master lounge. The media cabinet, bar cart, chandelier, and chairs are reminiscent of Don Draper's days, with lacquered walls and linear patterns. Dramatic, midnight blue walls allow these features to stand out.
The master bedroom and bathroom are more subtle when it comes to the color palette. "My husband's favorite color is purple, and with that busy of a wallpaper," Ashley gestures to the black-and-white accent walls, where the pattern is made up of tiny figure drawings, "I knew that we needed to go with a calmer shade of lavender." The shade is found in the curtains and bedding, a relaxing tone balancing the boldness of the wallpaper. The master bathroom might have the most mid-century influence in the home: gilded animal heads hang where Jackson Pollock-like splatters cover the walls, a luxurious combination of black and white and gold.
When it came to designing the bedroom for Ashley's youngest son, Schafer, she strayed from the mid-century design of the home. Sutton, her eldest son, has a room that continues the mid-century feel. For both rooms, however, she focused on creating fun and comfortable spaces. Each room has funky wall treatments, a common design element throughout the home, but each also has its own design touches. Ashley added built-in shelves to display Sutton's books and toys; for Schafer, she had a Captain America-themed pillow made.
Down the hall, both the bath and master lounge were featured on the blog Calling it Home for its "One Room Challenge." The series asks designers to renovate a single room and explain how they did it. "It's a really great way to get a project done in a fixed amount of time—you have six weeks to finish designing or renovating one room, and you post pictures of your progress every week," Ashley explains. The master lounge and bath are cheerful and bright, as if lifted out of a Pinterest board, with gold polka-dotted walls, an apple-green lacquered side table, and a multi-colored chinoiserie fabric shower curtain.
The living room and connecting dining room are the true heart of the home, acting as the entryway, entertaining space, and common area. As Ashley moves through the living room and tells story after story about pieces of furniture, it's clear that each one holds a special meaning to her and the family.
"The sofa, two chairs, and side tables originally belonged to Mark's grandmother," she explains. "We were thrilled to have these vintage pieces, to find something that was designed at the height of the [mid-century] era." Though Ashley re-upholsters and refinishes almost everything she finds, the bones of the furniture still shine through, enhanced by her colorful palette—just as the family's story shines through the furniture's modern updates.