What Leon Levine Built in Charlotte
The business founder and philanthropist left his mark, and name, all over our city.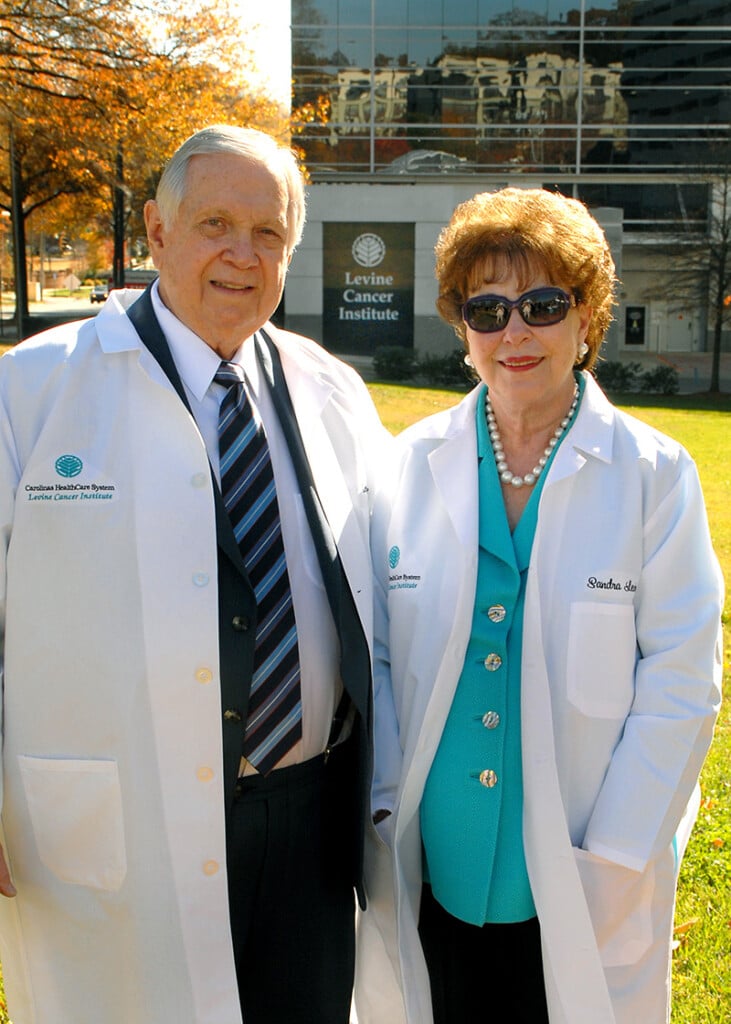 Leon Levine's influence on Charlotte does not hide. It comes right out and announces itself. Newcomers and visitors quickly apprehend the name's importance. It adorns the residence hall at UNC Charlotte, the job training center at Goodwill, the center for cancer research and treatment, and on and on.
Levine and his wife, Sandra, started the Leon Levine Foundation in 1980 with, according to the foundation, "a modest sum of money." By the time Leon died on April 5 at 85, the foundation had granted more than $450 million, with a concentration on health care, education, and community causes. In 2016, the Levines broadened the foundation's scope and awarded grants throughout the Carolinas, beginning with Greensboro, Raleigh, and Durham, three other cities swelling with people and worthy causes.
But Charlotte was where he first made his mark, with a Family Dollar on Central Avenue in 1959, and when he made millions, he decided to give a generous portion back. "The self-made man who never finished college," The Charlotte Observer noted, "started one of North Carolina's biggest scholarship programs."
Organizations used his name not to satisfy his ego, Levine once said, but to help them raise more money. The donations, and the causes he donated to, were investments in the future. Leon Levine always did invest wisely.
---
Atrium Health Levine Cancer Institute, 2012
The Cancer Institute, the hub of a multi-site network, was established with a $20 million gift from the Levine Foundation.
Atrium Health Levine Children's Hospital, 2007
The 234-bed facility is ranked as one of the best children's hospitals in the Southeast, established as a regional leader in neonatal care and pediatric transplants, dialysis, and heart surgery. Leon and Sandra Levine were the primary donors.
Donations to Central Piedmont Community College, 2002-present
The Levines' support of CPCC began with a $5 million donation, the largest in school history at the time, to help students pay for tuition, fees, and books.
2002: South Campus in Matthews renamed and dedicated as Levine Campus
2004: Opening of Levine II, the Levine Campus' second building
2014: Levine Information Technology building dedicated at the Central Campus
2019: Opening of Levine III on the Levine Campus
2021: The Leon Levine Health Sciences Center opened and dedicated at Central Campus
The Levine Center for Wellness and Recreation, Queens University, 2013
The center includes a 5,000-square-foot fitness center, 1/8-mile indoor track, and 33-meter NCAA-level competition swimming pool.
Levine Hall, UNC Charlotte, 2017
The residential building houses more than 400 students and seminar rooms, work-study areas, community lounges, and a game room.
Leon Levine Opportunity Center, Goodwill Industries of the Southern Piedmont, 2016
The hub of the Goodwill Opportunity Campus on Wilkinson Boulevard, the 160,000-square-foot center provides space for Goodwill partners to help clients with financial, health, employment, and other needs, plus computer labs, classrooms, and interview rooms.
The Sandra and Leon Levine Jewish Community Center, 1986
Shalom Park, 5007 Providence Road
The Levines led the creation of Shalom Park, a center for Charlotte's Jewish community, and donated $1 million to name the community center at its hub.
Levine Museum of the New South, 2001
The museum opened in 1991 but added Levine's name after a $1 million donation.
Levine Center for the Arts, 2010
The center is the product of years of study and negotiations by local leaders and officials, who pieced together a workable plan for an arts and cultural campus by its groundbreaking in 2007. But it didn't acquire its name until 2010, when the Levine Foundation made a $15 million contribution to its endowment campaign—which capped an $83 million fundraising effort.
The Center for the Arts has done as much as anything in Charlotte's history to transform a dull, business-oriented city center into a cultural destination. The member museums and theater host events, performances, and conferences in addition to exhibitions that allow patrons of one museum easy access to others. It's hard now to imagine uptown without it.
---
Leon and Sandra Levine's Legacy Giving in Health Care
A partial list of the couple's donations over the years
1987: The Levine family's first contribution to Children's Miracle Network
2003: $10 million to name Levine Children's Hospital (LCH)
2007: $250,000 to create the Dorothy and Herman Poliakoff Garden at LCH in memory of Sandra's parents
2007: $200,000 to support muscular dystrophy research
2008: $100,000 to support CMC (now Atrium Health) Parkinson's Disease
and Movement Disorders Center
2008: $5.5 million challenge grant made to LCH
2009: $6 million to establish the Levine Endowment for the Future to advance research, programs, and patient outreach at LCH
2010: $20 million to establish Levine Cancer Institute (LCI)
2014: $3 million to establish the Mindy Ellen Levine Behavioral Health Center ($1 million from the Leon Levine Foundation, with an additional $2 million from Levine family members)
2015: $3 million to establish the Sandra and Leon Levine Psychiatry Residency Program at Atrium Health
2015: $100,000 challenge grant made at the inaugural Levine Children's Gala
2016: $25 million committed to Levine Cancer Institute II
2016: $1 million to establish the Sandra Levine Young Women's Breast Cancer Program
2017: $2 million in support of clinical research at LCI and programs to reduce disparities in cancer care
2017: $4 million personally pledged by Leon Levine in support of LCH and LCI
2017: $1 million challenge grant made at Levine Children's Gala
2019: Expansion of the Bone Marrow Transplant and Cellular Therapies unit at LCH with leading support from the Levine family
2019: $2 million to establish the distinguished chair in Laboratory Cancer Research and the Adolescent and Young Adult Survivorship Clinic
2021: $1 million to support Sanger Heart & Vascular Institute's new headquarters at Kenilworth Medical Plaza
2023: Sandra Levine commits $500,000 on behalf of her family at Levine Children's Gala to support pediatric behavioral health