What's Handcuffing the Criminal Justice System in Charlotte
Spencer Merriweather, Charlotte's first black district attorney, is trying to combat a surge in murders and gun crimes. A key to the solution, he says, is for the state to recognize that criminal justice in North Carolina's cities—underfunded, overwhelmed, awash in paper, and tied to an early-'90s computer system—desperately needs an upgrade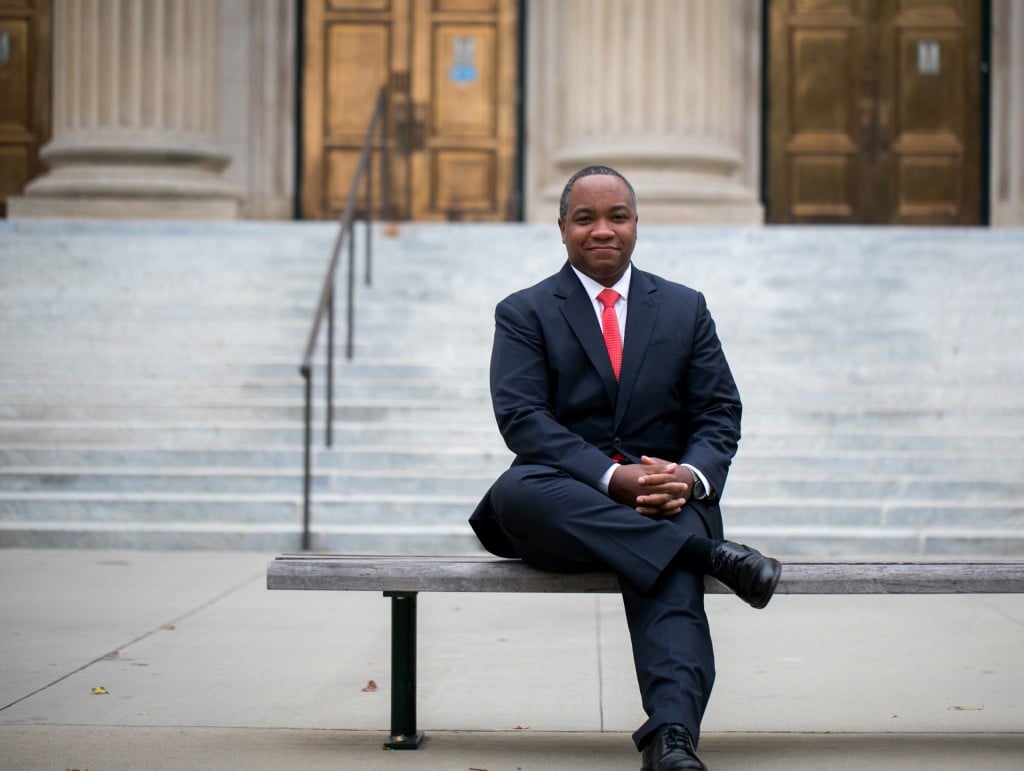 We take the elevator to the basement. "Now, these are closed files," says Spencer Merriweather. "The open files are spread throughout the office." We disembark, and Merriweather opens the door to the archives, what you might call the Hall of Shelves and Boxes. You can't see the end of it.
"I mean, this is what we're dealing with," he tells me, as we step between cliff faces of cardboard boxes jammed with paper. We pass some of the greatest hits of the Charlotte district attorney's office—here's the 16-box collection from the trial of serial killer Henry Louis Wallace, the "Taco Bell Strangler," in the 1990s; and here's the Rae Carruth case, 19 boxes that have filled space on the shelves since the ex-Carolina Panther's murder-conspiracy conviction in 2001. Carruth finished his sentence in 2018, but the paperwork remains in prison down here—where, on a drizzly February morning, an industrial dehumidifier runs in one corner to offset a leak from the ceiling.
"Now what happens is, we'll send some of these and put them on microfiche or send them someplace," says Merriweather, the district attorney in Mecklenburg County since 2017. "But we're all based on paper here. For most court systems, this is highly unusual. If you go to any of our ADAs' desks, they've got files and files of this stuff. You go to California, everybody's walking around with iPads."
Merriweather is not saying he wants new gadgets for himself and his staff because that would be nice, although it would. He's not saying the monoliths of stacked boxes in the basement are a nuisance, although they are. He's saying that Charlotte is the 17th-largest city in the United States and that more than a million people live in his jurisdiction—North Carolina's 26th Prosecutorial District, i.e., Mecklenburg County—in the ninth-most-populous state. He's saying that the state's cities—Charlotte, of course, but also Raleigh, Greensboro, Winston-Salem, Durham—are bursting with people who have moved here from around the country, and that means more people in the criminal justice system, and that system is running more or less the same way it has since the days when North Carolina was home mainly to textile factories and hog and tobacco farms. He's saying that system no longer works.
Merriweather said so in late January during a news conference he called to announce his office's response to a surge in gun-related violence and the 2019 homicide total: 107, the highest in Charlotte in 26 years. He announced his plan to bring 20 homicide cases to trial in 2020, up from 13 in 2019, and to emphasize prosecution of gun crimes after an investigation by The Charlotte Observer revealed that more than half of Charlotte's murder suspects in 2019 had been charged before with weapons crimes, and that most of those were dismissed. The larger issue, he said, is the General Assembly's failure to respond to the specific, and swelling, needs of North Carolina's cities. Prosecutors' offices are underfunded, he says—a common complaint from district attorneys everywhere but warranted in Mecklenburg County, where local governments pay for more than a quarter of the office's 85 technically state-employed prosecutors.
But criminal justice in urban areas, Merriweather said, requires more than just additional money for prosecutors, public defenders, and court clerks. Reform-minded prosecutors around the country recognize the need to stretch into spaces beyond the courthouse—for example, to establish community courts in neighborhoods; employ staff members who speak languages other than English; and adopt technology, like iPads, that allows for the quick transfer and review of criminal records. In Charlotte and other North Carolina cities, reliance on paper records and a hodgepodge of antediluvian computer programs wastes valuable time and, Merriweather insists, undermines the pursuit of justice. Lawyers and judges suffer, but so do defendants, witnesses, and, most important, victims.
During the news conference, Merriweather said his and others' suggested reforms shouldn't be thought of as luxuries for prosecutors or sops to criminal defendants. "This is not just about hugging it out," he said. "We are seeing something happening in all of North Carolina's urban centers, and it's time for government to reflect the system we have. What is equal is not equitable. We call on the state to wholly reconsider the way large urban centers are staffed and resourced in the administration of justice."
Wholesale reform would take years and millions of dollars, and the COVID-19 outbreak in March forced the DA's office to shut down most of its operations and wait it out like everyone else—which corralled Merriweather's plans to more aggressively prosecute homicides and weapons cases. When we speak again in early April, he estimates that his office will have to reschedule at least two and as many as five murder trials because of an April 2 order by state Supreme Court Chief Justice Cheri Beasley that postpones court proceedings until June 1. Courthouses statewide remain open, but under limited hours and with skeletal staffing; Merriweather says he maintains a minimal staff in the office and tries to conduct as much business by videoconference as he can. "Just because the (Supreme) Court says court sessions are down, it doesn't mean that we're not getting new rapes and new murders and new burglaries," he tells me. "They're still coming in the door, and those cases need to be reviewed."
The virus will eventually subside. Barring changes, the structural issues in the court system won't. When we meet in February, I ask Merriweather what he meant during the January news conference when he said, "What is equal is not equitable."
"It is the craziest thing in the world that you would try to treat every single county in North Carolina the same, proportionally, when all of us face so many different, unique challenges," he replies. "That's the issue."
***
Even before the virus, the courts weren't as active as they could have been. It takes about five minutes to walk the long block from the DA's office, in the old Mecklenburg County courthouse at East Trade and South Alexander streets, to the new courthouse at East Fourth and South McDowell, which opened in 2007. On the day we meet in February, Merriweather and I walk up Fourth Street in the rain. "I can talk about this all day," he says. "But until I'm able to walk people around and explain what sort of constraints we have here in our justice system, it's hard for them to understand it. The court system is one of those things where, as a citizen, you kind of want to know that it's there. But you'd rather not fool with it if you don't have to." We enter through the back and ascend to the fifth floor, reserved for Superior Court judges to preside over felony cases.
When they can, that is. The state constitution requires Superior Court judges to rotate among judicial districts—usually groupings of two or three counties—within their administrative divisions. Until 2019, the state was divided into eight of those. A law that legislators passed over Governor Roy Cooper's veto in 2018 cut the number to five. (Cooper, a Democrat, asserted that Republicans, who have controlled both legislative houses since 2010, were gerrymandering to secure partisan advantage.) The new, larger divisions force judges to travel farther to preside over court when the N.C. Administrative Office of the Courts, the agency that oversees the court system throughout North Carolina, assigns them to the far reaches of their territories. The seven Superior Court judges based in Mecklenburg County, who before 2019 had to travel no farther than Lenoir in Caldwell County—roughly a 90-minute drive from Charlotte—now find themselves at the eastern tip of a division that stretches to Murphy in Cherokee County, North Carolina's westernmost, a four-hour drive away.
The change means, among other things, empty courtrooms in North Carolina's largest city on a Monday morning. Merriweather and I walk around the corridor that frames the fifth floor of the wedge-shaped courthouse. A cacophony of voices floats up from the first floor, the domain of initial appearances in criminal cases, but up here, even with trials in two of the floor's seven courtrooms, it's silent. Merriweather pulls at the door of Courtroom 5130. "Locked," he says. "Which means we weren't able to get a judge in a courtroom. In Charlotte. With 107 homicides." Next to 5130 is 5150: also locked.
"This is supposed to be a week when we are proceeding on habitual felony cases, but you haven't heard me say the first thing about a habitual felony trial, have you? Because we're not able to start one," he says, voice rising. He lifts his arms and drops them to his side in exasperation. "So that means we're not trying habitual felons this month. We're going to have to wait until next month before we can do it. That system is crazy. That's something that may not impact you as much if you live in Alexander County. But if you're in Charlotte, and you have people who are in custody and who are waiting for their trial dates, or if you're in the community and you're like, 'This guy got arrested nine months ago. What is happening?' This is happening.
"Let's say we start a drug or habitual felon case on a Monday, and it takes Monday to pick a jury, two days to put on evidence. Verdict comes back late Wednesday or early Thursday, and your judge says, 'Well, I'm only assigned for this week, so unless the AOC actually gives me an approval, I'm not going to be able to start another case.' That means we lost two full days of court time. That's intensely frustrating. If they knew about it, most taxpayers would blow a gasket. It's an absolute disaster—and not every place functions like that."
Slowly, on some fronts, the state is making progress. The AOC last year signed an $85 million contract with Texas-based Tyler Technologies, the nation's largest provider of software and technology for the public sector, to implement a statewide system of electronic filing and public access to court records—what's called an integrated case management system, or ICMS. The system will replace more than 200 unconnected software programs—many, including Mecklenburg's, that run on MS-DOS operating systems, obsolete since the mid-'90s. The ICMS was one of the key recommendations of a commission formed in 2015 by then-Chief Justice Mark Martin and assigned to the first comprehensive review of North Carolina's judicial system in two decades. A uniform, statewide management system would save employee hours, reduce errors, and allow judges, lawyers, and the public to quickly access records, the commission concluded in its report to Martin in 2017. The AOC expects to have the system in place at some point next year, says Charleston Carter, the agency's trial court administrator for the 26th District.
The new case management system will help, Superior Court Judge W. Robert Bell tells me when I meet with him and Carter in March. But there's a lot more to do, and additional judges or prosecutors alone won't solve the problem; court systems, which rely on clerks, defense attorneys, and support staff, move only as quickly as their slowest parts. "I do believe that urban areas have a different need than rural areas," Bell says. "I think that's always been one of the tensions in the legislature with funding. We're still by and large a rural state, and most of the legislators come from those places. I don't think they have a real appreciation of the differences between a smaller city or town and a place like Charlotte."
Bell, 66, was appointed to the Superior Court bench in 1997 and has successfully run three times for reelection; he's been Mecklenburg County's chief resident judge since 2015. He says travel to and from places like Sylva and Waynesville, which requires him to stay in hotels when he's assigned there, doesn't affect his work but "can wear you down." To him, the strain on the system is largely a matter of lack of resources, although the outmoded ways they're applied hinder the courts, too.
"One of the things I've learned, as chief resident in particular, is that so much of what we do, we do because it's the way it's always been done," Bell says. "It was probably the right thing to do 25, 30 years ago, but we have grown and changed so much in those 25 to 30 years that it's no longer the right thing to do. But inertia is a very difficult force to overcome—and change is something that people will kick and scream to not have to endure."
***
Merriweather's upbringing sharpened his sense of how cruel or incompetent institutions can hurt people who have to tangle with them. He was born and raised in Mobile, Alabama, the son of parents who lived through the civil rights movement in the Deep South. As a teenager in 1994, Merriweather was attending a summer program for gifted students in Philadelphia when, on foot, he accidentally collided with a police officer, who kicked him in the ribs. Merriweather, who would later graduate from Princeton and the law school at UNC Chapel Hill, says the incident taught him a lesson about how the unjust exercise of authority can stick with people for life.
The Philadelphia cop was white, but Merriweather downplays the racial aspect of what likely was a case of racial profiling. Merriweather, who turns 42 in July, is the first African-American district attorney in Mecklenburg County. His position lends him extraordinary power over young black people in the justice system and places him in a delicate spot—urban, black communities typically don't see prosecutors as allies. He responds with a pair of black-and-white photographs that hang near the front door of the DA's office: one of Mamie Till, the mother of black civil rights icon Emmett Till, a 14-year-old boy lynched in Mississippi in 1955; and another of Till's uncle, Moses Wright, who identified his nephew's killers during their trial in an era when he had every reason to expect he'd be killed for it. (He wasn't, but the jury acquitted the two white men, who later publicly confessed.)
The photos are Merriweather's way of telling those who visit his office that he pursues justice, not people. "Folks who have historically been disenfranchised, folks who have not been able to have a level of comfort or confidence in our judicial system," he says as he raps a table in his office, "are exactly the types of folks who need to see that their government actually is working for them."
He already understood the shortcomings of the court system in late 2017, when Cooper appointed him to fill the district attorney's seat vacated by Andrew Murray, now U.S. attorney for the western district of North Carolina; Murray recommended Merriweather to replace him, and voters elected Merriweather to a four-year term in May 2018. He had joined the DA's office in 2007, eventually leading the team that prosecuted habitual felons. But Merriweather says his insight into its structural problems deepened once he ran the office.
They're hardly new. Four years ago, Murray asked the Washington, D.C.-based Association of Prosecuting Attorneys and its president and CEO, David LaBahn, to compare the number of prosecutors in the Charlotte DA's office to their counterparts in cities with similar populations. LaBahn found that prosecutors' offices in large cities typically employ about 10 assistant district attorneys for every 100,000 residents in their jurisdictions—and Charlotte's, with 84 ADAs in a county with a population of more than a million, lagged behind those in 10 other cities, including Memphis, Nashville, and Atlanta. Mecklenburg County's population has since surged past 1.1 million, according to census data. As of April, the DA's office had 85 prosecutors—and the state, which employs all of them, fully pays for only 59. Mecklenburg County pays for 20, the City of Charlotte for two, and the state, city, and county pay jointly for four.
"We offered a lot of deals that I'd have preferred we not offer—but we couldn't take everything to trial because we didn't have the resources," Murray, who spent seven years as DA, tells me in March. "Those are decisions that prosecutors make all the time. But, in my opinion, it's an acute problem in Charlotte because (the DA's office) doesn't have anywhere near the resources that any other metropolitan area's prosecution district has. So it's difficult for Spencer to function and do his job."
That's why refocusing the office's efforts to combat a specific problem, as Merriweather announced during his news conference in January, is a temporary measure, not a solution, Murray adds: "When you're doing that—what my mother used to say—you're robbing Peter to pay Paul, right? So you're taking somebody off habitual felonies; you're taking somebody out of prosecuting property crimes. You can only refocus that many resources for so long without it showing up in other areas of your office."
***
On March 6, less than a week before the first reported coronavirus cases in Mecklenburg County, six members of the county's legislative delegation—which consists of 12 representatives and five senators, all but one of them Democrats—met with Merriweather to discuss his and other district attorneys' ongoing funding requests to the General Assembly. The legislators generally supported Merriweather's suggestions, which include enough money to pay for 115 prosecutors, a total that would bring his staff into line with others in comparable cities. They offered Merriweather no hope that he'd get them.
Among the group at the meeting was John Autry, a former Charlotte City Council member who recalls his surprise, when he reviewed his first city budget in 2012, that it contained funding for prosecutors. "That's not the city's responsibility," he says. Autry won an N.C. House seat in 2016 and, as a member of the House Appropriations Committee, has a better idea now of why that is.
Republicans have dominated the legislature since 2010, holding veto-proof supermajorities in both houses from 2012 through 2018. Democrats broke the supermajorities that year, having won the governor's office in 2016. But Republicans retain control of the General Assembly, and they've spent a decade passing legislation on ideological rather than practical grounds—and, from gerrymandering to an attempted takeover of Charlotte Douglas International Airport to the infamous 2016 "bathroom bill," shown a pronounced hostility toward North Carolina cities in general and Charlotte in particular.
"The only way we're going to have some differences there is with a different majority. The problem is that we have folks in positions of power in this state who only value tax cuts, rolling back regulations, and school vouchers," Autry tells me. "When your prime objective is to shrink government down to the size where you can drown it in the bathtub, this is what you get. The idea is to continue to push the burden of funding these operations further and further down on the municipalities. The court system is a revenue source as far as some folks in the legislature are concerned."
With enough money and people, Merriweather says, he'd be better equipped for initiatives that a handful of prosecutors' offices across the country have enacted over the last 10 to 15 years—most notably in Milwaukee, where District Attorney John Chisholm has emerged as a leader in criminal justice reform. Merriweather mentions Chisholm often. "He's trying to make the systems that he works in a lot better," Merriweather says, "and I feel like that's my responsibility as well." Among Chisholm's most influential reforms—part of a package that officials believe has contributed to a 33 percent decline in violent crime since 2015—has been a system of community-based prosecutors who set up in spaces like church fellowship halls and neighborhood recreation centers. The practice eases the burden on poor defendants, witnesses, and victims, for whom a trip to the courthouse can take more time and aggravation than they can afford.
Merriweather believes it also would build trust among people inclined to fear the imposing, nine-story courthouse—a perception that prosecutors are part of the community, not just apparatchiks in suits who look for ways to put people in prison. That general thinking informs the traditional idea of community policing, that officers who walk beats and come to know the neighborhoods they patrol help deter crime. "It's clear that community-based prosecution doesn't mean you're prosecuting the community," says David LaBahn of the Association of Prosecuting Attorneys. "It's the opposite: Can you get more cooperation from the people who live there?"
Authorities in Mecklenburg have already taken a few tentative steps toward reform. The DA's office continues to allow adult, first-time, nonviolent offenders a chance to have their records expunged by completing a two-year deferred prosecution program, and Merriweather in 2018 dropped a requirement that defendants make restitution payments before they enter the program. (The Charlotte-Mecklenburg Police Department runs a similar youth diversion program for juvenile offenders.) Defendants eligible for conditional discharge under the program are often those charged with low-level felonies, like property theft and simple cocaine possession; Merriweather says it'd save time and resources to route those cases through District Court, which handles misdemeanors, instead of Superior.
Merriweather believes money for more prosecutors and other resources would mean greater flexibility for his office, and those in North Carolina's other cities, to respond to their specific needs and the unique character of urban criminal justice. "It's really easy to write off the guy from Charlotte, and I know that," he says. "But I can look at what's going on in some other jurisdictions and see that they're suffering from some of the same issues that we are. They have some features that are a lot like what we've got—but they don't have 1.1 million people, either."
***
Merriweather tells me this in February. When we talk next, in the first week of April, we're in the early days of a new reality dominated by the threat of fatal disease and a virtual closure of society itself. No one knows how long it will last, or all of its ramifications. Trials will be delayed; public budgets are likely to shrink. Merriweather estimates that the shutdown has stalled a fifth of his cases, an amount that could grow. Just as troubling: Economic crises augur thicker criminal dockets. Merriweather has seen the statistics on unemployment claims in the first weeks of the COVID-19 crisis, and he's been around long enough to know what to expect when large numbers of people lose their jobs. Many will commit acts of violence born of their desperation, and their case files will end up on desks in his office.
Yet he retains hope that the new restrictions might force everyone in the judicial system to reconsider how they've been conducting business and, as in Judge Bell's formulation, understand that the way things have always been isn't necessarily the way they always have to be. How many steps in the long walk from initial appearance to plea or trial are truly necessary, and how many of them require all parties to be physically present in a courtroom on the fifth floor of the courthouse? Might certain hearings be more efficiently conducted by videoconference? Might prosecutors better serve justice by steering more defendants to drug or mental health treatment if addiction or mental illness underpins their crimes?
For that matter, how many defendants whose cases move through Merriweather's office have to carry felony convictions for the rest of their lives? "As we begin to think about how we might restart this engine, it is forcing us to really think about what it is that we need," he says. "If anything could ever force you to try to figure out a different, more efficient way of doing things, it's this."
Greg Lacour is the senior editor for this magazine.