What's Our Barbecue Story?
Carolina barbecue began on the coast in the 16th century, worked its way toward the mountains, separated into eastern and western, and continues to feed our bellies and define our state to this day. But the old Carolina barbecue culture is fading fast. Can it last, or is it bound to change?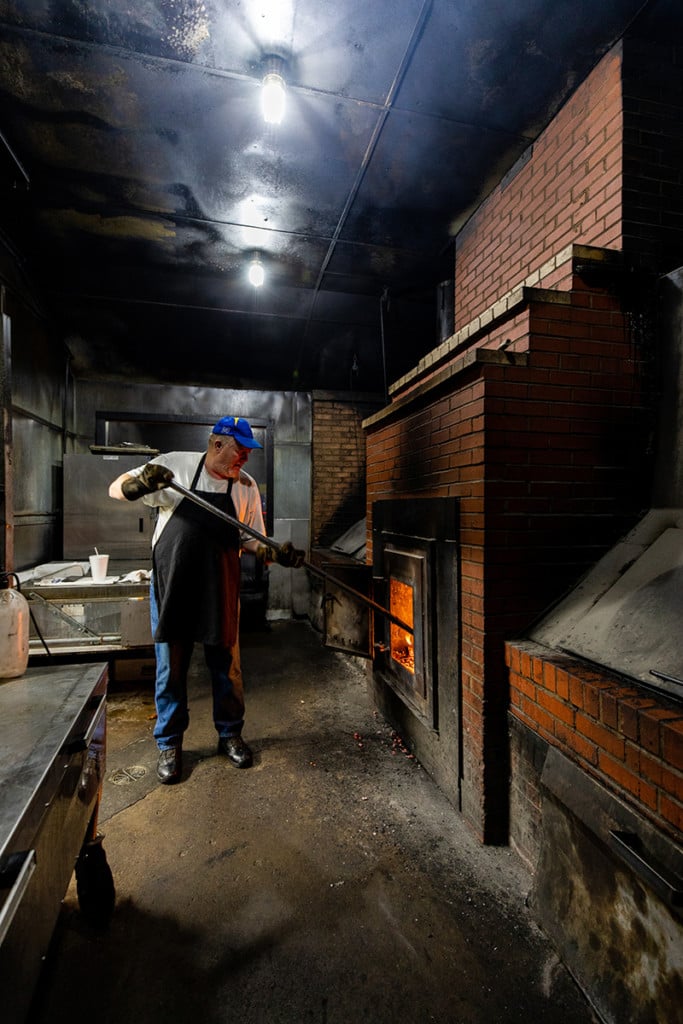 ABOUT 20 YEARS AGO, toward the end of a long career practicing law and after a couple of windfalls from medical cases, Jim Early decided to hit the road.
He'd wondered for years why no one had ever written the definitive book about North Carolina barbecue, the food and culture he'd grown up with near the Virginia line—and done it right, too, gone deep into the tobacco farm towns and mountain hollers to find the authentic goods. Now he had time, money, and his 1989 Chevrolet K5 Blazer (which he still drives). He'd do it himself.
Early grabbed a state map and folded it into quarters. Those would be his zones, and he'd start in the mountains and cover the whole state by quarters to the ocean. He developed a routine over the two and a half years he spent on research. He'd leave his office in Winston-Salem on Thursday afternoon and roam from Friday through Sunday, sampling spoonfuls of chopped pork along the way. "I didn't know what was out there. That was the whole point," Early tells me from across a scarred oak table at Little Richard's BBQ in Clemmons. Little Richard's is not Early's favorite, but it's a convenient eight miles from his home, which doubles as the headquarters of the North Carolina Barbecue Society. "I didn't know where to stay, because these little towns don't have chambers of commerce, and I didn't know the names of the motels or whatever.
"I had my clothes and sleeping bag, and if I got there in the middle of the night and couldn't find a motel, I'd just go to a truck stop and pull under a light, sleep in the truck, and clean up in the truck stop's bathroom. And at 4 o'clock on a Friday morning, I was asking people, 'Where's the best barbecue?'"
Early did that, or some version of it, in all 100 counties and compiled his findings in a book: The Best Tar Heel Barbecue: Manteo to Murphy, published in 2002, which led him to found the Barbecue Society in 2006 and close his law practice the next year. The assorted ways people answered his question reveal one of the truths about Carolina barbecue, which is that it's not just one orthodox thing. Tastes differ. People swear by eastern-style whole hog and vinegar-based sauce, or western-style shoulder and dip, or red slaw instead of white, or hushpuppies as a side instead of Brunswick stew—and those are just the variations in North Carolina. We're not even getting into what "barbecue" means in Memphis or Kansas City or Texas, what Early refers to as the first, second, and third bases of the Great American Barbecue Diamond. North Carolina is, of course, home.
In his book, Early surmises jokingly that the first recorded pig-pickin' was "on or about June 20, 1584," he writes in his book, when the English explorer Thomas Cavendish landed at Roanoke Island and sampled the natives' succulent, slow-cooked pork. Best thing he ever ate, supposedly. Through the centuries, as eastern North Carolina transformed into an expanse of hog and tobacco farms, pig-pickin's became a kind of celebratory ritual, how farmers and field hands marked a successful tobacco harvest. That's the tradition Early was born into and soaked in as a boy in the 1940s, when he spent time with his mother's side of the family in Vance County, northeast of Raleigh. It was, he remembers, the only occasion when white and black people would ditch the oppressive customs of Jim Crow and stuff themselves at a communal table. "They ate everything about a pig but the squeal," he says. "I mean, everything."
Like so much else in the United States, the tradition moved west and picked up its own characteristics—such as the preference for pork shoulder and ketchup-infused sauce that distinguishes the western (or Piedmont) style, which orbits around Lexington. North Carolinians spend hours arguing over which is better. But the distinction matters less to Jim Early than the difference between barbecue—actual, honest-to-Cavendish barbecue—and just cooked pig meat. Barbecue is cooked slowly at low temperature over live coals. That's it. That's the definition. Full damned stop.
"You cannot replicate that with electricity or gas. That's not barbecue. That's roast pork," he says, with emphasis, over the table. Early is a trim man of medium height who keeps his ash-gray hair impeccably combed, but it's not hard to imagine it getting mussed in a scrap over what's barbecue and what isn't. "You can put barbecue sauce on it and call it barbecue. You can cook it in a Crock-Pot and put sauce on it and call it barbecue. But it's not. Now, I get chastised on that all the time—about being old-school and a purist and all that. All I'm saying is, there's a totally different flavor when you've got the fat of that meat dripping onto live coals. The smoke it creates to season that pig—that makes the difference."
And that's getting rarer by the week, because the barbecue joints that do it the traditional way, in the small towns and cities near old tobacco farms, are drying up. Of the hundreds of places Early discovered during his survey, fewer than 30—the ones he highlighted in his book—met the formal standard. In March, after we speak, he cuts the list to 21 when the N.C. Department of Revenue shuts down Wilber's Barbecue, a quintessential Goldsboro barbecue spot since 1962, for nonpayment of taxes. What's replacing the old spots are nouveau-Southern dining experiences in cities like Charlotte, some of them even claiming to be "barbecue restaurants," which cater to city folks and offer menu items like beer and chicken wings and nachos and salads, and which may also serve what they call Carolina barbecue. But they use electricity or gas to cook the meat, and, sorry, to the likes of Jim Early, that ain't barbecue.
This is, in part, a long-winded way to say he doesn't care for anything you might find in Charlotte. "With Charlotte, because of the banks and the business, there's such an influx of people from all over the country coming in …" He pauses, a look of mild disgust on his face. "Things are different in Charlotte. They just are."
***
THEY'RE DIFFERENT everywhere you find barbecue, really, even if the pitmasters who specialize in syrupy-sauced ribs in Kansas City and beef brisket in Austin make sure they cook over coals like their traditionalist counterparts in the Carolinas. Barbecue is unique among traditional American cuisines for its vast regional variations; at times, as you pore over the volumes written about barbecue, authors and experts can seem like naturalists competing to classify the maximum number of butterfly species.
"Barbecue varies more from region to region than any other of the national foods," says Lolis Eric Elie, a television writer and former newspaper columnist whose barbecue travelogue, Smokestack Lightning: Adventures in the Heart of Barbecue Country, was published in 1996. "Fried chicken—there are individual styles, but you can't tell me what Chicago fried chicken tastes like compared to Mississippi fried chicken."
In his book, Elie writes that barbecue is a metaphor for American culture, and "a more appropriate metaphor than any other American food." Why?
"It's evolving much as the country is evolving," he tells me by phone from Los Angeles, where he works on the writing staff of the Amazon series The Man in the High Castle. "Additionally, barbecue embodies some of the classic American dichotomies, because on one hand, we all want to be rich and have a big house in some fancy subdivision, and on the other hand, we like to think of ourselves as everyday people. Well, barbecue at its highest level involves a great deal of complicated, difficult, precise work—but when it's served, it's at a party, and it's not a formal party. You pretty much have to eat it with your hands and get dirty, so it kind of has that American reaction to European formality."
The variations followed patterns of expansion and apprenticeship, generally westward. From the Carolinas and Virginia, barbecue crept to Tennessee and the Deep South—Georgia, Alabama, Mississippi—by the 1820s, and to Texas and the Midwest by the 1840s. Until the turn of the 19th century, it was a non-commercial, communal food reserved for holidays and other special occasions, says Robert Moss, a Charleston-based scholar and author of Barbecue: The History of an American Institution. But in the early 20th, as towns sprang up around railroads and markets, farmers set up tents and sold meat by the pound and plate.
"And those developed into brick-and-mortar barbecue joints," Moss says. "If you think about going from an informal to a standard business, you have to standardize how you prepare the food, and that's really where you start to see the regional variations. You'd see this kind of local mentorship going on—young people would go to 'the barbecue guy,' learn the techniques, then go open their own places."
Case study: the western, or Piedmont, style of Carolina barbecue, which you might as well call the Stamey genus. In the 1920s, two of the first commercial vendors in Lexington, Jess Swicegood and Sid Weaver—guys who sold barbecue from tents across the street from the courthouse—taught a youngster named Warner Stamey a peculiar spin on the traditional method: shoulder instead of whole hog and a sauce, or "dip," reddened and enriched by a bit of ketchup. Stamey moved west to Shelby but came back in 1938, bought Swicegood's place, and renamed it after himself.
Fifteen years later, he opened a Stamey's Barbecue on what was then called High Point Road in Greensboro. Six years after that, the city opened a new arena, Greensboro Coliseum, across the street. Stamey's has fed countless basketball and concert crowds since then, and the two Greensboro locations remain in the hands of Chip Stamey, who vows to keep doing it the way his grandfather did.
He'd better. Dozens of cooks learned directly from Stamey, including those who established Lexington Barbecue and Bar-B-Q Center in Lexington and Red Bridges Barbecue Lodge in Shelby—all cornerstones of the western style. "You can name about 30 different restaurants in the Piedmont," Moss says, "that trace their roots back to Warner Stamey."
***
JIM EARLY AND I MEET in the first week of March, before the news about Wilber's in Goldsboro. He laments that since he converted the list of authentic Carolina barbecue spots to The NCBS Historic Barbecue Trail on the Barbecue Society website, he's had to remove five places that closed, three within the previous 90 days: Jack Cobb and Son Barbecue Place in Farmville; Allen & Son Barbeque in Pittsboro; and Speedy Lohr's BBQ of Arcadia, between Winston-Salem and Lexington. He was worried enough about the dwindling list to reduce his years-in-business requirement from 15 to 12. "I've taken people off for non-compliance," he says, referring to the apostates who switch to electric or gas heat. "But I haven't had three retirements in 90 days."
The restaurant names provide a clue as to why they closed. Especially in rural and small-town areas like eastern North Carolina, prior generations stuck around, and parents passed knowledge and business to their children. Farming's decline and the relocation of young people to cities have broken generational chains and, as North Carolina cities have grown more cosmopolitan, eroded emotional ties to traditional food. If you move to Raleigh from Scranton, or to Charlotte from Syracuse, you may find that you like Carolina barbecue. But it won't remind you of your childhood, and you probably won't take a four-hour road trip to a dot-on-the-map town near an old tobacco farm to eat it.
"I truly believe that everyone's barbecue touchstone starts with the barbecue they grew up with," says Elizabeth Karmel, also known as the "Grill Girl." Karmel is a Greensboro native who's turned her love for eastern-style 'cue into Food Network fame and the online business CarolinaCueToGo.com, which ships whole-hog barbecue around the country. "Barbecue is one of those things that's very much about comfort, about family, about good times, poignant times."
Karmel, who lives on the eastern tip of Long Island now, won't look down on any barbecue style—western Carolina, KC burnt ends, beef ribs cooked over mesquite from the Texas Hill Country. She refers to herself as "an equal-opportunity barbecuer." If you grew up with it, go ahead and love it. But she, like Jim Early, grew up with eastern-style. "That vinegary tang—I think it's the best barbecue out there, and I've basically put my career on it," she tells me. "For me, when I take a bite of a North Carolina-style sandwich, it takes me back. It's a visceral thing. It's not just food. It's a lifestyle, a community."
And it's shrinking. The Historic Barbecue Trail winds through towns like Murphy, Flat Rock, Little Switzerland, Granite Quarry, Willow Springs, Dudley; the only two city names are Winston-Salem and Greensboro—no Asheville, no Raleigh, no Wilmington, no Charlotte. The small-town people, Early says with a deep sigh, "are the ones who have supported and caused these iconic barbecue places, like the ones on the Trail, to grow. It wasn't people coming from the cities out there. It was people who ate there five times a week and went on back, generation after generation, with their families." There's not much left for them. So the children leave, and the tables empty.
Some of the places and people hang on, though, like Chip Stamey in Greensboro, and Red Bridges' daughter and grandchildren over in Shelby, and, in tiny Dudley, near Goldsboro, Steve and Gerri Grady of Grady's Barbecue, which Early describes this way on his website: "This 'cue is so good you don't want to swallow it. It is one of the best eastern-style 'cues one will ever taste—pure 'cue heaven on Earth."
And once you drive the state and ask people where the good barbecue is, you apparently find no shortage of people who want to discuss it, and pay for it, and eat it. "I'd stop highway patrolmen," Early tells me, as he reminisces about his travels two decades ago. "I'd stop people on the highway."
I ask him how that went over.
"Fine," he responds, "'cause you're talking about barbecue."
---
Greg Lacour is the senior editor for this magazine.