Where Are They Now?: Dorothy Counts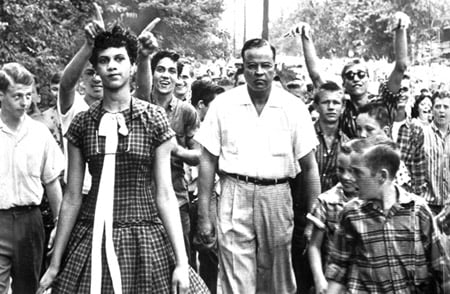 ON THE MORNING of September 4, 1957, fifteen-year-old Dorothy Counts set out on a harrowing path toward Harding High, where-as the first African American to attend the all-white school -she was greeted by a jeering swarm of boys who spat, threw trash, and yelled epithets at her as she entered the building.
Charlotte Observer photographer Don Sturkey captured the ugly incident on film, and in the days that followed, the searing image appeared not just in the local paper but in newspapers around the world.
People everywhere were transfixed by the girl in the photograph who stood tall, her five-foot-ten-inch frame towering nobly above the mob that trailed her. There, in black and white, was evidence of the brutality of racism, a sinister force that had led children to torment another child while adults stood by.
A week later, the girl in the photograph was gone. Her parents -having been told by the school administrators and police officials that they could not guarantee her safety -sent her to live with a relative in suburban Philadelphia, where she could peacefully attend an integrated school.
Rather than permanently quitting the city that failed her, she moved back three years later to earn her degree from Johnson C. Smith University and, except for a couple early years spent living in New York City, she has lived here ever since.
She has worked primarily with children, for twelve years heading up a church-based child-care center that served low-income kids and
for the last twenty-two years at the local nonprofit Child Care Resources Inc. advocating for better child care. She's divorced, and the two children she adopted as babies are now grown (one lives in Charlotte).
"What happened on that day really set me on a path," says Dorothy Counts-Scoggins, a vibrant sixty-something grandmother. "I've always wanted to work to make sure that bad things don't happen to other children."
It also set Charlotte on a path, as it prompted local business leaders — embarrassed by the negative publicity, if nothing else — to urge racial tolerance. And in the years that followed, the process of integrating schools and other public facilities went relatively smoothly.
And yet, the girl in the photograph is worried that, fifty-three years later, we're headed backward. In the eleven years since a federal judge ordered an end to race-based busing in Charlotte-Mecklenburg, schools have largely resegregated, and Counts-Scoggins sees evidence of inequality.
At West Charlotte High — a predominantly African American school her granddaughter recently graduated from — she says the lack of resources is disturbing.
"At the beginning of the school year, they would go for weeks without books, for weeks without enough chairs for everyone in the classroom," she says. "When I heard about that I thought, Lord, this brings back memories."
Since the fiftieth anniversary of the Harding High incident three years ago, Counts-Scoggins has been asked many times by journalists, historians, school groups, and others to recount her memories of September 4, 1957. She doesn't consider it a burden and is in fact thrilled that the library at Harding High was recently named for her — a rare honor given that the school board has a policy of not naming buildings after living people.
"It gives me a chance to talk to kids about the importance of education, and to let them know that people have had to fight for them to have these opportunities," she says. "I can be a reminder to them."