Will New Restaurant Ink n Ivy Start an Uptown Trend?
5,000-square-foot patio is a good use of space overlooking Romare Bearden Park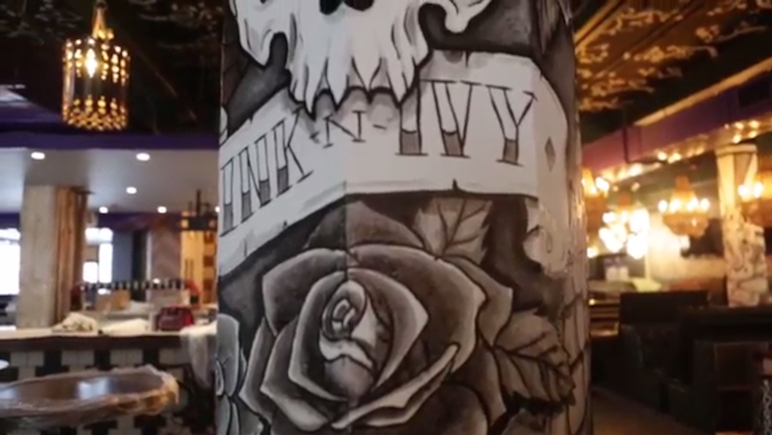 Bottlecap Group, the restaurant group behind Whiskey Warehouse and Brazwells, will soon open Ink n Ivy in uptown Charlotte. They're targeting a September opening date; training starts today.
The restaurant and bar—the second to a sister location in Greenville (and there's soon to be a third in Charleston)—will serve typical American cuisine. The opening menu will be the same as the Greenville location, with dishes such as spicy fried oysters and a raw bar, as well as the restaurant's interpretation of bar classics, including wings, salads, sandwiches, wraps, and burgers. Chef Josh Arnold joins the group from Rusty Rudder in Cornelius to run the kitchen.
As for drinks, the menu will have monthly specials, like you see at Whiskey Warehouse, with cocktails, wine, and local beers. The restaurant will have a late-night menu, too, and the edgy interior is certain to draw a large after-hours crowd. Dark floors and a black ceiling painted with ivy details are accented with bright purple on the vents, while leopard print booths and graffiti-inspired wall art add even more swagger to the place. A large bar is the centerpiece of the dining room, but the biggest draw may be the massive patio.
At Charlotte magazine's #discussCLT event centering on growth earlier this year, a panel discussed how our city can design a more livable place, instead of the massive apartment buildings that take up street-level space with leasing offices and parking. Architect David Furman mentioned Romare Bearden Park as an example of this. The park was a massive investment by the city, yet an apartment building was allowed to build its gym overlooking the park, instead of retail space that could benefit the city's walkability. A parking lot on the corner of Martin Luther King Boulevard and Church Street gives a Chamber of Commerce logo a great view, but nobody else.
Ink n Ivy is a start of a trend we'd like to see more of: great real estate that is usable to more than just residents of an apartment building. From the 5,000-square-foot patio on the corner of Third and Church streets, diners and drinkers can see kids play in Romare Bearden Park, watch for foul balls flying from BB&T Ballpark, or simply people watch on the city's sidewalk. Panthers games will probably also bring a full patio, as the restaurant has three massive TVs out there, and the roar of a Panthers touchdown can probably be heard all the way through uptown.
Now, doesn't that sound more like a big city?