Wine & Dine at 909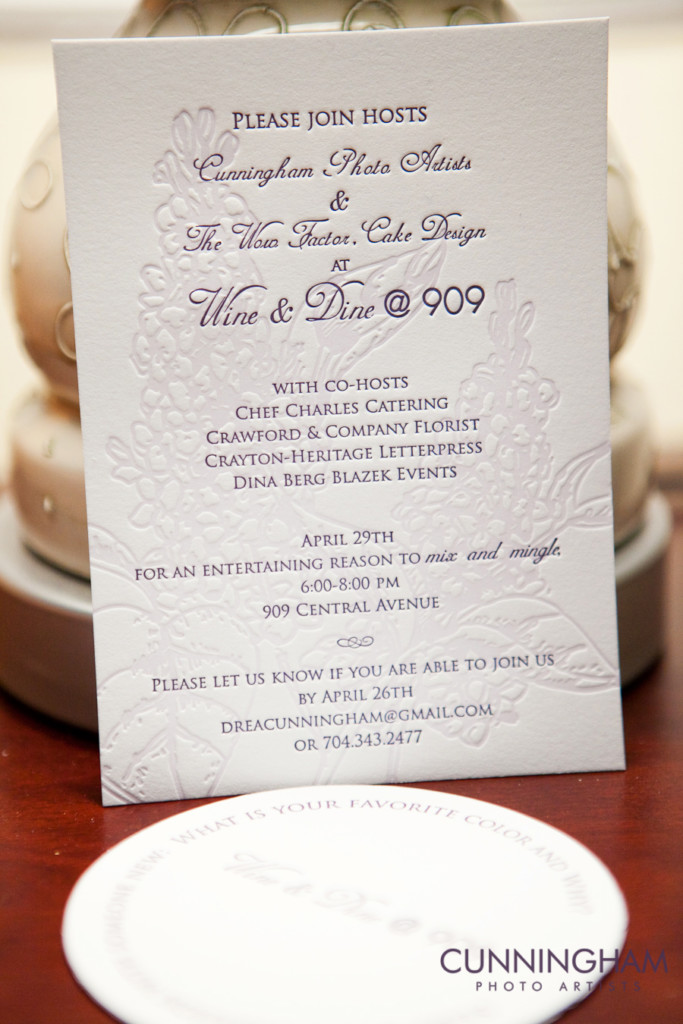 In an effort to foster networking amongst various Charlotte wedding professionals, as well as to give those pros a chance to showcase their talents and skills, Drea and Casey Cunningham from Cunningham Photo Artists teamed up with neighbor Amy Craparo from Wow Factor Cake Design to start the Wine & Dine at 909 events.
Each quarter, the Cunninghams partner with a Charlotte wedding planner/designer, a floral pro, a caterer, and a few other wedding professionals i(hotel and event managers, photographers, designers and jewelry designers and more) and essentially have a fab party where everyone wines, dines, mixes, and mingles. Each of the pros involved usually invite clients (brides, grooms, other vendors) to join them in a small get together at the address that Cunningham and Wow Factor Cake Design share at 909 Central Avenue.
"We invite a different mix of attendees each time so that the parties are always interesting and appreciated with new eyes," says Drea . "We keep it intimate so that every guest can really enjoy the elements as a whole."
At the second Wine & Dine, (the first was held in February and called Passion) the inspiration this time was Bloom. Inspired by the spring season, key designer Dina Berg Blazek used every shade and hue of purple, plum, and lilac to design and create a lavender-filled event. Her love for letterpress sent her to Crayton-Heritage Letterpress for invitations and conversational coasters. Todd Crawford of Flowers of Charlotte hung gorgeous chandeliers and wowed everyone with a purple reflection pond and three dimensional window installations. Party Tables' own Shay Vitale draped everything in oodles of gorgeous fabric in every purple hue. Guests noshed on egg and bacon puffs and mini sesame oil salmon cones from Chef Charles Catering, and delicious mocha cake from Wow Factor Cake Design while sipping the signature cocktail, a Lavender Cosmo. And everything was lit with a lovely lavender hue by Wink Lighting.
Other guests in attendance at last Thursday night's event were Nathan Hoffman from the Charlotte City Club, Erin McDermott from Erin McDermott Jewelry, Anne Bodnar Markey of Favor Me Events, C.J. and Shea from J. Majors Boutique and E.G. Couture, and Kimberly Bachelder of the Ritz-Carlton Charlotte.