You Know You're From Charlotte If…
You remember these iconic landmarks. Take a look back at the days when Charlotte was a still a small town looking to impress.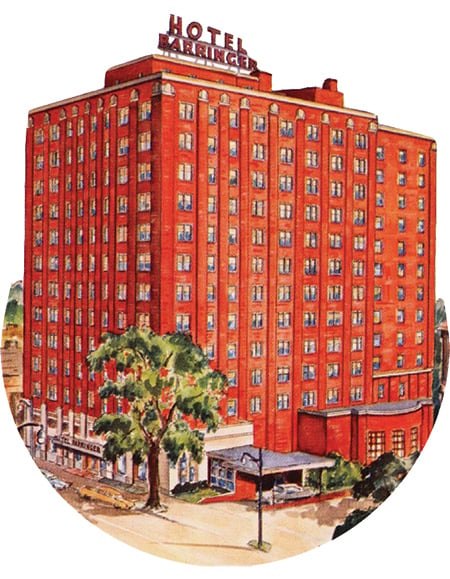 BARRINGER HOTEL
What do Gene Autry, Betty Grable, Elvis Presley, Richard and Pat Nixon, Gloria Swanson, Joan Crawford, and Judy Garland have in common? They all stayed at the William R. Barringer Hotel, once one of the largest and grandest hotels in the South. It opened uptown in 1940 and changed hands, and names, many times. In 1979, the city of Charlotte bought it for $850,000 and turned it into public housing for the elderly and disabled. The apartment complex, operated by the Housing Authority, is now called Hall House.
---
IVEY'S
Standing on the corner of Fifth and Tryon, the old Ivey's building, once an iconic building in uptown, is now dwarfed by skyscrapers. Built in 1924, it was designed by architect William H. Peeps and owned by J. B. Ivey. Many Charlotteans remember Ivey's for its spectacular customer service, its meditation and prayer room, and the fact that it was closed on Sundays until 1976. After multiple mergers, Ivey's was finally bought by Dillard's department stores in 1990 and closed soon after that. The building now houses condos on the upper floors and 5Church restaurant on the ground level. A Florida real estate investment group has announced plans to convert the first two floors into a boutique hotel this year.
---
SUTTLE'S SWIM CLUB
After he battled rheumatic fever in World War I and worked in cotton mills, Ralph Suttle and his wife, Beatrice, thought a swimming pool would help Ralph's heart problems. They had no idea it would turn into a summer retreat for Charlotteans for more than 60 years. The original 60-square-foot pool opened in 1930 with a sandy bottom and oak wood walls, and slowly evolved into the 100-by-200-foot concrete behemoth that most people remember on Wilkinson Boulevard. In the early 1960s, the pool turned to private membership. It closed in 1993, was covered over, and is now beneath the site of Fieldridge Acres campground.
---
THOMPSON'S BOOTERY AND BLOOMERY
One of the most infamous businesses in Charlotte's past, Thompson's Bootery and Bloomery was the community's one-stop shop for the Buster Brown brand of children's shoes as well as for lingerie. Local historian Tom Hanchett recalls people telling him the now-defunct shop on Independence Boulevard once had live models in its window—which would explain the many skid marks on the pavement out front. It may not be as esteemed as some of the other businesses on this list, but it sure lingers in the minds of locals.
---
MCDONALD'S CAFETERIA
When he was struggling to make it in Brooklyn, New York, in the 1940s, John McDonald said God told him the key to prosperity lay in his cooking. So he started a restaurant there and years later moved to Charlotte, where he opened a restaurant, hotel, and amusement park. McDonald's Cafeteria, with its soulful home cooking, was a place that brought Charlotteans together during the racial upheaval of the 1970s. This west Charlotte institution closed in the summer of 2003.