10 Great Dates
Sure, a simple dinner-and-a-movie option could cover date night, but where's the fun in that? We've found ten great dates to get you out and about in Charlotte. Get artsy in NoDa, enjoy a leisurely stroll in Waxhaw, and take the big leap (skydiving, that is) in North Carolina wine country. These dates are designed for hours of entertainment -- and, of course, plenty of romance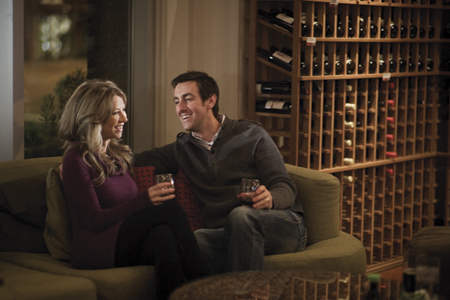 We polled our readers at www.charlottemagazine.com about their thoughts on dating, love, and sex in the Queen City. Look throughout this feature to find out what they had to say.
Ballroom Romance
If your honey is hooked on Dancing with the Stars, then bring her (or him) to this monthly event to see just how quick you can be on your feet. The second Monday night of the month at beautiful Grand Central features the musical stylings of Bill Hanna's Vintage Band, a twenty-piece orchestra. If you've never ballroom danced before, complimentary dance lessons are offered for forty-five minutes before the event starts at 8 p.m. It's an intimate evening, as the room is dimly lit and candles give off a glow from the tables. Drinks flow from the bar, while waitresses take your orders from the light food menu (Swedish meatballs, sliders, mini quesadillas, and other small dishes). Couples parade back and forth from their tables to the dance floor throughout the night, and half the fun is watching the great dancers swing, foxtrot, and waltz around the room. The crowd here skews a little older, with many participants at fifty-plus, but since this type of dancing is timeless people of all ages enjoy it. Cover charge is $10 per person, and if you're planning to enjoy food and drinks, you're looking at about $70 total for the night.
Grand Central: 1000 Central Ave. 704-373-1699, grandcentralevents.com
Who pays for the date?
42% said he does – 33% say whoever asks – 25% say split it
Art Angle
"Art for the people" could well be the slogan of the funky North Davidson Street arts district. People wear art, make art, play art, and eat art. Park on the street for the gallery crawl that begins at 6 p.m. on the first and third Fridays of the month. The Center of the Earth Gallery anchors the egalitarian scene. Ruth Ava Lyons and Paul Sires opened it two decades ago, and have since used their MFAs not only to create art, but also to paint and hammer their way through the abandoned buildings of the former mill village. Next to their gallery you'll find contemporary crafts at BEET, and on nearby Thirty-sixth Street are Green Rice Gallery (which rents out artists for parties) and Lark & Key, a good place to search for a memento. The best part is yet to come: dessert at Crêpe Cellar, the cozy French bistro meets British pub that offers sweet and savory crêpes. The small restaurant features wide glass windows, perfect for people watching on the busy street as you share a light and airy crêpe filled with luscious, sweet Nutella and topped with perfectly ripe bananas. Order a few cups of the French-press coffee and soak up the convivial atmosphere
North Davidson: noda.org; Crepe Cellar Kitchen and Pub: 3116 N. Davidson St., 704-910-6543, crepecellar.com
Small-Town Splendor
Davidson is one of the most romantic little towns you'll ever see; it's perfect for a first (or fiftieth) date. If you're coming from Charlotte, the easy thirty-minute drive will give you a chance to chat. Head up I-77, take Exit 30, veer to the right, go through the two traffic circles, keep driving till the road ends, and you'll be at Main Street. (Yes, it's really called that.) Park anywhere — for free — on the street. And prepare to spend a lovely afternoon. If you have time, take a quick stroll through the idyllic campus of Davidson College (tip: there's a secret sculpture garden behind Chambers, the large main academic building). Back on Main Street, wander the shops. Don't miss Tom Clark's gnomes, the funky Village Store, or the intellectual Main Street Books. For a lunch that time forgot, grab a table at the classic Soda Shop, which has been serving burgers since 1951. But save dessert for the Ben & Jerry's just down the street. If you still have things to discuss—and quaint college towns can prompt discussion — settle in at Summit Coffee, where you're likely to catch students and professors in deep conversation over chai tea lattes.
Summit Coffee: 128 S. Main St., Davidson, 704-895-9090, summitcoffee.com
42% prefer a restaurant for the first date
Daring Dive
It's been said that doing crazy things together as a couple brings you closer, and there are very few (legal) things that are crazier than jumping out of a plane at 10,000 feet. On a warm and sunny Saturday, grab your special someone and drive up to North Carolina's gorgeous wine country. After a day of instruction, you and your date will climb into a small plane and soar into the sky. Enjoy the views of the picturesque countryside and the grapevines below before your experienced instructor tells you it's time to go. After climbing out and doing a backward cannonball into open space, the next forty seconds will surely change your life — and probably your relationship. You'll be face down, watching the green earth rush toward you at 120 miles per hour, until your instructor pulls the chute so that you can sail in the quiet and see your date, either above or below you, doing the same thing — your chutes ballooned out behind you. After you both glide down to the safety of sod, you and your date can share your new bond — and celebrate the excitement of your jump — over glasses of wine at one of the nearby Swan Creek wineries. A first jump costs $219.
Carolina Skydiving: 3133 Swan Creek Rd., Jonesville, 336-526-5867, carolinaskydiving.com
Picturesque Picnic
The romantic picnic is an age-old, tried-and-true method of showing your affection for someone, but it's becoming a bit of a lost art. It can take a lot of work locating that perfect spot, and even more effort in preparing the dishes to place in that wonderful wicker basket—so it ends up requiring more time than many people have to spare. But the staff at The VanLandingham Estate makes it easy for you. The chef prepares a splendid meal for two, and you simply say when you're coming and where on the picturesque grounds you'd like to dine, and they'll have a blanket laid out with the food-filled basket and a bottle of wine. There are four menus to choose from, ranging from the Simply Southern (barbecue) for $25 per person to the Splendid in the Grass (oysters and lamb chops) for $50 per person. And they each include side dishes, dessert, and wine. When the weather is warm, pick a spot in the butterfly garden or in front of the lily pond, and everything else is taken care of.
The VanLandingham Estate: 2010 The Plaza, 704-334-8909, vanlandinghamestate.com
39% go to bars to meet their next date
3% go to a religious organization
Ethnic Food Trail
If you're in the mood for some tasty bites and feeling adventurous, grab a date who shares your gastronomic curiosity and head out on a Saturday afternoon for some of the best food in the city. You can get an early start at Le's Café, a small shop inside the Asian Corner Mall selling banh mi, small Vietnamese sandwiches stuffed with meats, fresh vegetables, and herbs and served in crispy French bread. The number twelve, a warm steamed pork sandwich, is perfect for splitting, and with the day of feasting ahead, you'll want to start small. Next, take your date on a drive across town to Taqueria La Unica on Central Avenue. The restaurant's gorditas, featuring chunks of spicy pork with lettuce, peppers, and green hot sauce sandwiched by two small fried corn tortillas, is a tasty choice and perfect for heating things up. Finally, a sure way to impress your companion is a finale with pupusas at El Pulgarcito on Central Avenue. The hot and delicious pancakes made from corn flour dough are stuffed with meat, cheese, or beans and covered with a tangy slaw and hot sauce. Now, if only you had the energy for a trip together to the gym.
Le's Café: 4520 N. Tryon St., 704-921-7498
Taqueria La Unica: 2801 Central Ave., 704-347-5115
El Pulgarito: 4816-A Central Ave., 704-563-6500
Toast for Two
Whether you're a wine-tasting amateur or a sommelier, comparing the flavors of different vinos can be a fun and romantic way to spend an evening. The best place to taste wine here in Charlotte is not a wine bar, but actually a wine shop. At Winestore the two of you can taste up to twenty-four wines from stainless steel dispensers called Enorounds. Push the button over your selection and it dispenses a one-ounce sample of one of the choice wines from around the world. Discover whether your date is a fan of California cabs or South American pinots as you sip your way through the evening. It's a special chance to taste wines you might not otherwise — there are expensive premium wines that go for more than $60 a bottle. At the end of the night you can compare notes, get to know each other's palates, and then buy a special bottle to take home together.
Two locations: 720 Governor Morrison St., 704-442-4024 and 9831 Rea Rd., 704-443-2944
Not a single survey participant had been in love more than five times.
57% had been in love two to five times
Racin' Rush
Ladies, this is an all-day Saturday affair. Buckle up and enjoy the ride. First stop, Mac's Speed Shop on South Boulevard for lunch. The Kansas City Barbecue Society hails it as the best BBQ in Charlotte — not bad coming from pros who judge 'cue coast to coast. But we didn't need Kansas City to tell us that. Give yourself time for the Li'l Pig Sandwich to settle, because from here you are taking your guy for an adrenaline rush at Victory Lane Karting. Yeah, they look like bumper cars, but push the pedal and you can hit 40 mph while taking some powerful abuse. If you don't like pushing and shoving or high-speed curves, stay on the sidelines. Otherwise, pull on the jumpsuit, head sock, and helmet and climb in. Finish up the day watching drag racing at Lowe's Motor Speedway; the 2010 National Hot Rod Association Nationals are March 25-28. If you plan your date for Memorial Day weekend, go for the NASCAR Coca-Cola 600 on Sunday night. Top seating is in the Ford section, and don't forget to bring earplugs.
Mac's Speed Shop: 2511 South Blvd., 704-522-6227, macspeedshop.com; Victory Lane Karting: 2330 Tipton Dr. (junction of I-85 and I-77), 704-377-3278, 377fast.com; Lowe's Motor Speedway: 5555 Concord Pkwy. South, Concord, 704-455-3205, lowesmotorspeedway.com
Main Street Rendezvouz
There's something relaxing (and utterly romantic) about spending an early Saturday morning sipping coffee and enjoying a simple breakfast with your honey. Now add in the quaintness of downtown Waxhaw and you have the perfect weekend date. Head first (and early) to Main Street Grill, where the line for its homestyle breakfast starts to thicken around 9:30 a.m. The breakfast here is simple: eggs, omelets, pancakes, and the fixin's (get the bacon, which is grilled nice and crispy). Order the feta and tomato omelet, grab a cup of Main Street's freshly brewed coffee, and pull up a seat on the outdoor patio, where you'll take in the morning bikers and runners, the occasional locomotive train, and pedestrians out for a stroll with their pooches (which can join you on the patio while you dine). Afterward, stroll the sleepy town's antique shops and furniture spots (roost and Waxhaw Antique Mart are two not to be missed). Then head to nearby Cane Creek Park, where you can roam the 1,000-plus lush acres and relax by the lake, which is one of only three trophy bass fishing lakes in the state. Come prepared and have a Thermos filled with warm coffee from Main Street Grill for your time in the park.
Main Street Grill: 201 W. South Main St., Waxhaw, 704-243-4224
49% of respondents have had a one-night stand
43% have used some form of online dating
City Square
If your date is new to Charlotte, this downtown amble is sure to impress. By mixing art, history, and romance, you'll look cultured and dashing by the time it's finished. Start early on a Friday afternoon with a pocketful of change. Park in Fourth Ward, the city's Victorian neighborhood of turrets and quaint gardens, and walk to the Gold Rush Trolley stop on North Church Street. Take the free trolley (it's really a bus) to the 500 block of South Tryon, where you'll explore the city's spectacular new mingling of modern art and African American culture. Admire the Harvey B. Gantt Center for African American Arts + Culture, with its quilt-inspired exterior (a tribute to the Underground Railroad) and enlist a stranger to take your picture under the towering mosaic Firebird in front of the Bechtler Museum of Modern Art. Stroll back to Fourth Ward—here's where the coins come in—and make wishes in the many fountains along the way. Tuck in to the neighborhood tavern, Alexander Michael's, to start dinner with fried pickles and a microbrew.
Gold Rush Trolley: runs every seven minutes, 7 a.m.-10 p.m., Mon-Fri, (see charmeck.org for a map); Harvey B. Gantt Center for African American Arts + Culture: 551 S. Tryon St., 704-547-3700, ganttcenter.org. Bechtler Museum of Modern Art: 420 S. Tryon St., bechtler.org; Alexander Michael's, 401 W. 9th St., 704-332-6789