11 Must-Try Breakfasts and Brunches in Charlotte: 2022
From biscuits to beignets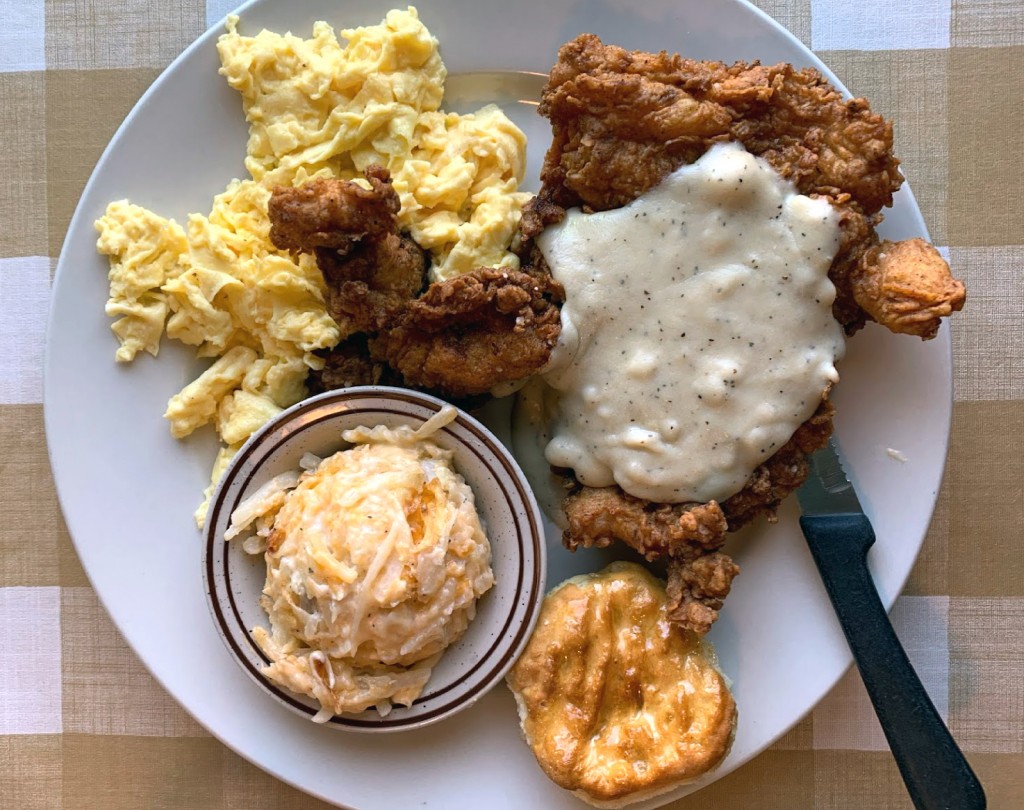 Dish's Fried Chicken Thighs
1220 Thomas Ave.
$12.25
When Sweet Lew's BBQ co-owner Lewis Donald took over the spot a few years back, weekend brunch was one of the major changes. This particular dish is for Cheat Day: These crispy thighs, smothered in white pepper gravy, are flanked by two eggs, hash brown casserole, and a biscuit.
Easy Like Sunday's Fried Chicken and Cornmeal Pancakes
1600 E. Woodlawn Rd., Ste. 100
$14.95
This relative newcomer to the Park Road area specializes in breakfast and brunch. The fried chicken and cornmeal pancakes are worth standing in line for, but if you'd rather skip the weekend rush, go in the evening and have a boozy brunch after dark. It's topped with maple butter and comes with a side of peach habanero jam, and you can also swap in seasonal pancakes (like the above) to switch it up.
Eddie's Place's Country Fried Breakfast
617 S. Sharon Amity Rd.
$11.25
This is one of our "go big" options that's best saved for a weekend cheat day. They place a massive country-fried chicken breast on a grilled open-face biscuit and smother it with sausage gravy. (Two eggs come on the side, too.) There's a reason this place has been a Best of the Best Award favorite since we started them in 1999.
Poppy's Bagels & More's Bacon, Egg, and Cheese on an Everything Bagel
Multiple locations
$5.99
Conventional wisdom says the best bagels are made in New York. The family behind Poppy's hails from Long Island, so it's safe to assume they know what they're doing. Their warm bagels are dense, doughy rings of heaven. Our favorite is a toasted everything bagel with bacon, egg, and cheese on a Sunday morning, preferably with a mug of hot coffee and a crisp New York Times.
Famous Toastery's Huevos Rancheros
Multiple locations
$10.99
This Huntersville-born concept continues to expand across state lines. The Huevos Rancheros on the "Founder's Menu" are the best of Tex-Mex breakfasts in the region. Mixed with a pair of eggs are avocado, pico de gallo, and cilantor, over a bed made of cheddar, feta, black bean salsa, and tortilla strips.
Ruby Sunshine's The Peacemaker
332 W Bland St.
$16
The New Orleans-inspired all-day brunch spot has a line-up of the star benedicts that include Bayou Shrimp, Eggs Cochon, and Hot Smoked Salmon. If you can't decide one just one—and we can't blame you—opt for The Peacemaker and mix and match any two benedicts. The Chicken St. Charles and Crawfish and Grits pair particularly well.
Original Pancake House's Pumpkin Pancakes
Multiple locations
$5.99
OPH has been Charlotte's pancake go-to for decades. Their Pumpkin variety, thankfully, is not a fall-only option for those of us who are season-agnostic about that flavor. It's served with a side of whipped cream, but you can punch it up and add pecans for a true mountain of joy on your plate.
Cafe Monte's Benedict Monte
6700 Fairview Rd., Ste. 108
$15
A self-described "taste of Paris," this French bakery is a popular SouthPark fixture. Its "Eggs & Omelettes" menu is stacked with treasures, but go for the titular dish, first: The Benedict Monte is a croissant with smoked ham, two eggs, asparagus, hollandaise, and tomato. And be sure to save room for the spot's beignets.
Eight + Sand Kitchen's Nashville Hot Chicken Biscuit (and Shakshuka)
135 New Bern St.
($13 and $11)
The Nashville hot chicken biscuit started as a seasonal dish but became so popular they made it a permanent menu item. The chicken is buttermilk-brined, panko-fried, and dripping in hot sauce, then topped with a thick slice of cheddar, a free-range fried egg, and pickles. It's piled onto a house-made buttermilk biscuit, which may not be enough to contain the runny egg yolk. Also try: The shakshuka, a classic Israeli breakfast, is a bowl of spiced tomato sauce with kale, chickpeas, two free range eggs, feta, and parsley with a thick slice of sourdough toast.
Lincoln's Haberdashery's Sticky Biscuit
1300 South Blvd., Ste. S
$7.25
It may sound like one of the simpler entries on this list, but Lincoln's Haberdashery injects a surprising amount of flavor into this handheld item: A rosemary cheddar biscuit is packed with Hickory Nut Gap ham and wildflower honey butter. Bonus points: The South End restaurant is also one of the best coffee shops in the neighborhood.
Sunflour Baking Company's Sunny's Special
Multiple locations
$8.75
Get this breakfast sandwich (the No. 6!) on one of Sunflour's warm cheddar biscuits, and there's no way you'll have a bad day. It's layered with egg, sausage, sundried tomato pesto, and arugula, It's big enough that you can save the second half for lunch.