10-Year-Old Drummer Gets Nods From Bruno Mars, One Direction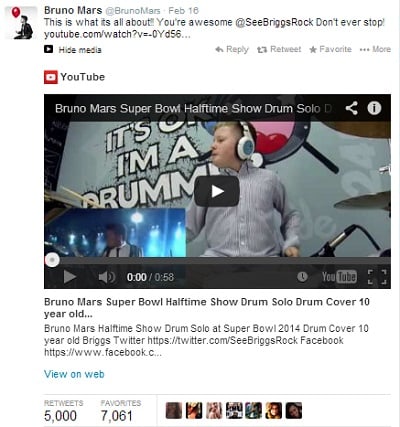 If you're looking to start off the week with a bang (or several bangs), check out the YouTube channel for 10-year-old drummer and Charlottean Briggs Akers. The percussionist's most-watched video is a cover of the Super Bowl halftime drum solo by singer-songwriter Bruno Mars. The video got an unexpected bump after Mars recently tweeted it out with some encouragement for Akers.
According to his parents, Ray and Evie Akers, it took Briggs just a couple hours to learn the solo, with just a couple days to perfect it. For many percussionists his age, it may have taken more time, but Briggs has been a YouTube star since he was six. Other than Mars, Briggs has also received nods from members of Paramore, One Direction, Taking Back Sunday, New Found Glory, and more. His penchant for rock makes sense; his fascination with drums started with the game Rock Band, in which players use specialized controllers to emulate the sounds of popular acts.
He even teaches his own lessons online, via his website, KidsDrummingLessons.com. It's a format similar to the website of his own instructor, Mike Johnston, who runs the popular website and educational service MikesLessons.com. Briggs currently instructs more than 300 students with his free lessons, his parents say.
On Friday, you can see Briggs perform during the finals for the Charlotte's Got Talent competition, taking place during halftime at the Charlotte Bobcats game. See the video of his Bruno Mars cover below.