12 for 2012: Best New Year's Eve Parties in Charlotte
Say farewell to 2011 and hello to 2012 by attending one of the dozen NYE celebrations on this list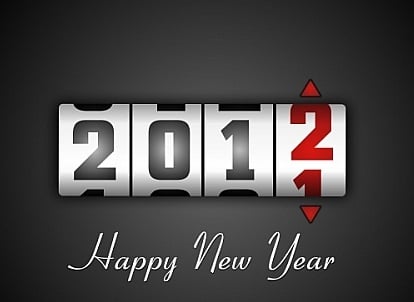 I received info on more than thirty New Year's Eve parties taking place in Charlotte. Because not all events are created equal and since I'm sure you appreciate recommendations, I present to you my picks for the top twelve NYE parties (listed in alphabetical order by venue). I took into consideration the appeal of the location, the reputation of the promoter/organizer, the entertainment, and whether or not it would be an all-around good time. There's something for everyone on this list.
Happy New Year! And remember to drink responsibly (or designate a driver). Also, you're advised to buy your tickets in advance.
Saturday, December 31, 2011
New Year's Eve at Butter NC
The party starts early in the night at this exclusive nightclub. Expect to see many of the city's high-profile people. Music by DJs AHuf, Ciprian, and Edouard. 8 p.m.-2 a.m. General admission $60; VIP tables, includes admission for six, $600-$1,000. Butter NC, at NC Music Factory, 950 NC Music Factory Blvd., buttercharlotte.com, ticketleap.com.
Eighth Annual NYE Party at Dilworth Neighborhood Grille
This party sells out each year, as people are drawn to the great camaraderie and food and drinks at a great value. Admission gets you access to four open bars serving top-shelf liquor and wines, and two lavish buffets. There will also be music from two DJs—one upstairs and one downstairs—and a champagne toast at midnight. 8:30 p.m. $75. Dilworth Neighborhood Grille, 911 E. Morehead St., ticketssoeasy.com/DNGNYE.
NYE Charlotte at Founders Hall
Several of Charlotte's leading promoters are uniting to throw a party at one of the city's largest venues. Expect their combined resources to draw a large turnout. Music by DJ C-Rob. Presented by Inner Circle Events, Bluegoose, The Sol Kitchen, RoundTable Ent., and M. Simmons. 9 p.m.-2 a.m. General admission $20; VIP admission, includes top-shelf open bar until 11:30 p.m., hors d'oeuvres, and champagne toast, $85; VIP table, includes admission for eight, hors d'oeuvres, champagne toast, and a bottle of Moet, $620. Founders Hall, 100 N. Tryon St., nyecharlotte.com.
Fourth Annual Black Tie New Year's Eve Ball at Kazba and Mez
It's two parties for the price of one at these neighboring venues. Make it a full night by enjoying dinner at Mez ($59.99 per person), and then the party gets started with multiple DJs, confetti cannons, a balloon drop, party favors, and an aerial performance. 10 p.m.-2 a.m. General admission $50; open bar ticket $140; VIP tables $200-$400. Mez and Kazba, inside EpiCentre, 210 E. Trade St., mezcharlotte.com.
New Year's Eve Celebration at Osso
It's Charlotte's newest restaurant and lounge, and in its second week is hosting what is sure to be a well-attended NYE party. You have a variety of options, ranging from an early-evening dinner to the late-night party. Music by DJ Nick Spain. 5 p.m.-2 a.m. $40-$150; top package, which goes for $300 for a couple, includes a three-course dinner for two, bottle of Veuve Clicquot champagne, and midnight celebration; reservations required. Osso Restaurant and Lounge, at NC Music Factory, 1000 NC Music Factory Blvd., 704-971-0550, ossocharlotte.com.
New Year's Eve Decades Disco Ball at Phoenix
Prepare to dance the night away via the sounds of seven DJs in three rooms throughout this large nightclub. DJs Johnny Vicious, Andy Kastanas, Scott Weaver, Tober, Dick Tracey, Sasha Taylor, and Steve Tuhoy will take you through decades of house, dance, and electronica music from the 1970s through today. Entertainment also includes glittering go-go dancers, a glam aerialist, champagne flute-skirted stilt walkers, and performances by diva drag artist Bethann Phetamine. 10 p.m.-2:30 a.m. General admission $15-$20. Phoenix, 300 N. College St., phoenixofcharlotte.com, wantickets.com.
Rich & Bennett's New Year's Eve Bash at Re:Public
This duo is legendary for their annual parties. Your all-inclusive ticket gets you beer, liquor, wine, champagne; and food by Cosmos Café. There will also be a balloon drop and confetti cannons at midnight. Music by DJ Complete. 9 p.m.-2 a.m. (VIP admitted at 8 p.m.) General admission $55 for women, $75 for men; VIP admission $75 for women, $100 for men; VIP group tables also available. Re:Public, 314 N. College St., republicofcharlotte.com, rockhouseevents.com/events.
New Year's Eve Masquerade Ball at Renaissance Charlotte SouthPark Hotel
If you want a break from the club scene, enjoy this elegant night out. Masks will be provided or revelers can bring their own; guests should wear cocktail attire and jackets are required. Event includes a cocktail hour with hors d'oeuvres, 7-8 p.m.; four-course dinner for two, 8-10 p.m.; open bar until 12:30 a.m.; and a night of dancing highlighted by a champagne toast at midnight. Tickets are $150 per person, and if you buy two as a couple ($300) you'll receive a complimentary room for an overnight stay with breakfast the next morning. Renaissance Charlotte SouthPark Hotel, 5501 Carnegie Blvd., renaissancecharlottesouthpark.com.
New Year's Eve Party in the Sky at The Ritz-Carlton Charlotte
Enjoy a memorable experience on the shimmering crystal deck of the hotel's eighteenth-floor Aqua Lounge. This stylish party will include an open bar serving premium drinks, open seating, music by DJ Tomato Slice, and complimentary valet parking. The new crystal dance deck of the Aqua Lounge will allow guests to dance over the water. There will also be a champagne toast and party favors. 9 p.m.-1 a.m. $150; must be purchased in advance. The Ritz-Carlton Charlotte, 201 E. Trade St., ritzcarlton.com/charlotte.
New Year's Eve at The Sunset Club
It's an annual tradition for many to ring in the New Year at this long-running exclusive nightclub. Your all-inclusive ticket gets you access to an all-you-can-eat buffet (8:30-10:30 p.m.) and an open bar of liquor, wine, beer, and champagne all night. It's one of the best deals in town on New Year's Eve. 8 p.m.-2 a.m. $75. The Sunset Club, 1820 South Blvd., sunsetclubcharlotte.com.
Asylum at Urban Garden
MAZ Entertainment, the party promoters who've drawn as many as 2,000 people to an event, promises an insane good time. Entertainment includes go-go dancers, an NYE lottery, live feed from Time Square, a party pit, and music by DJ Paradime. 10 p.m.-2 a.m. General admission $15 and up; VIP admission $55; VIP table, includes admission for six, bottle of champagne, and heavy hors d'oeuvres, $550. Urban Garden, at 1 Bank of America Center, 150 N. College St., mazentertainment.net/nye.
Majestueux III at Vapiano
The NYE party Six Figure Entertainment held last year drew a large crowd, and this year the promoter has added a couple of partners—Eddietainment and Queens Lair Events. Expect a stylish scene and influential crowd. Music by DJ 360. 9:30 p.m.-2:30 a.m. General admission $20; VIP admission $30; VIP table, includes admission for four, food, and bottle service, $280. Vapiano, 201 S. Tryon St., sixfigureentertainment.com.
Verify dates, times, prices, and other info at the web addresses listed for each event.
Be sure to bookmark www.charlottemagazine.com/Blogs/Dusk-Till-Dawn to stay plugged into Charlotte nightlife.