13 Ways to Get Organized This Spring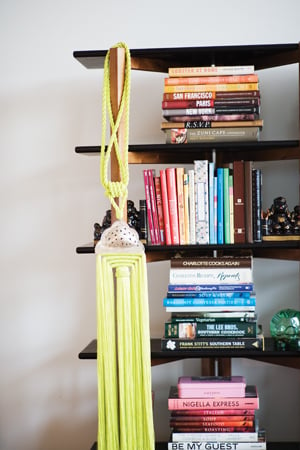 1. Say hello to spring by properly pack- ing away your heavy duds. First, clean clothes thoroughly because any leftover particles could become a stain while stowed away. (Be sure the plastic storage containers or card- board boxes are also clean.) When in doubt, fold and stack — hanging may cause clothes to become misshapen. Finally, keep your clean gear in dark, cool, and dry areas.
2. Take a quick inventory of your medicine cabinet and toss anything that's expired. Before flushing your pills down the toilet or tossing them in the garbage (expired meds are considered hazardous to the environment), inquire whether your local pharmacy offers a drug-recycling program.
3. Give a mini makeover to any table or shelf and organize your books by color. It's free, sophisticated, takes two seconds, and is so Martha.
4. We know you want to make room for your Twilight series. So pack up gently used books (no encyclopedias, please) and bring them to the Literacy Council of Union County (704-226-1425, literacyunion.org), whose mission is to help adults learn to read.
5. Update your family room by reupholstering a piece such as a love seat or an ottoman. Shop bargain designer fabrics at Modern Fabrics (704-740-9675, authenticmodern.com), then enlist H&F Upholstery (704-375- 3945), whose handiwork is shown, left, to redo your boring old couch into your new favorite design piece.
6. Sick of kitchen clutter? Put all utensils in a cardboard box. Every time you use one put it back in the drawer. After one or two months, donate the utensils still in the box to the Salvation Army (704-348-2560, salvationarmycharlotte.org).
7. Make sorting photos fun! Plan a Friday photo night with the family and get everyone involved. "Order your favorite food and then give everyone a box to sort," says Carson Tate at Simplicity Organizers. "Tell stories about the photos and use the time to educate your children on your family history." Also, keep the piles simple: sort photos by event (holidays, birth- days, family vacations, pets), but don't worry about getting the pics in perfect chronological order. Toss any picture where eyes are closed or the subject is out of focus. Finally, determine how you want to view and enjoy your photos, then set up your system. Do you want to flip through albums? Watch slide shows on your computer? Walk by framed copies on the wall?
8. Retail rule of thumb: if you haven't worn the clothing for one or two years, chances are you won't wear it this season, either. Repurpose all that unwanted gear by taking it to Goodwill. "If it's something that you would give to a friend or family member, then it's fit to donate to Goodwill," says Armando Barragan from Goodwill Industries of the Southern Piedmont (704-394-6017, goodwill.org). Or donate to Dress for Success (704-525-7706), which provides interview attire (think blouses, suits, shoes) for women.
9. Revamp your side table. Gary Goble (704-523-1087) will lacquer nearly any piece of wooden furniture, instantly transforming it into a more updated, sophisticated, and transitional piece.
10. If you have extra CDs or DVDs lying around but need to toss them, forget dumping them in the trash (it's estimated a CD takes a million years to completely decompose). Instead head to cdrecyclingforfree.com or cdrecyclingcenter.com, both of which offer free recycling
of CDs.
11. TV, computer, or household appliance no good anymore? Head to earth911. com to find out where you can dispose or recycle your household wares locally. Plus, research recycling centers so you can get rid of batteries, paint, glass, construction goods, and more.
12. "One in, one out," says Tate. As in, for each new item you bring into your home, let go of the item you are replacing or something else.
13. "Your clothes will be so much more clean than they would ever get at the cleaners," says Julie Smith of Cottage Chic (704-375- 1888, cottagechicstore.com) of going green with your laundry products. Cottage Chic carries products like The Laundress laundry detergent — phosphate free, highly concentrated, and boasting natural oils that make clothes smell amazing. Added bonus: by using The Laundress's fabric care products (Delicates Wash, Wool & Cashmere Shampoo, etc.), you can wash your silk blouses and wool sweaters at home and save money on dry cleaning.