14 Items for Your First Dinner Party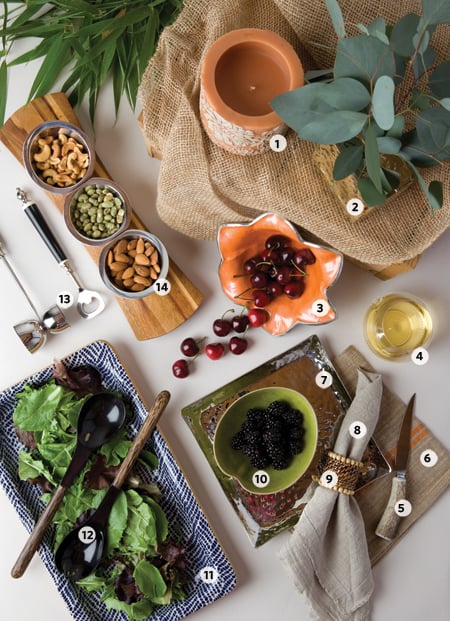 THE FIRST PARTY you host as a married couple will be for friends, and you won't be pulling out the sterling and fine china. Make sure your bridal registry includes tableware for a relaxing evening at home. These pieces from area boutiques sparkle with an upscale vibe.
Clockwise from upper right: 1. Peonies pillar candle, $42, Bedside Manor, 704-442-4006 2. Tamara Child gold-leaf vase, $34.50, John Dabbs, Ltd., 704-334-5040 3. Julia Knight tangerine lily bowl, $65, John Dabbs, Ltd. 4. William Yeoward wisteria tumbler, $74, Elizabeth Bruns, 704-365-3700 5. Vagabond House antler-handled knives, set of six, $195, B.D. Jeffries, 704-364-4004 6. Beyond orange-stripe napkin, $25, B.D. Jeffries 7. Mary Jurik hammered, square tray, $125, John Dabbs, Ltd. 8. Pom Pom Olivier napkin, set of four, $89, Bedside Manor 9. Napkin ring, set of four, $24, Elizabeth Bruns 10. Jars green fruit bowl, $32, Brock Moran, 704-341-6264 11. Terrafirma cobalt braid platter, $152, Elizabeth Bruns 12. Salad servers, $29, B.D. Jeffries 13. Bar set (additional pieces not shown), $84, Elizabeth Bruns 14. Nambé three-dip server, $195, John Dabbs, Ltd.