18 Adventurous Outings Near Charlotte
Sure, this city might not be a mecca for outdoorsy activities. But if you know where to look, there's so much to explore within 200 miles of uptown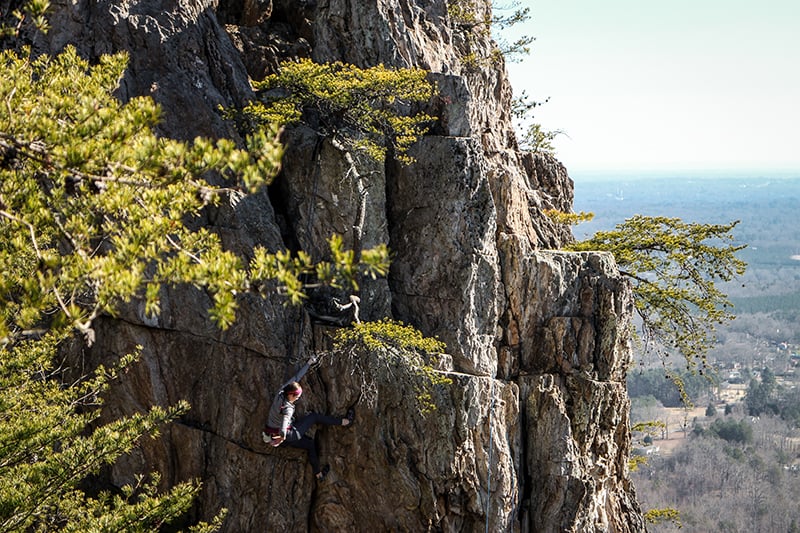 1. Fly to 1,500 feet
Adrenaline Meter: ★★★★★
"Mike, you ready? Can I get a scream, a big 'woo-hoo'?" Craig Pearson is about to give the Dragonfly, an ultralight airplane built for towing hang gliders, the go-ahead for takeoff.
It's a bright day at Foothills Regional Airport, halfway between Morganton and Lenoir. I'm an inch or so above Pearson's back, strapped into a harness that feels like a snug hammock and white-knuckling the handgrips near his chest. Pearson, a pilot who runs Thermal Valley Hang Gliding with his wife, Laura, senses my apprehension and leads me in a rendition of "Gonna Fly Now," the theme from Rocky, as we lift off.
My nerves settle. I'm an aero-sport rookie, but flying feels familiar. It's akin to waterskiing or wakeboarding, except you're in Superman position and airborne. The ride is smooth and controlled—even though steering is as rudimentary as it gets, dictated by leaning in the direction you want to take.
As we soar higher, I spy the Catawba River and Blue Ridge Mountains in the distance and, below, the Antioch Speedway, which from this vantage point resembles a Hot Wheels race track. When we reach about 1,500 feet, the lowest-altitude flight Thermal Valley offers, the towrope detaches and my heart skips. Freshly untethered, the Dragonfly pulls a couple of loop-de-loops as he peels off.
Bette Midler belting "Wind Beneath my Wings" would be the appropriate sky-high sing-along to encapsulate this moment, but I'm too choked up to even hum. As we begin our steady descent back to terra firma, I embrace my inner superhero and reach out with both hands to experience proper flight—you know, like an Avenger. I shout and wave to my friends below when they start looking bigger than Lego figures. I'm not much of a hugger, but after those wheels kiss the ground and we roll to a stop, the first thing I do after I climb out of the harness is wrap the pilot in a giant bear hug. —Mike Dojc
Thermal Valley's Discovery Flight ($159) lasts eight to 12 minutes. Hang gliders must weigh between 95 and 235 pounds. Add to your hang time with an altitude upgrade for an extra $40 per 500 feet.
---
2. Experience new flavors
Adrenaline Meter: ★
The Euro Grill Café in Plaza Midwood serves Bosnian cuisine, which combines Middle Eastern, Mediterranean, and Balkan flavors. To start, try the spicy Bosnian sausage—a plate of five cevapi (a casing-less sausage) inside a Bosnian flatbread (2719 Central Ave.).
For something really out of the ordinary, head to Tea Fusion Café in University City for takoyaki—it's like a hushpuppy stuffed with squid. If you're craving something sweeter, try one of their teas, which you can dress up with toppings like boba, cherry popping pearls, and mango jellies. (440 E. McCullough Dr., Ste. 116).
If you've never met a sushi roll you wouldn't try, treat yourself to the omakase experience at uptown's Sukoshi. Omakase means "I'll leave it up to you," so diners spend 30 minutes at the sushi bar and leave their selections entirely up to the chef. Some items are from the menu, but most are original creations inspired by the day's fresh catch delivered from the coast. The five-course experience costs $30 per person and ends with a cup of miso caramel ice cream (101 S. Tryon St., Ste. 120).—Taylor Bowler
---
3. Dive, float, chill
Adrenaline Meter: ★★
Once mined for its granite, The Quarry at Carrigan Farms in Mooresville is now a 25-foot-deep swimming pool with rock walls to dive off of and plenty of water to float around in. Open swim starts on Memorial Day and continues through the summer for $15 per person (1213 Oakridge Farm Hwy., Mooresville). —Emma Way
---
4. Tube the Catawba
Adrenaline Meter: ★½
For an adventurous day with minimal effort, rent inner tubes from Twisted Beaver River Adventures and float down the Catawba River. —Alexandria R. Sands
---
5. Zipline across the treetops
Adrenaline Meter: ★★★★
With a descent of 1,100 feet, The Gorge zipline in Saluda is the steepest and outright wildest canopy tour in the country. It includes a killer view of 18,000 acres of protected Green River Game Lands (166 Honey Bee Dr., Saluda). —E.W.
---
6. Rise with hot air
Adrenaline Meter: ★★½
Catch some air on a hot air balloon ride and view the Piedmont region from above. Airtime Balloon Company hosts year-round rides in the Mooresville and Statesville areas. Flights usually last an hour and end with a champagne toast, and passengers get flight certificates to commemorate their first rides (even if you kept your eyes closed). Or if you'd rather stay grounded, see hot balloons of all colors and sizes lift off in October at Statesville's Carolina Balloon Fest (181 Scotsman Dr., Troutman). —T.B.
---
7. Paddle faster
Adrenaline Meter: ★★★
Take on the rapids with the adventure rafting experience at the U.S. National Whitewater Center. For a gentler excursion, there's a family option, and for a more intense ride, there's rodeo rafting, which takes the most aggressive route (5000 Whitewater Center Pkwy.). —T.B.
---
8. Stroll the greenways
Adrenaline Meter: ★
Local governments' efforts to stitch together greenway parks into a continuous 30-mile greenway, from Cabarrus County to the South Carolina line, have run short of money lately. But even if that ambitious project never materializes, Mecklenburg County still has an impressive collection of greenways that appeal to hikers and bikers who crave the outdoors but need to stay close. Favorites: Lower McAlpine, McMullen, and Four Mile Creek Greenways in south Charlotte; Mallard Creek and Clark's Creek in University City; Torrence Creek in Huntersville. —Greg Lacour
---
9. Cuddle a porcupine
Adrenaline Meter: ★
OK, not really—but you can feed her. Zoos get a bad rap, but the North Carolina Zoo in Asheboro, only 75 miles northeast of Charlotte, stresses conservation, education, and natural habitation for its animals. It's also the world's largest natural habitat zoo. Visit polar bears, a Cape porcupine named Kelly, lively seals, and more. Currently split between two continents, Africa and North America, the zoo's expansive exhibits give animals space to roam, and there's more coming: Asia and Australia parks are in the works. In Africa, head out on safari and try to spot the zoo's two baby rhinos, born last July (4401 Zoo Pkwy., Asheboro). —E.W.
---
10. Whip your acrophobia
Adrenaline Meter: ★★★
Dangle upside down on the bouldering wall at Inner Peaks Climbing gym in South End (there's another location near Matthews, too), press forward, and free-climb to the top of the 14-foot wall. If you want even more of a rush, climb the 40-foot-tall arch and dare yourself to look down (2220 S. Tryon St.). —E.W.
---
11. Giddyup through the country
Adrenaline Meter: ★★½
Ride horseback through scenic farm fields, country roads, and wooded trails with Country Time Equestrian Events. New to the sport? Ask for a guide (310 Joe Lee Helms Rd., Indian Trail). —A.R.S.
---
12. Camp (or glamp)
Adrenaline Meter: ★★
Camping ain't for everyone. Don't sneak that foam pad under your sleeping bag just yet—here are some other ideas for campers of all levels:
Modest: For new campers, or for people who like access to indoor plumbing, try Linville Falls Campground. There are 64 sites available for car camping all within hiking distance of Linville Gorge, also known as the Grand Canyon of North Carolina.
Industrious: Looking for a night under the stars? Consider hammock camping. Sleep peacefully in your nylon cocoon and wake up as the sun rises. We recommend South Mountain State Park in Connelly Springs.
Cushy: It's a stretch to even call Treehouse Vineyards' rentals camping, but it's outside, so close enough. These adorable treehouses lofted above Monroe are available starting at $125 a night and come with easy access to wine tasting (301 Bay St., Monroe). —E.W.
---
13. Embrace nature (in the city)
Adrenaline Meter: ★
A surprising 26 nature preserves are scattered throughout Mecklenburg County, encompassing more than 7,600 acres, more than 30 miles of trails, three nature centers, and a few wonderfully evocative names: Big Rock, Gar Creek, Shuffletown Prairie, Possum Walk. But our favorites are the three closest to uptown: aptly named Evergreen, 77 acres just off Central Avenue in east Charlotte; RibbonWalk, a 188-acre haven for birds, butterflies, and century-old beeches only four miles north of uptown; and Reedy Creek, an expansive 832 acres near University City. If you need a break from the cement mixer of Charlotte life, you can visit any of these urban oases and let the woods stiff-arm the city away. —G.L.
---
14. Mount the swells
Adrenaline Meter: ★★★
Take off from Ocean Isle Beach and learn from surfing pros along the state's epic coast. They'll give you the push you need to ride the wave (44 E. 1st St., Ocean Isle). —A.R.S.
---
15. Dog-paddle down the river
Adrenaline Meter: ★★½
Dozer, a 14-year-old spotted Australian cattle dog, stands poised and graceful at the edge of a paddleboard. He does not bark. Wind blows his fur like a fan at a photo shoot.
Ava, an energetic Australian shepherd—who, when wet, rubs her body on the nearest person's leg to dry off—sits peacefully on the lap of her owner, Nicole, as she paddles a kayak down the Catawba River. Nicole's other Australian shepherd, Keystone, stands statuesque, fully balanced, the picture of dignity, at the end of her husband's paddleboard.
Then there's Sawyer, my six-year-old, 75-pound pit bull-mastiff mix, on the kayak behind mine with my husband, Nate. Sawyer's paws slide around in the kayak. The cacophony from his claws sounds like butter on a hot skillet—and that's during the rare respites when he manages to stay onboard.
We're here on the Catawba River for a "Howl at the Moon" nighttime kayak and paddleboard trip, organized by the tour company Happy Tails, which plans trips for people and their dogs.
After five minutes, I feel like the parent of a child who's picking his nose in the choir during the church Christmas pageant. The horror is happening in front of me, but I can't do anything to stop it.
Before we even get in our kayaks, Sawyer launches himself into the river, chasing Nicole and Ava and ignoring our commands (pleas?) to come back.
Nicole paddles faster.
Nate pushes off the dock in his tandem kayak because Sawyer is swimming farther out, oblivious and, moreover, opposed to the idea of being contained in a kayak when there's this whole big swimming pool named the Catawba River to explore.
When Nate finally catches up to Sawyer, he lifts him up by the life jacket, somehow not capsizing them both, and eventually puts Sawyer back in the water after it's obvious Sawyer gives no consent. I look ahead at all the other dogs, standing and sitting perfectly with their owners. Nate and I are so far behind the other tour participants, both guides come to check on us. Delicately, Nate has to shoo them away because, as they get closer, Sawyer begins to chase them, a slow, furry torpedo armed to topple their paddleboards and eat their oars (he attempted the latter with me).
My only solace is that Sawyer will tire out eventually.
Sawyer does not tire out eventually.
So Nate and I are forced to paddle next to each other, two bumpers in a bowling alley, with Sawyer swimming between us.
As the rest of the group continues gracefully with perfect dogs in tow, I smile at Nate. Sawyer may be a nose-picking child in the choir, but he's our nose-picking child. —Jared Misner
No dog? No problem. Dog lovers are still welcome. Happy Tails organizes a variety of trips; this tour is $70 for four hours on the Catawba River. Reservations are required for all tours.
---
16. Climb every mountain …
Adrenaline Meter: ★★★
Morrow Mountain
936 feet
1 hour, 15 minutes
49104 Morrow Mountain Rd., Albemarle
King's Pinnacle, Crowders Mountain
1,705 feet
40 minutes
522 Park Office Ln., Kings Mountain
Stone Mountain
2,305 feet
1 hour, 32 minutes
3042 Frank Pkwy., Roaring Gap
Peregrine's Point, Chimney Rock
2,640 feet
1 hour, 50 minutes
431 Main St., Chimney Rock
Mount Mitchell, Black Mountains
6,684 feet
2 hours, 35 minutes
2388 State Hwy. 128, Burnsville
17. … Then bike down one
Adrenaline Meter: ★★★★
Start in Damascus, Virginia, a town of about 800 just over the state line and a little more than a three-hour drive northwest of Charlotte. Rent a bike. Get on a shuttle bus, which ferries you to Whitetop Mountain, elevation 5,500 feet, the second-highest peak in the state. Whiz gleefully downhill for 17 miles on what used to be a narrow-gauge railway track, now known as The Creeper Trail. Pass burbling, trout-filled streams, dense forests, farmland, wooden trestles that ford gorges, and a welcome burgers-and-ice cream shop. In fall, coast through breathtaking corridors of color. Two to three hours later, back in Damascus, notice that your butt hurts, and that the ride was worth it. You can pedal an additional 17 miles up a mild incline to Abingdon, but only masochists and committed cyclists—some overlap there, admittedly—do that. —G.L.
---
18. Follow the … you know
Adrenaline Meter: ★
Land of Oz opened in 1970 as an aspiring tourist destination on Beech Mountain. The massive park's popularity waned over the next decade, though, and it closed in 1980 after a fire claimed Emerald City. Years later, the internet produced a subculture of explorers who visit abandoned theme parks. These days, the massive site hosts public events again (with tight security when not open), in which you can follow Dorothy down the Yellow Brick Road. —Andy Smith