2. Mooresville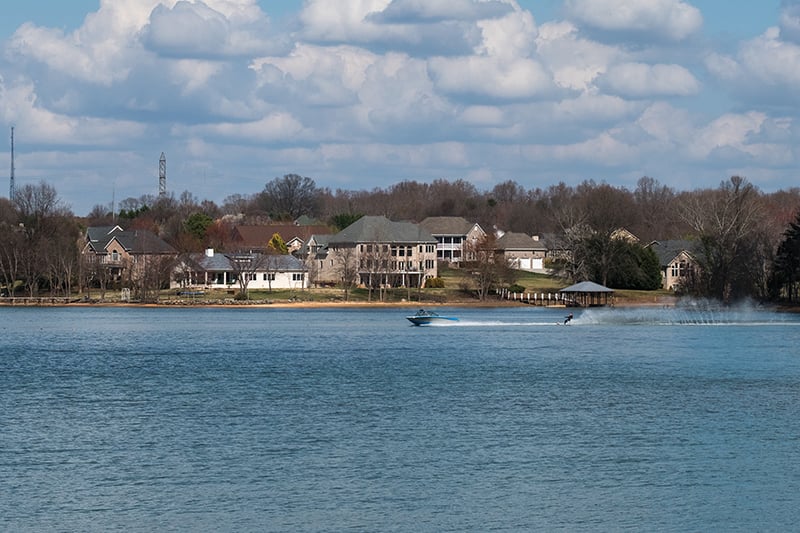 RACE SHOPS such as JR Motorsports and Penske Racinghelped Mooresville earn the title of Race City USA, but now the most familiar engines in town are those attached to bulldozers, dump trucks, and crane operators.
The most visible example of the construction boom here is LangTree at Lake Norman. The $1.5 billion mixed-use development rose up from a once-vacant lot along I-77, letting passing motorists know big things are happening here.
Elsewhere in town, the race is on to complete several development projects, including a 476-acre industrial park, a new Allied Health Sciences Building at Mitchell Community College and the transformation of a former cotton mill, Burlington Mills, into a mixed-use development. Aliño Pizzeria is one of the most popular tenants; on weekends, expect to wait in line for a scratch-made Neapolitan pizza.
"We didn't want to be just a bedroom community of Charlotte," says Jessica Stewart of the Mooresville-South Iredell Economic Development Corporation. "We had bigger aspirations."
Since 2014, Mooresville has announced more than $181 billion in new community investments, including 1.5 million square feet in new commercial construction and the addition of 1,091 local jobs. Last year, the Urban Land Institute released a report estimating that the population of Mooresville would increase 58 percent by 2030, driving the number of residents to more than 55,000. The population was a little more than 19,000 in 2000. To accommodate the explosive growth, commissioners endorsed plans to add a new I-77 overpass last fall.
National companies like Lowe's and MacLean-Fogg helped establish Mooresville as a great place to do business. Smaller companies are also moving here. Four of the most recent renters at LangTree on Lake Norman are local businesses: Hampton Men's Clothing, Lake Norman Cigar Company, Vinyasa Arts LKN, and Barakah Mediterranean Café and Creamery.
After struggling to compete with big box retailers and chain restaurants along the I-77 corridor in Mooresville, historic downtown is making a comeback as a destination.
"Our downtown was long described as a place with 'good bones' and 'potential,'" mayor Miles Atkins says. "Now that people want more urbanized environments, downtown is back on their radar."
A number of new businesses have opened (or are in the process of opening) in the historic downtown core, including a new brewpub. Monthly food truck rallies are held on Main Street, and construction on a new $43 million mixed-use development on Church Street, with first-floor retail and three stories of apartments (a total of 202 units) is underway. The historic mill village—the largest intact mill village in the nation—is also undergoing a renaissance as new owners renovate and rehabilitate the homes.
"There is a lot of activity happening," Atkins says. "It's building a great vibe that will continue to evolve." —J.H.
Good to Know
In 2015, national financial website CreditDonkey rated Mooresville the No. 1 place to live in North Carolina based on income, the number of college-educated residents, restaurants per capita, commute time, and the odds of being a victim of violent crime.
Good to Eat
Everything on the menu at Aliño, from the caprese salad and Margherita pizza to the gelato, is pure Italian. Go hungry; the portions are huge. 500 S. Main St., 704-663-0010
Good to Go
The annual Wiener Dog Race is not to be missed. The dashing dachshunds are not only adorable, the October event raises money for local rescue groups.
Click here to head back to our main map.
Click >> to read about Pineville, our No. 3 suburb