2009 Cracked Crowns
This year's dumbest deeds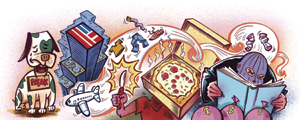 At Least He Wasn't Asleep in the Cockpit
On a flight from Charlotte to Los Angeles in July, a fifty-year-old man took off all his clothes and sat calmly in his seat. After he refused to redress, the plane was forced to make an emergency landing in New Mexico, where the naked man was arrested.
AWOL or Bust
Chris Parks of Seattle didn't think he was on the lam from the Army. But in April, Homeland Security yanked him out of line at Charlotte Douglas International Airport and threw him in the county lockup for a week on charges of going AWOL (absent without leave). The Army sent Parks to Fort Knox, called him a deserter, shaved his head, and issued him fatigues. It took another week to clear up the confusion: Parks says he almost enlisted years ago, but backed out. AWOL? Try awry.
There's Always Greyhound
Forbes.com published a list of "America's Rip-off Airports," which ranked the most expensive airports based on what travelers pay per mile when flying. Charlotte Douglas International Airport placed seventh and was the largest in the top ten.
Cut. It. Out!
A Caldwell County man (and admitted polygamist) on trial in October for child abuse defended himself by telling a jury that part of the reason he used a box cutter to circumcise his two infant sons was because he also circumcised himself the same way—just a few years ago.
Maybe It Was Paula
After defaulting on a $65,000 loan she borrowed in 2006 to pay taxes on her Piper Glen home, singer Fantasia Barrino was days away from losing it at auction. The weekend before the auction was to take place in January, Barrino reached an agreement that allowed her to keep the house. The National Enquirer—and numerous bloggers—reported that Simon Cowell paid off the debt, but the singer denies it.
Get Your Freak On. (Or Off …)
A fight over a five-legged Chihuahua mix puppy landed the owner of a Coney Island freak show in front of TV judge Jeanine Pirro. The freak show owner sued the dog's first owner—who was going to sell Lilly to the Coney Island guy until he realized the poor pup would end up on display in an actual freak show—for breach of contract. Instead, a Charlotte woman bought the pup and rushed the dog into surgery to lose the leg. As for the TV judge? She sided with the freak show man.
Donald Trump's Long Lost Son?
Dalton Chiscolm is suing Bank of America for $1,784 billion trillion dollars, claiming the bank made a routing error. How much is a billion trillion? People who can actually do math say it's more than a sextillion. Oh, right.
Deliver Me From Evil
In September, two local Domino's Pizza workers videotaped themselves snorting cheese, farting on salami, and sneezing on food before allegedly sending out the orders to unsuspecting customers. The dynamic duo posted their pizza art on YouTube and now face criminal charges.
He Wanted to Checkout the New Twilight Book
A man robbed a Wachovia bank on North Tryon Street in June. The robber sought refuge in a nearby library, which, unfortunately for him, housed a police precinct.
@charlottemagazine.com Check out the decade's dumbest deeds.