2010 Golden Globes Fashion Review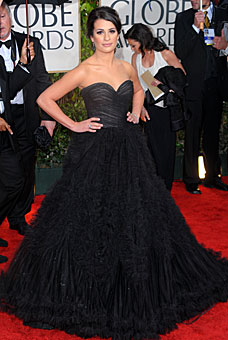 Happy MLK day all you Shop Talkers! I hope you caught some of the Golden Globes last night. I was thrilled to see the whole cast of Glee pile on to the stage for best TV show Musical or Comedy, and my dad was over the moon that Sandra Bullock won for her role in The Blind Side ("That's the only time I've ever seen someone play a Southern woman and not sound like they are faking it." – direct quote from Dad.) Of course, the real winners and losers of the night are chosen before the show ever starts. Here are my picks for the best and worst looks from last night's Golden Globes:
Overall Winner: Lea Michele – This stunning Oscar de la Renta gown is the epitome of red carpet glamor. If – I mean, when, WHEN, I become a famous actress, this is exactly the sort of dress I will wear when I get nominated for my first Golden Globe.
Biggest Loser: Marion Cotillard – I know a lot of people picked on Chloe and Diane last night, but for me, the real loser was this asymmetrical gown on the Nine star. She positively shined in her famous white fish-scales gown, and this deep teal-meets-emerald shade had so much potential with her delicate skin and coloring, but it was just all too much. The short and long hems, the black lacy accents – it hurts even more because I feel like I can see what it COULD have been, and that's the cruelest cut of all.
Best Black: Jen Aniston – I might be a bit biased on this pick, because I am a devoted captain of Team Aniston, and I for one have been reveling in the unraveling of Brad and Angelina's relationship (except, of course, for the effect it will have on their 1.3 billion kids). So I was tickled to see Ms. Aniston looking so positively bed-tumbled and gorgeous in this high-slit sexy black gown. Sure her hair is a big casual, and I don't love the shoes, but this is all about the legs. Take a good, long look Brad.
Best Shimmer: Toni Collette – This dress must have weighed a ton, but dang does it look gorgeous. I am not a huge fan of Toni Collette, and I've never seen the show for which she was awarded a Globe, but I can appreciate that her coloring and her fabulous body are what make this "almost but not quite overkill" dress work.
Who made your best and worst lists this year?