2012 Best of the Best: Body & Soul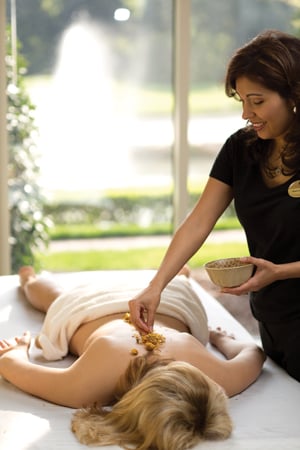 SPA EXTRAS: Spa at Ballantyne
Spa at Ballantyne has a beautiful newly renovated facility and a brand new menu of luxurious spa services, but the biggest bonuses to booking a treatment here are the extras. Entry to the hotel's pools, hot tubs, and fitness center is included with each appointment, which makes it easy to turn a treatment into a spa day. You don't even have to leave for lunch—just order something from the light and delicious spa menu.
BEAUTY BANG FOR THE BUCK: Shine Salon
Bad hair day? Book a Blow Dry 101 session at Shine Salon, a $25 workshop that teaches you how to get that fresh-from-the-salon look with the tools you have at home. You bring your own hair dryer, brushes, and styling products, and the salon provides one-on-one instruction. When your session is over, you'll leave with brand new skills—and a great looking 'do. It's the beauty buy that keeps on giving.
LOCAVORE SPA TREATMENT: Ritz-Carlton Spa & Wellness Center
The Honey Detox treatment at the Ritz-Carlton Spa & Wellness Center (eighty minutes, $190) incorporates honey from the hotel's two rooftop beehives in a cleansing massage that exfoliates the skin and promises to promote the elimination of cellulite and improve circulation. Not convinced? It's followed by a relaxing full-body massage with shea butter and natural citrus and vanilla oils.
FACIAL BONUS TREATMENT: Modern Salon & Spa
Modern Salon & Spa's Revitalizing Eye Treatment soothes the delicate skin around your eyes with a cooling treatment of lymphatic and pressure point massage techniques that work to diminish fine lines, puffiness, dryness, and dark circles. Schedule it as a quick pick-me-up treatment (it takes just fifteen minutes) or add it to your favorite facial as a bonus.
GYM DEAL: Sports & Fitness
There's no need to wait for a New Year's resolution special for an affordable gym membership—Sports & Fitness has you covered with monthly memberships for just $14.99, and that's without a contract, so there's no penalty if you decide to cancel. Plus, the gym offers convenient extras like childcare and personal training sessions. If you're looking for the basics, you'll find them all here.
BARBERSHOP: City Barbers
A traditional barbershop that offers a hot lather neck shave with every cut, City Barbers also has extras like TVs at each chair and a fully stocked fridge. Prices are reasonable, and talented barbers take your standard men's cut up a few notches.
SPECIALTY MASSAGE: Celeste Christiensen
At The East West Center for Wellness in Dilworth, massage therapist Celeste Christiensen holds onto wooden bars on the ceiling for control and balance as she uses her feet to give a therapeutic and relaxing massage during her signature Celestial Sole treatment. The Asian-inspired technique might seem straight out of a James Bond flick, but don't let that deter you—this massage is just as customizable as the hands-on version and gently but firmly works out all the kinks without leaving you feeling sore or bruised.
SKY-HIGH WORKOUT: Flex and Fit
Flex and Fit's Air Fit class promises a whole body workout with strength-training and flexibility-building while you practice a circuit of exercises—in the air—with the help of large swaths of silk. If you'd rather try a classical approach to aerial exercising, opt for the equally lofty Air Ballet or Air Yoga classes instead.
BEAUTY QUICK FIX: The Brow
Tame your unruly brows with a stop at The Brow kiosk inside SouthPark Mall for a threading treatment—no wax necessary. No, it's not pain free, but it's quick: Your brows will be expertly shaped before you can say "Frida Kahlo," and your wallet will be just $12 lighter.
SPLURGE OR STEAL: MANI/PEDI
Splurge: Charles Grayson Salon & Spa
Turn your mani/pedi appointment into a spa treatment with the Spa Ritual Manicure ($35) and pedicure ($60) at Charles Grayson Salon & Spa. Both include aromatherapy with your choice of scent and a hydrating, organic masque treatment, leaving your hands and feet soft—and, of course, perfectly polished.
Steal: Modern Nails
It's small and nestled in a shopping center off South Boulevard, but Modern Nails has a lock on value and luxury. For just $31, you'll get a solid manicure and pedicure (complete with a relaxing foot soak and hand massage) and a great looking polish—all while you sip on a glass of wine.