2012 Best of the Best: Dining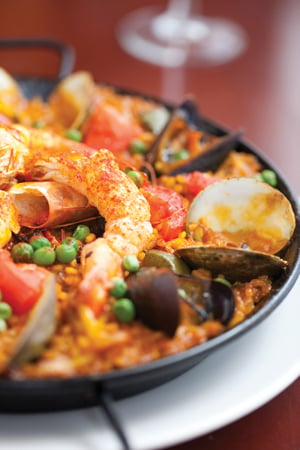 NEW RESTAURANT: Malabar
Restaurateur Augusto Conte quietly reinvented Coco Osteria as a tapas restaurant in January, reconfiguring the kitchen to allow for the traditional preparation of paella in wide, flat pans. He didn't disappoint. The paella at Malabar (there are four kinds to choose from) is fragrant and fresh; the menu is varied and priced well; and the portions are perfect for sharing. Other standouts are the tender and airy braised beef-stuffed Empanadas de Ropa Vieja and the Churrasco, grilled skirt steak with chimichurri sauce and fried yuca.
BRUNCH: Terrace Café
The good news is that you don't have to wait until Sunday for the city's best brunch. The better news? You can find it in two locations. Until 2:30 p.m. every day, both Terrace Café locations serve up decadent red velvet waffles, shrimp and grits, quiche, four kinds of French toast, and standard breakfast fare such as oatmeal and omelets. A full lunch menu is added at 11 a.m. except on Sundays, when it's breakfast-only. With dishes like Banana Pecan French Toast, with banana nut bread, toasted pecans and a rum-flavored maple sauce, you can't go wrong.
PLACE YOU DIDN'T KNOW WAS A RESTAURANT: The Wine Shop at Foxcroft
Yes, The Wine Shop at Foxcroft has wine, and a lot of it. But at 5 p.m., this cozy spot turns into a wine bar, including a fully staffed kitchen and a menu that—no surprise—pairs well with wine. Small plates such as Polenta Cakes and Fried Marcona Almonds with Peppadews keep company with handmade pastas, a few enticing entrées including Duck Confit Cassoulet, and desserts.
RESTAURANT FOR THE VEGGIE LOVER: Fern, Flavors From the Garden
Meat lovers and veggie fanatics have plenty to like about Fern, Flavors From the Garden. With earthy décor (there's a fern-filled living wall and a mason jar chandelier) and satisfying vegetarian fare with Indian, Mediterranean, and Southwestern influences, the casual eatery has become an instant classic. The OM (veggie) Burger and Tribal Tacos are regular features—and standouts—although toppings can vary with the seasons.
APPROACH TO TAKEOUT: Frank Scibelli's restaurants
The restaurateur behind some of the city's favorite restaurants (Mama Ricotta's, Cantina 1511, Bad Daddy's Burger Bar, Midwood Smokehouse, and Paco's Tacos & Tequila) has gotten plenty of things right over the years. One of those things is takeout. For starters, takeout portion sizes at FS Food Group's restaurants are comparable—sometimes even larger—than in-house portions. There's no scrimping on flimsy containers and accoutrements: utensils and containers are sturdy enough to be re-used. And then there's efficiency. When they say your order will be ready in 15 minutes, they mean it. And your food will be packed up nicely for you in a bag with a flat bottom (to prevent spillage). Details are important, and Frank Scibelli gets that.
FARMERS MARKET: Matthews Community Farmers Market
One of the longest-running local farmers markets, the charming Matthews Community Farmers Market operates year-round, featuring more than fifty vendors during the regular season (April through November) and twenty-five during the winter (December through March). Every single item for sale at the market was grown, raised, or made within fifty miles of Matthews—bragging rights no other area farmers market can claim.
LUNCH SPOT YOU'VE NEVER TRIED: Bechtler Café
Next time you're longing for a light lunch or a low-key spot for a cup of coffee, head to the Bechtler Café inside the Bechtler Museum of Modern Art. The artful fare includes a selection of affordable, delicious sandwiches and salads including a grilled flank steak sandwich and a salad with grilled chicken, goat cheese, spiced pecans, and mandarin oranges. Great views of Nikki de Saint Phalle's glittery Firebird are included at no extra charge.
FOOD TRUCK: Roots Farm Food
You never know exactly what you'll have to choose from when you belly up to the Roots Farm Food truck, since the menu changes daily—but you can be sure the ingredients are fresh. Executive Chef Craig Barbour supplies his truck with ingredients from local farms (including his own). The results, such as a Chorizo Taco made with Windy Hill Farm's pork sausage, are playful and delicious.
IMPORTED RESTAURANT: Lorenzo's Pizzeria
Sure, you've seen dozens of restaurants around town advertising "New York–style" pizza, but this family-owned spot from transplanted New Yorkers is the only real deal. The staff at Lorenzo's Pizzeria knows great New York pizza is all about three things: fresh ingredients, great sauce, and a thin, foldable crust. Besides the best cheese pie in Charlotte, standouts include Grandma's, with mozzarella, crushed tomatoes, fresh basil, and garlic; and White, with mozzarella, ricotta, fresh garlic, and olive oil. Lorenzo's also excels at entrées. The Chicken Parmigiana, Veal Sorrentino, and Sausage & Peppers are as good as you'll find at the Feast of San Gennaro in New York's Little Italy.
CHICKEN & WAFFLES: e2 Emeril's Eatery
On the e2 menu it's listed as "Fried Ashley Farms Chicken Thigh," but don't be fooled: this is your classic chicken-and-waffles dish—with a twist. Served alongside an airy, fluffy housemade Old Mill buckwheat waffle, slaw, and sorghum molasses, this is the upscale version of the savory-meets-sweet Southern favorite that's been trendy lately on menus all over the city.
UPSCALE PATIO DINING: Tie: Dressler's (Midtown) and Vivace
When beautiful weather demands dining al fresco, head to the Metropolitan in midtown. Dressler's and Vivace sit side-by-side, and both have beautiful, sweeping views of uptown from their spacious patios, which also overlook the new Little Sugar Creek Greenway. If you're feeling romantic, get there in time for the brilliant sunset views. The choice is yours: Italian or contemporary American?
BARBEQUE: Queen City Q
Barbecue aficionados may have their disagreements about sauces and rubs, but there's one thing on which they'll always agree: the best barbecue requires lots of savory-smelling smoke. And if you're within a few blocks of Queen City Q, you can smell it—just about a second before your stomach starts to growl. Picking a Southern food favorite is never easy, but here, pitmaster Dan "Boone" Gibson slow cooks his 'cue every day in wood-fired smokers, serving it up with classic sides like peppery green bean casserole and three kinds of slaw.
NEW CUISINE: Luna's Living Kitchen
With the opening of Luna's Living Kitchen, the raw food craze officially arrived in Charlotte—and it's delicious. The eatery's inventive breakfast and lunch menus go way beyond simple salads. One beautiful, tasty example: Lunasagna, made with layers of thinly shaved zucchini "noodles," a sundried tomato sauce, mushrooms, and a vegan cashew/basil cheese, which will have you scraping your plate. The organic smoothies and juice blends are tasty, too—and Luna's employees will happily direct you to your perfect match.
ALL-DAY SPOT: Common Market
There are great breakfast places, great hangout spots, and great shops to pop into for a snack or a beer or a coffee. Amazingly, Common Market in South End manages to be all of the above—and then some. Stop in for a coffee and breakfast wrap in the morning; stroll in to get some work done (using the free Wi-Fi) before lunch; or head there after work for a craft brew and a gabfest with your coworkers. Any way you choose, it's the perfect choice.
"No one really tells you that crafting alcohol can be a valid career path," says Chad Henderson, head brewer at NoDa Brewing Company.
After earning degrees in physiology, biology, and chemistry from Appalachian State University, Henderson landed a job in the medical field—but it was no longer his passion. When he wasn't at work, he devoted himself to learning everything he could about the craft brewing process, taking on unofficial apprenticeships with friends and contacts he'd made in the industry—all completely unpaid.
"This is an industry that's unbelievably generous with knowledge," he says. "It's more like a brotherhood."
Last year, after meeting NoDa Brewing Company owners Todd and Suzie Ford, Henderson made the leap to craft brewing full time. He says their approach to brewing perfectly matches his own—innovative, playful, and unafraid to take some risks. "Our beer is literally an embodiment of our team," he says. "We're trying to produce art in the fermented form."
Although NoDa Brewing Company is less than eight months old, it's already produced an impressive variety of craft brews—and developed quite a following. By the end of 2012, Henderson expects to have seventy varieties in the company's catalog. New brews are released weekly on Tuesdays—some are experiments, and some are part of the process to refine brews the team would like to produce in large quantities. But every beer is the result of a brewing cycle that runs twenty-four hours a day, and a team that truly loves the work.
In the local craft scene, Henderson is kind of a rock star. He's only been asked for his autograph once, but it will certainly happen more frequently as he makes a name for himself and his brewery. He thinks it's a good sign.
"If we're not excited about what we made, why should you be excited?" he says. –A.A.
LATE NIGHT EATS: Soul Gastrolounge
Satisfy your late-night cravings at Soul Gastrolounge, where you can dunk pita chips into white bean and goat cheese dip, nibble on a curried lamb skewer, or nosh on small plates like sashimi tuna tacos and Southern fried oysters while the DJs spin.
PREPARED FOODS: Beverly's Gourmet Foods
Beverly McLaughlin of Beverly's Gourmet Foods is the fourth generation of her family to sell vegetables or food at the Mecklenburg County Market, and many of her signature items, like her pimento cheese and "Granny's vegetable soup," are made from her grandmother's original recipes. Bonus: you can find her fresh quiches, soups, casseroles, entrées, and spreads all over the city, including Healthy Home Market, Reid's Fine Foods, and the 7th Street Public Market, among others.
USE OF PIMENTO CHEEESE: Brixx Pizza
Pizza purists might say that pimento cheese has no business being on a pizza—and they'd be wrong. Brixx Wood Fired Pizza should slap a patent on this beautiful pie, featuring a base of jalapeño pimento cheese topped with roasted red peppers, crumbled bacon, and fresh spinach leaves on the restaurant's signature thin crust. It's sinful and inventive—a delicious fusion of Italy and the South.
DINNER AND A MOVIE: Mez and EpiCentre Theaters
Sure, you can go out to eat before you go to the movies, but at EpiCentre Theaters, you don't have to. Mez offers a full menu of movie-friendly options that the staff'll bring straight to your cushy, oversize theater seat, including specialty burgers and sandwiches, pizza, and pasta, along with sweets like a chocolate chip cookie ice cream sandwich. There's also a nice selection of wines by the glass or bottle and a full-service bar. Popcorn and Junior Mints for dinner no more.
REVIVAL OF A CHARLOTTE INSTITUTION: Reid's Fine Foods
When uptown grocery store Reid's Fine Foods closed in 2010, it was the end of an era, but now the charming grocer is back—this time in Myers Park. The new, more intimate store on Selwyn offers the personal service and gourmet convenience that made the original such a favorite. And its popular (and usually crowded) cooking classes and luxe wine bar make it a neighborhood hangout, too.
COFFEEHOUSE: Dilworth Coffee
It's served its own delicious coffee since 1989, but its newly renovated interior, extra seating, and an airier, open feel make Dilworth Coffee's Dilworth location worth another look. With a reliable Wi-Fi connection, knowledgeable baristas, and a quiet atmosphere, it's a great place to meet up with a friend, relax, or get a little work done.

ROMANTIC RESTAURANT: Customshop
Celebrating its fifth anniversary, Customshop still feels fresh and imaginative. Owner and Executive Chef Trey Wilson's meticulously cooked, seasonal menus are as seductive and beautifully plated as ever. With the intimate restaurant's cozy ambience and ultra-flattering mood lighting, it's the place for a romantic date night meal.
PRIVATE PARTY ROOM: Georges Brasserie
If your special occasion demands a fancy setting, reserve the private room at Georges Brasserie. Tucked away behind the main dining room to the right, it manages to feel luxurious and cozy at the same time. The full (and excellent) menu is available, and depending on your party's size, you'll get your own dedicated server or two—plus the room is equipped to accommodate your audio and video needs.
FISH MARKET: Clean Catch
Simply stated, Clean Catch Fish Market is the fish market Charlotte has been waiting for. It's pricier than the seafood counter at your typical grocery store, but the quality and freshness is worth the cost. This is the place to go when you're looking for something beyond shrimp and salmon (although you can find them here, too). Recent offerings include North Carolina swordfish, American red snapper, black grouper, and sushi-grade yellowfin tuna. An added bonus: you can send in your order via text and have it packaged and ready when you arrive.
DINER: The Diamond
Since The Diamond reopened in February, it's welcomed a growing number of fans, had a cameo in Showtime's Homeland (that kitschy wallpaper is immediately recognizable), and served up countless orders of fried pickles. With a huge menu that offers your standard diner fare plus specialties such as pig wings, beef tips, and lots of vegetarian options (the black bean veggie burger should not be missed), this place is a diamond in the rough.
KID-FRIENDLY DINING: Rooster's Wood-Fired Kitchen
Family night out? Head to Rooster's Wood-Fired Kitchen in SouthPark. Rooster's might seem like a surprising choice, but consider this: pizzas, pastas, and family-style sides are supremely kid-friendly and easy to share. And there are plenty of more sophisticated options for parents' palates. This is the dream scenario, moms and dads: a restaurant you actually want to go to that makes the kids happy, too.
SWEET POTATO SIDE DISH: Kickstand's Sweet Potato Tater Tots
Move over, sweet potato fries. Kickstand's Sweet Potato Tater Tots take fried sweet potatoes to a whole new level. Delicately fried for a little bit of crispiness, these bite-sized tots will go well with your sandwich or burger but are best as an appetizer, dipped in their special brown sugar butter syrup. They're part vegetable, part dessert—and completely amazing.
SPECIALTY FOODS SHOP: Savory Spice Shop
Savory Spice Shop brought new flavor to the Charlotte area—more than 400 spices, herbs, extracts, and salts, to be exact. Inside you'll also find 140 hand-blended seasonings that are ground fresh in-house. If you have a taste for the exotic, this is the place to shop (think black garlic, asafetida, and Grains of Paradise), but if you're just looking for the standards (lavender, basil, sugar), you'll still have plenty of options.
RESTAURANT IN A STRIP MALL: Bistro La Bon
Two years in, Bistro La Bon still brings style to its resident strip mall—and chef Majid Amoorpour's cuisine is better than ever. Starters such as a mushroom artichoke crepe and mussels with leeks and saffron cream keep company with lavish mains like duck breast with parsnip puree and English peas. Sunday brunch is popular (and usually crowded), offering housemade pastries and breads, chocolate waffles, and the chef's specialty, Swedish meatballs with lingonberry sauce.
SPLURGE: Fig Tree
When you have something to celebrate, make a reservation at Fig Tree. Service is unfailingly top-notch, and the restaurant's inviting bar is rarely crowded. Then there's the seasonal cuisine, with decadent offerings like lobster hush puppies, a brie- and mushroom-stuffed tart, and risotto with pulled pork and figs. Haven't eaten here yet? Find something to celebrate. It's that good.
BRACKET SMACKDOWN WINNER: Sushi–Yama Asian Fusion
As sushi restaurants continue to pop up across the city, it's easy to be swayed by the latest and trendiest. Then there's Yama Asian Fusion, one of those places that keeps you coming back—for the top-quality fish, beautifully finessed sushi, good service, and intimate setting. Kanpai!