2012 Best of the Best: Nightlife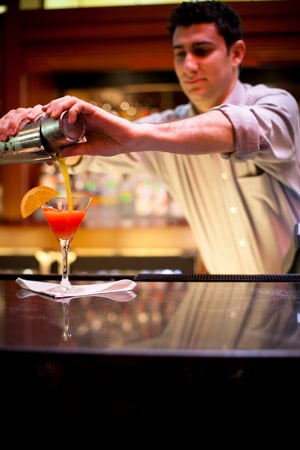 HOTEL BAR: The Ritz-Carlton
This posh destination has the hotel bar scene on lock, offering three options to hotel guests and locals. The Lobby Lounge (pictured above), with its rich wooden décor and plethora of seating, fills up with Charlotte socialites and features live music Thursday, Friday, and Saturday nights. Overlooking the lounge is Bar Cocoa, for those who get their highs from chocolate truffles and mini red velvet cakes. And up on the fifteenth floor is Urban Sip, offering a more laid-back, intimate atmosphere, great views, and an extensive selection of wines, premium scotches, charcuterie, and cheeses.
LOUNGE: Enso Asian Bistro & Sushi Bar
You can't help but feel urban chic when you enter one of the city's most stylish interiors at Enso. The lounge area has plenty of seating—tables, booths, couches, and ottomans—anchored by a long bar. Several nights a week, you'll find large groups of friends hanging, dining (there's a late-night menu), and drinking. And when the DJ starts playing, the atmosphere maintains a perfect blend of lounging and partying.

NEW BEER BAR: World of Beer
Um, it's called World of Beer. That should be your first clue. The next clues are the ten taps of Charlotte beer—the best selection of local brew in town. But wait! There's more! World of Beer, which is a national chain with more than twenty locations, offers more than 500 beers on tap and by the bottle—which also happens to be the most in town. Add in a beer-loving staff, regular brewery nights, and live music, and there is cause for beer nerd celebration.
PLACE FOR CHEAP DRINKS: Small Bar
Small Bar is, well, a small bar, occupying only about 900 square feet. Know what else is small? The bills you'll need to buy drinks here. The bar features $1, $2, and $3 drink specials nightly, a twenty-four-ounce beer runs you $4, and top-shelf liquors are only $6. With prices like these, it's clear why Small Bar has become the go-to spot to jump-start your night. And if you're claustrophobic, you can enjoy your drinks on the patio.
BAR CRAWL: Rich & Bennett's Annual St. Patrick's Day Pub Crawl
Bar crawls are all the rage now, but there are none bigger than Rich & Bennett's St. Patrick's Day Pub Crawl. In 2009, the Travel Channel declared it as the world's largest, and this March, in its twelfth year, the crawl drew a record 15,144 attendees. If you were in uptown, you saw a sea of green T-shirts (the shirt is the ticket into bars) as the crowd bounced among thirty participating bars from noon to night. Most attendees can't tell you what Rich or Bennett look like, but with so much booze flowing, they don't care.
NEW BAR: VBGB
When VBGB opened last spring, it got off to a civic-minded start by rescuing the historic JFG Coffee sign and hoisting it onto its roof. You'll find a beer garden theme inside, complete with wooden picnic tables and strings of lights. The coolest touch? An ice-covered rail runs along the large bar and will keep your beer cold after you've ordered from the menu of thirty specialty and craft beers. Pair that with a gourmet pretzel covered in homemade beer-cheese sauce and hang out on the city's largest patio.
NIGHTLIFE: Butter NC
Most nightclubs aren't able to maintain the appeal that comes with opening to so much fanfare. But more than two years later, Butter remains the place to see and be seen. The club boasts a lineup of some of the top resident DJs in the city and periodically brings in celebrity DJs as well. You'll also find famous faces in the VIP section on any given night, ranging from the city's NFL and NBA players to entertainers stopping by after concerts. The doormen have perfected the art of opening the velvet rope for the "who's who" crowd (not everyone gets in). Expensive bottles are passed around all night, and the dance floor is usually full until the lights come on.
GIRLS NIGHT OUT: Crave Dessert Bar
Men around Charlotte should feel threatened because their women are leaving them for Crave. It's hard to compete with a chic lounge that serves great martinis, bakes some of the best cupcakes and desserts in the city, offers hookahs in fifteen flavors, and features a bottomless wine night (Thursday). Plus there are half-price happy hours Tuesday through Friday. It's a woman's world.
BAR IN THE BURBS: The Rusty Rudder
With its slogan, "We're not just at the lake. We're on the lake," the Rusty Rudder is the heart of Lake Norman's nightlife scene. Some come for the great seafood, fish tacos, and drink specials, others for the entertainment and social atmosphere. With beer pong tournaments and acoustic artists performing, Tuesday nights are akin to a frat party. And the live music on Friday and Saturday nights brings out people of all ages.
BAR TO MEET SINGLES: Prohibition
If you're single, ready to mingle, and want to mix it up with a vibrant crowd, Prohibition is your place. You won't find any stuffed shirts here—these twenty- and thirty-somethings come out to have a great time. With a speakeasy-meets-underground-nightclub feel, it caters to the crowd by offering cheap drinks and a DJ most nights of the week. If the music gets too loud, take the conversation out onto the balcony. And if you and a fellow single hit it off, you can create a lasting memory in the photo booth.
SELECTION OF DJs: Phoenix
The largest nightclub in uptown, Phoenix has multiple rooms, a rooftop bar, and patio lounge—and it takes a lot of sound to get the party going. That's why Phoenix features multiple DJs in one night. Cameo Thursdays feature popular local DJs spinning the hottest songs in pop and hip hop, while ID Saturdays feature house, progressive, and electro. On Friday nights, look for celebrity DJs or spinners brought in from popular nightclubs in Las Vegas or Miami.
CURATED BEER SELECTION: The Common Market South End
It has only six taps (to go with 150 or so by the bottle), which are located steps away from racks of Pop-Tarts and novelty mustaches. But beer gurus Rob Rondelez and Will McClelland change the selections almost daily. You can count on finding both rare and local brews, and you can count on it all being top notch—Rob and Will don't abide bad beer, and neither should you.
PATIO: Kennedy's
Taylor Mathis
Kennedy's encourages you to take the party outside. The patio seats plenty, featuring more than a dozen tables with large umbrellas, a sleek bar area, and two canopies that evoke the feeling of being at a backyard barbecue. Plus, with six TVs well positioned throughout, you don't have to miss the big game, and on Sunday Funday there's live music all afternoon.
VIP AREA: Lux
When word spread early last year that the large building along the light-rail line in South End, once home to Jillian's, was about to reopen as a nightclub, the first thing that came to mind was that it was going to be huge. It is. VIP options abound at Lux. You've likely never seen so many leather couches and chairs in one place. And, to top it all off, large VIP rooms—box-like sections elevated and enclosed behind glass walls—scream, "Look at me, I'm balling."

NIGHTLIFE OUTSIDE OF THE BOX: Mez and Kazba
Some of the events at these adjoining venues aren't for the faint of heart. They'll throw costume parties for the heck of it—Candy Land, Charlie Sheen, Mustache Party—and hundreds of people will dress up when it's not even Halloween. When there is a holiday, it's celebrated with a Sexy Santa or Dirty Santa party, or a Love/Hate event for Valentine's Day. It's not all racy though; the aerial performers and Russian violinist events add a touch of sophistication.
UNPRETENTIOUS WINE BAR: Dolce Vita
Hanging bicycles and other funky art greet you as you make your way through the industrial-style, open-air space to the back bar where, often, a super laid-back NoDa native bartender welcomes you. Large wooden casks doubling as tables add to the casual feel. Pull up a stool and order one of fifteen reasonably priced, by-the-glass options alongside savory sidekicks like bread, charcuterie, and of course, Brie. Looking to buy a bottle? The owners personally taste and stock shelves with their picks from Moscato to Malbec and offer them at half price on Sundays. Best of all, Dolce Vita doesn't try too hard.
BRACKET SMACKDOWN WINNER: NIGHTLIFE NEIGHBORHOOD– South End
You can do it all in South End. Grab drinks at a wine bar or dive bar, relax for the evening at a lounge, or spend the night dancing at a club. Plus, from spring to fall there's a gallery crawl the first Friday evening of each month, and the food trucks have made this neighborhood one of their favorite hangouts. You're lucky if you live in one of the new apartments or condos here, and if you're riding the light rail in, you might not want to go home at the end of the night.