2012 Best of the Best: Shopping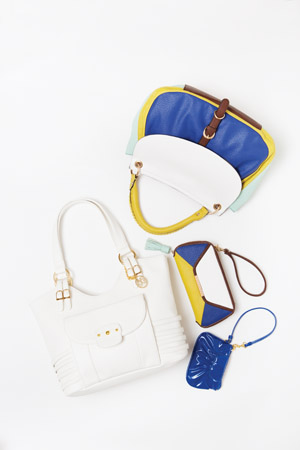 BARGAIN HANDBAGS: Handpicked
At this Dilworth boutique, be prepared for sticker shock in the best way. Roomy Urban Expressions totes are less than $60, while funky printed leather Big Buddha bags are just $90. For those occasions when less is more, slide a $36 quilted or micro leather clutch under your arm or loop on a shiny $10 wristlet.
WOMEN'S JEANS: Lavendar Boutique
"Jean Cube" may be the best phrase in the English language. In the Lavendar Boutique lexicon, it means a collection of designer denim that includes 7 For All Mankind, True Religion, Hudson, Citizens of Humanity, J Brand, Paige, Adriano Goldschmied, and William Rast under one very mod Mooresville roof. We all know that quality denim has its price, but fortunately this jeans hub isn't afraid of a good markdown; the famous annual denim sale is proof of that.
MEN'S SHOES: Nordstrom
Knock around TOMS and high-tops, wingtips, weekend Nubucks, athletic sneakers—they're all here in one corner of Nordstrom. With labels spanning Ferragamo to Converse, you can go as high or as low as you want to. Plus, Nordstrom offers free in-house shoe shines and free home delivery of any pair of shoes not available in your size.
DOG SUPPLIES: Dublin Dog
You'll find a wealth of eco-friendly canine essentials at Dublin Dog, including an exclusive line of no-stink eco-Lucks collars and matching leashes (for which the fabric is made of 100 percent post-consumer recycled plastic bottles) that are resistant to bacteria. For the pageant mom in you, they come in a host of colors and prints, like the "Ivy League" striped or "Cherry Blossom" floral collections. Add an engraved crossbones tag, and pick up wag-worthy toys, like the super durable Roxxter chew toys.
GARDEN SUPPLIES: Pike Nurseries
The store's soils, bark, mulches, specialized fertilizers, and pest control formulas run the gamut, but the real prizes are the rows of fresh and exotic buds. For yards and porches that call for parties, fill your cart with decorative pots and planters, weather vanes, and bird baths. And for days spent feeling the soil beneath your fingers, add wide-brimmed sun hats and cheery gloves.
WOMEN'S SHOP TO FIND TRENDS FIRST: Neiman Marcus
Whether you're hunting for neon Diane von Furstenberg resort wear in mid-January or a Vince faux-fur vest in mid-July, you'll find it first at Neiman Marcus. And because the store rolls out each season's Lookbook so far in advance, you can shop entire departments worth of fresh styles rather than scattered pieces, months before the weather catches up.
VINTAGE CLOTHING: Hong Kong Vintage
This Plaza Midwood spot is teeming with golden oldies that have maintained equal parts panache and quality. Whether it's a pair of worn-in leather boots from the 1960s, a fringed jacket whose 1970s heyday has been reclaimed, or a full-skirted shirt dress that looks as though it's been lifted right from the set of Mad Men, when you're looking to pad your wardrobe with the unexpected and unique, you come here.
CIGARS: Tinder Box
An hour reclined in one of the leather chairs of the Tinder Box's swanky smoker's lounge will make you a believer that, after two decades in its SouthPark spot, it's still the supreme stogie source in town. The store is the state's sole Davidoff purveyor, and one of only a handful in the country to carry names like Romeo y Julieta, Trinidad, and H. Upmann, Four Kicks, and Padron TAA Signature. The people behind the brands, such as George Padron and Avo Uvessey, are even known to visit the store.
MEN'S ACCESSORIES: Revolution
From the M. Cohen necklaces that are all beaded by hand to the Chan Luu for Men wrap bracelets that stack the cases at Revolution, you know you're getting your hands on fresh gear. Dare to be different in antique silver Spy Optic aviators; ditch your boring gold wristwatch for one banded in chrome or leather by Meister or Vestal; and forget the standard tan weekender in favor of a Ben Sherman barrel bag in navy and kelly green.
LINGERIE: I.C. London
For utterly feminine and delicate Simone Perele and Cosabella sets, I.C. London is the shop to visit. For the ease of sweats but the sensuality of silk, stock up on soft cotton camis and boy shorts, skin-kissing after-bath wraps, or slinky babydolls. And to obscure lines and imperfections, load up on dimmers and shapers by the likes of Yummie Tummie and Nu Bra. You'll find a specialized range of sizes, including 28-46 and cups A-M.
STATIONERY: Paper Source
At Paper Source, the creative product possibilities don't end with adorable zoo animal prints or Vera Wang parasol cutouts. The luxe textures, such as embossing that mimics wood grain detail, and handcrafted touches, such as hand-dyed papers and pearl borders, take note-writing to new heights.
MEN'S SUITS: Taylor Richards & Conger
The racks at TRC boast the likes of Z Zegna, Brunello Cucinelli, and Canali. When the prêt-à-porter sizes aren't perfect, the shop's made-to-measure suite steps in. Whether it involves splitting yokes on sleeves or creating pleated skirting inside pant waists, the staff will tailor to fit your personality and frame. Bonus: These doctors of style make house calls.
CANDLES: Luxe Home Couture
This East Boulevard boutique carries seven hard-to-find candle lines: Astier de Villatte, DayNa Decker, Christian Tortu, Aquiesse, Delirium, Belle Fleur, and Nest. Whether you're looking to fill your mountain cabin with the crisp fall scent of Delirium's "Sweet Tobacco," relax in the tub with the fresh clean smell of DayNa Decker's "Artemisia," or bring spring to your back porch with vibrant floral notes from Belle Fleur's "Mayan Tuberose," your search stops here.
BATH PRODUCTS: Cottage chic
Among the medley of sophisticated soaps, skin serums, and body butters that fill Cottage Chic's shelves are standouts that include the Pre de Provence collection of bath salts, shower gels, and bar soaps in scents like mint leaf, rose petal, and milk, and the elizabethW line of bath fizzes, lotions, and washes. The staff fave is Absolis Patyka, a luxuriously organic French line comprised of 111 essential oils.
DRESSES: The Pink Hanger
With steady shipments of Amanda Uprichard, Rachel Pally, Isabel Lu, and Milly, The Pink Hanger ensures you'll find a stylish frock to fit the occasion and eliminate the hunt. This spring and summer, look for breathable maxis emboldened by flirty stripes, silky little numbers in punchy colors that span the color spectrum, and structured shifts that flaunt funky, ladylike notes, like ruffles and lace. Plus, the sale rack is consistently full.
CASUAL MEN'S CLOTHING: J. McLaughlin
With a selection sorted by season and a staff on standby to help with sizing, you'll leave equipped with twill shorts, lightweight rugby tees, and breathable button downs in plenty of print options for spring and with crewneck sweaters, thick, neutral-hued trousers, and warm socks for winter.
ONE-STOP SHOP: Monkee's of Morrocroft
If you only have two hours to put together an ensemble that'll make the host of Saturday night's shindig rife with hanger envy, make a trip to Monkee's. Think: racks of winning party dresses by Trina Turk, chic tops, skirts, and tailored pants à la Alice + Trixie; rows of sparkly Kate Spade and patent Pour La Victoire heels; shelves stacked with Tory Burch handbags and shiny clutches; and jewelry busts buried under strands of gorgeous trinkets.
RUNNING SHOES: Run For Your Life
Managed by a staff of passionate runners, Run For Your Life's core mission is to help you find the perfect-fitting shoe, which means performing a gait analysis, identifying the shape and arch of your foot, and taking into account your activity level. The shop's shoes, which come in expert and hard-to-find lines, including Mizuno and Brooks, are loved for their durability; you'll find styles that can withstand six to twelve months of wear and tear rather than the usual three or four.
BOOKS: Park Road Books
The staff here are voracious readers of new fiction (the store's specialty). They also have an uncanny ability to recruit top authors, such as Pat Conroy and Lisa See, to visit the shop for signings. In search of something obscure or out of print? They'll gladly hunt for it.
MODERN FURNITURE: Furniture Connector
Take a walk around the Furniture Connector with owner Rodney Hines, and he'll point out his favorite pieces in a showroom that fuses reclaimed materials and contemporary style. Top finds include driftwood-and-beaten-metal kitchen tables, Four Seasons wingback chairs and rockers covered in printed fabrics, and quilted leather couches loaded up with funky Villa Home throw pillows.

PARTY SUPPLIES: Paper Skyscraper
No matter the grandeur of the fiesta, Paper Skyscraper has everything you need. Load up on invitations and announcements that fit any style, from whimsical to traditional, seasonal to timeless, kid to adult, and printed to plain. For old school flair, grab a Pin the Tail on the Donkey set, candles that spell out "Lost Count," and funky party hats.
FASHION AND HOME DECOR UNDER ONE ROOF: B.D. Jeffries
Men will find leather Moore & Giles portfolios and wallets, hand-stitched needlepoint belts, Bird Dog Bay neckwear, and chic cuff links. For the ladies, the shelves are stocked with Stephanie Johnson jewelry rolls, Longchamp totes, Verona scarves, and high-end handbags. But the real focus is the bevy of housewares including William Yeoward crystal, Waterwave cashmere blankets, Juliska china, animal hide rugs, and antique furniture.
BRACKET SMACKDOWN WINNER: Linens– Isabella
There are places to find the sheets, the shams, and the duvets, and there are places to find the inspiration that takes them from pieces of fabric to pieces of a home. It isn't Isabella's impressive selection of luxury linens that calls you into the shop, it's the confidence that—thanks to an impeccably decorated interior that incorporates every product, and a skilled design staff—you'll leave with a blueprint for your new bedroom.
OFFICE SUPPLIES: Paper Twist
At Specialty Shops on the Park's Paper Twist, the multitude of practically coded and brightly colored organizers make keeping it all together more fun. To organize cluttered desks, pile up on Semikolon and Russell+Hazel office products, including patterned folder boxes and file trays, desk blotters, calendars, and handmade jotters. Stylish paperweights and leather pencil holders pull it all together, while funky accessories, like penguin-shaped paper clips and colorful erasers, add flair.
MUSIC: Manifest
Adam Whitlow
When it comes to carrying music for Deadheads, Beatles maniacs, and Elvis enthusiasts, Manifest has made its name known. This no-frills superstore has rack upon rack of new and used CDs, DVDs, and LPs that span Springsteen to Sinatra, Black Sabbath to Black Keys, and Louis Armstrong to Lil Wayne. On top of boasting the largest collection of any music joint in town, Manifest offers buy-backs on anything in good condition.
HOSTESS GIFTS: Green with Envy
For hostess gifts that feature style, practicality, and a little flair, Green with Envy should be your go-to. For your dachshund-doting neighbor, wrap up a hand-painted wall sign that reads "Husband and dog missing … Reward for dog." For your wine connoisseur sister, a quartet of decorative wine glasses or a sculpted iron wine rack. And for the June Cleaver of your crew, a sterling silver cheese platter and matching spreaders.
LIGHTING: Modern Lighting
Looking for traditional fixtures to fit your French country sunroom, modern fixtures for your granite-coated kitchen, or rustic fixtures for your game lodge? Modern Lighting carries pendants, chandeliers, cable and rail systems, wall sconces, ceiling fans, table and floor lamps, and more. The East Boulevard showroom features Bocci, Hampstead, Modiss, and Lumina, among dozens more.
ANTIQUE FURNITURE: LaDonna Antiques and Interiors
LaDonna Harris has acquired a bounty of eighteenth- , nineteenth-, and mid-twentieth-century treasures from France, Sweden, and Italy. Picture a nineteenth-century French carved wood settee or an early twentieth-century Italian coffee table shining beneath a ceiling full of ornate eighteenth-century French chandeliers. Harris adds new upholstery to 90 percent of her pieces, and she even repurposes eighteenth-century French candlesticks into lamps.
YOGA CLOTHING: Lululemon Athletica
Lululemon Athletica is the top source for everything to outfit your downward dog days. Features like chafe-resistant flat seams on cropped pants, lightweight wicking fabric on sports bras, and removable cups and adjustable straps on tanks allow you to contort without fussing over your outfit. And with community events such as complimentary yoga classes each Saturday, the offerings go way beyond the gear.
BRACKET SMACKDOWN WINNER: Boutique for Local Jewelry- Scout & Molly's
The sheer volume of locally made jewelry makes Scout & Molly's the top stop for glitzy accessories. The selection of bangles, bracelets, rings, necklaces, and earrings in dangles, drops, hoops, and studs is second to none. And with designers separated into individual sections of the shop, each gets her own stage