2012 City Enhancement Draft: Charlotte, You're on the Clock
What features should Charlotte draft and trade for to make ours a better city? Our experts represent the CLT at the inaugural 2012 City Enhancement Draft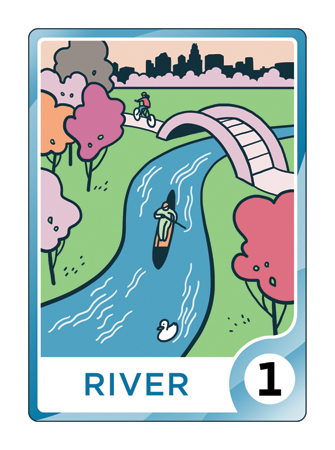 It's that time of year—the time when the Panthers and Bobcats undergo their arduous acts of self-analysis and self-betterment through their respective drafts. But what if the city of Charlotte had an opportunity to do the same? What if we could enhance our standing and quality of life through a draft where we select and trade for features that could make this a better city? Our crack staff of draft experts (read: editors) took it upon themselves to represent the Queen City at the inaugural 2012 City Enhancement Draft. Let's follow the action:
1. With its first-round draft pick—seventh overall—the city of Charlotte selects a river. All great cities have a river running through them, and a major body of water is one of the few things that Charlotte's "rich uncles," as former BofA chieftain Hugh McColl lovingly calls his old bank and the former Wachovia, couldn't provide. Now, Charlotte will be looking to trade for one of those weird hybrid bus-boat thingies that Boston has.
2 .Charlotte receives a phone call from Seattle's mayor, Michael McGinn, proposing a trade of the Space Needle, Starbucks, and Seattle's waterlogged weather in return for the Bobcats (to replace the departed Supersonics), our second-round pick, and Carolina blue skies. While intrigued by an offer of anything of value for the Bobcats, our draft experts summarily dismiss the idea of giving up our Carolina blue skies. That dog just won't hunt. Ever.
3. With its second-round draft pick, Charlotte selects a legit public transit system. Sure, a quest for public transportation has to start somewhere, but preferably that start would've happened prior to 2007. Breaking of ground for London's Tube? 1863. Chicago's L? 1892. A real city needs a real public transportation system—one that actually "links" more than two areas and encompasses a system of tracks comprised of more than two cars that covers more than, you know, nine miles.
4. After a flurry of negotiations, Charlotte agrees to trade its third-round pick and talented-but-unhappy prospect Ballantyne to Atlanta for cash, a suburb to be named later, and a Planet Hollywood franchise. Ballantyne was once looked upon as a key part of the city's future, but it had recently demanded a trade after what it termed "philosophical differences" arose with management. Charlotte immediately releases Planet Hollywood.
5. Charlotte contacts the District of Columbia looking to trade its nonsensical road
patterns and fourth-round pick for D.C.'s intuitive grid system. Case in point: Idlewild/Rama/Sardis/Fairview/Tyvola. Seriously, why? And we won't even start on Queens and Providence Roads. Charlotte seeks L'Enfant's lay of the land—where letters intersect with numbers and a smattering of roundabouts spice up functionality. D.C. asks Charlotte to sweeten the deal. The city offers Ric Flair. The deal falls apart.
6. With its fourth-round pick, the City of Charlotte selects a real city park. No offense, Freedom. But New York has Central. Chicago has Grant. San Francisco has Golden Gate. We need a large, culturally unifying outdoor destination that features seasonal festivals, outdoor art performances, nature preserves, tons of eclectic recreational activities, and concerts with top-tier artists. What great city doesn't have a truly great park?
7. The City of Milwaukee calls offering its harsh winters and fifth-round pick in exchange for Charlotte's once-a-year, one-to-three-inch Harris Teeter–run-inducing wintry mix and our cankerworms and tree bands. And while nothing kills the awe of gorgeous, centuries-old Myers Park magnolias like black bands of goo covered in dead bugs, this trade is just not happening. You're welcome to our worms, but we'll keep our wimpy winters, thank you very much.
8. Charlotte agrees to trade its fifth-round draft pick, the first two weeks of spring weather, and the lights atop the Duke Energy Center to Boston for twelve downtown stores and Boston College. This is a classic win-win trade. Bostonians are desperate for a shortened winter and they won't even miss Boston College. Charlotte has longed for retail uptown and had been looking to expand its portfolio of universities. Getting an ACC school is a bonus.
9. Ever since The Firebird built its nest in front of the Bechtler, the city has been moving forward on the public art front. Yet still needing more, Charlotte uses its sixth-round pick to select an authentic, instantly recognizable cultural icon. St. Louis has the arch. Paris has the Eiffel Tower. And Rio? Rio has Jesus. Every major city needs a postcard prop. Bank buildings and sports stadiums need not apply.