2013 CIAA Week Parties and Events: Sunday, March 3
Your guide to the hottest parties and events during the weeklong 2013 CIAA Tournament in Charlotte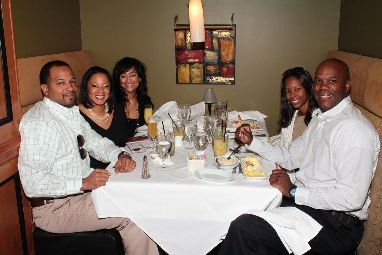 Compiled by Jarvis Holliday, @HollidayInk
The annual CIAA Tournament is taking place in Charlotte for the eighth consecutive year, with events scheduled from February 25 to March 3, 2013. While there will be five days of college basketball games going on between the men's and women's teams of the Central Intercollegiate Athletic Association (CIAA) at Time Warner Cable Arena, the many surrounding events and parties create just as much excitement and draw tens of thousands of visitors.
Below is a list of events scheduled for Sunday, March 3. Please use the website listed for each event to verify information. Advance tickets can be purchased at many of the websites as well.
Click here for the rest of the week's events.
Click here if you would like to submit an event to be included in this list.
# Denotes an official CIAA Tournament event
This list will be updated weekly with additional events, so check back soon.
UPDATED: 2-26-13

Sunday, March 3

Panache—It's Just Brunch
Gather your friends and family for this annual farewell brunch, with live jazz by Acoustic Soul. Order food from the à la carte menu and enjoy great cocktails. Presented by Digital Divas. 10 a.m.-3 p.m. Free admission; reservations suggested by calling 704-338-9444. Ruth's Chris Steak House, 222 S. Tryon St., digitaldivasevents.com.
# CIAA Toyota Fan Experience/Champions Day
It's the official conclusion of the 2013 CIAA Tournament, where the men's and women's basketball champions will be honored. The event will also feature fun and activities for fans, including prize giveaways, video games and interactive zones, celebrity appearances, and performances by popular musicians (click here to see schedule). Noon-5 p.m. Free. Charlotte Convention Center, 501 S. College St., ciaatournament.org.
Stupid Dope Day Party
Keep the party going, with music by DJ Frosty, DJ Kryptonite, and DJ T.Mobile. Hosted by Hypeman Coop and DJ T.O. Drink specials offered all day. Presented by Stupid Dope Moves. 2-7 p.m. Apostrophe Lounge, 1440 S. Tryon St., stupiddopemoves.com.
The Sunday Sendoff
It's one of the final parties of the weekend, taking place for the third straight year. Music by DJ A Minor and Mr. Incognito. Presented by QC Exclusive Promotions. 10 p.m.-2 a.m. Free before 11 p.m. with RSVP; VIP tables available. Suite, at EpiCentre, 210 E. Trade St., sundaysendoff.eventbrite.com.
Yard and Foreign Caribbean Swagging
Featuring Jamaican musicians Mr. Handsome, Super Slick, and Full Effexx, and singer Mike from St. Maarten. Presented by Mac's Music Production. 8 p.m.-4 a.m. $12. Club Crystal, 3018 The Plaza, facebook.com/ClubCrystalOnThePlaza.
That's My DJ: Midday Sunday Sendoff
After you've partied all weekend, you're invited to party one more time with DJ Kid Capri, DJ SNS, DJ Kash, DJ Pnut, and DJ Bro-Rabb. 2 p.m.-2 a.m. Free with RSVP. Whisky River, at EpiCentre, 210 E. Trade St., thatsmydj.eventbrite.com.
Communion: The Tournament 2013 Edition
This new, monthly party series returns for its second installment, this time to cap off Charlotte's most eventful week. Featuring music by DJ QuickSilva from the DMV and DJ LS One from Miami. Presented by The Sol Kitchen, A List, and Dynasty 5. 10 p.m.-2 a.m. $10 and up in advance. Label, 900 NC Music Factory Blvd., eventbee.com/v/labelsunday.

Visit www.charlottemagazine.com/ciaa for our comprehensive coverage of the events and parties surrounding the 2013 CIAA Tournament.