2014 BOB Awards: Nightlife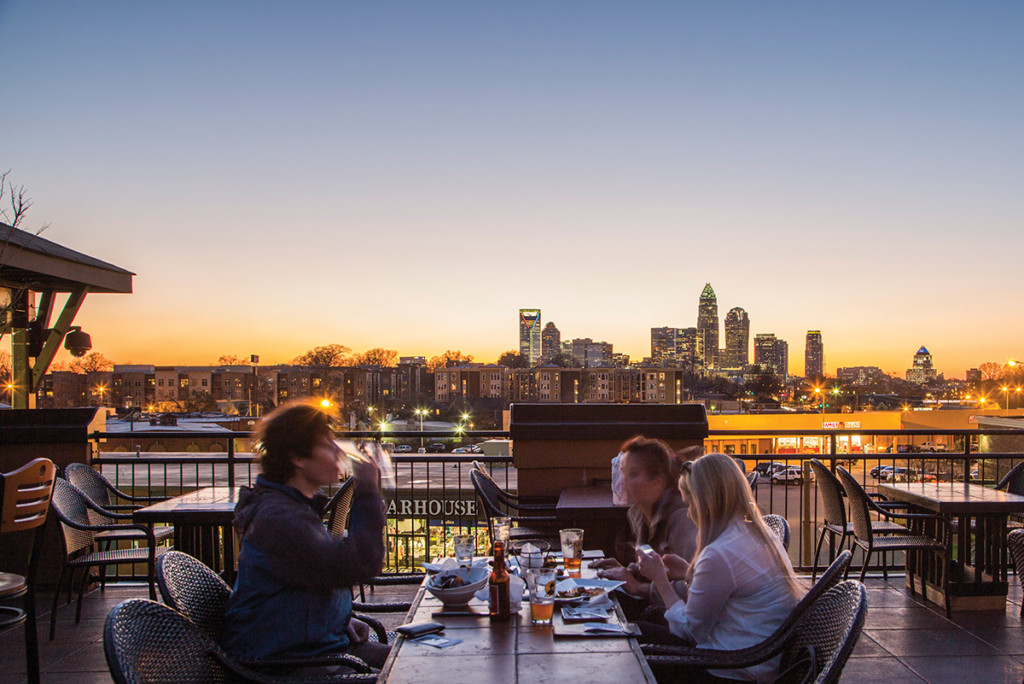 Bar Patio or Rooftop
The Peculiar Rabbit
1212 Pecan Ave., 704-333-9197
Need to update your Facebook cover photo? Go to this restaurant and bar's third-floor rooftop and snap a picture of yourself with the uptown skyline in the background. Then stay awhile and take in the scene and the drinks and the food. Take notice of the sounds below you—conversations and music blending with busy Plaza Midwood street life.
---
Nightclub
Whisky River
EpiCentre, 210 E. Trade St., 704-749-1097
Locals go here because it has something for everyone; out-of-towners try it because they've heard Dale Earnhardt Jr. owns the joint. Together the two crowds pack the place for good bar food and drinks, a variety of DJs, live national acts, a large dance floor, and special themed nights celebrating everything from the city's pro teams to holidays. If none of that appeals to you, there's always the mechanical bull.
---
New Addition to the Scene
Bubble
EpiCentre, 210 E. Trade St., 704-733-9427
For three years, this place was "coming soon." When Charlotte's first champagne bar and lounge finally opened last May, it proved to be worth the wait. Guests sit at coveted semi-circle banquettes, popping bottles of Dom, Moët, and Veuve, and living out their music video fantasies.
---
Hotel Bar
The Ritz-Carlton, Charlotte
201 E. Trade St., 704-547-2244
Yes, most celebrities visiting the city book rooms at the Ritz, but the hotel's bars—the Lobby Lounge and Urban Sip on the 15th floor—attract the local social elite. See and be seen while listening to live jazz bands and sipping on craft cocktails and premium Scotch.
---
Sports Bar/Place to Watch the Game
All American Pub
200 E. Bland St., 704-370-2000
It's one of the most popular places to watch Carolina Panthers games. But fans also flock here for big college football and basketball matchups, enticed not only by the abundance of seating and TVs but by the beers and burgers too.
---
Happy Hour
Cowbell Burger & Whiskey Bar
201 N. Tryon St., 980-224-8674
The $5 bar bites menu (sliders, fried pickles, and more) is good for your taste buds and wallet. And the drinks menu appeals to both the sophisticated drinker (more than 75 whiskeys and Scotches) and the playful (spiked milkshakes).
---
A Charlotte native, Huebner started his career as a baker.
Bartender/Mixologist
Stefan Huebner, Heist Brewery
2909 N. Davidson St., Ste. 200, 704-375-8260
In the growing local-brewery scene, Heist stands apart because it also excels at craft cocktails, thanks to bar manager Stefan Huebner. His proficient use of fresh fruit and vegetables could chart the food pyramid, and he's mixing produce with premium liqueurs, boutique gins, and sophisticated vodkas. His Reyka cocktails will make you anticipate summer, and his Bloody Mary is one of the reasons Sunday brunch here is so popular.
---
Fundraising Gala
The Great Gatsby Gala
gatsbygala.org
This August event attracts hundreds of people, from young professionals to the people who helped shape this city. The theme is Roaring '20s, the jazz is live, the food is upscale, and plenty of money is raised for the Greater Carolinas Chapter of the National Multiple Sclerosis Society.
---
The entrance to Jeff's Bucket shop stands out on Montford Drive.
Nightlife Neighborhood
Montford Drive
In a city where shopping centers spring up overnight and the term "mixed use" is overused, Montford Drive is an ode to organic growth. The stretch of restaurants and bars lining this two-lane neighborhood street makes it the place to be several nights a week. Whether you want to grab a beer at Angry Ale's, bar-hop to places like Jeff's Bucket Shop or Brazwell's, have a nice dinner at Good Food on Montford, or even go bowling at Ten Park Lanes—it's all within a stroll.
---
Nightlife Renovation
Sip
200 N. Tryon St., 704-334-3315
After three years as Town Tavern, attracting a mostly college-aged crowd, this two-level space rebranded itself as Sip in spring 2013. New décor, a new drink menu with more attention to craft cocktails (rather than the Jägerbombs of old), and a new commitment to partnering with nonprofit organizations to host afterwork fundraisers helped strengthen the establishment's appeal to professionals. And partiers, don't fret: You'll still find some of Charlotte's top DJs spinning downstairs.
---
Soul Gastrolounge attracts crowds at all hours of the night.
Bar/Lounge
Soul Gastrolounge
1500-B Central Ave., 704-348-1848
Walk in here after work, during dinner, or late at night, and you'll find a great crowd. Here's why: Soul combines quality cocktails and small plates with a great setting. Take a seat at the bar, lounge area, or in one of the booths, or head outside to the patio.
---
Cigar Bar
Cutter's Cigar Bar
100 W. Trade St., 704-358-6556
Stepping into this bar is like stepping into a scene from Mad Men. The cigar smoke is thick, and most guests prefer their drinks served neat. The lounge area resembles your rich grand-uncle's study, and a seat at the bar will almost always yield interesting conversations.