2014 Fall Arts Preview
Bob your head—or laugh it off—with our picks for the season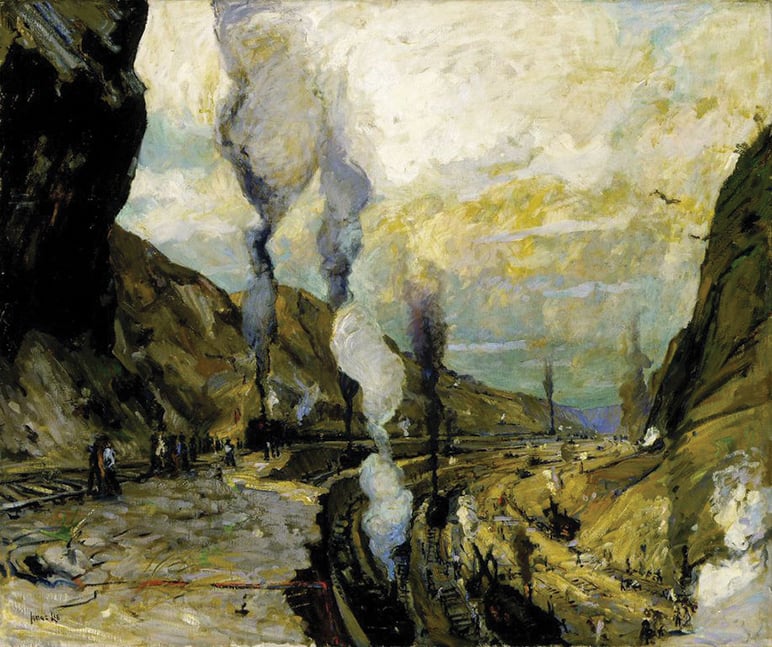 MUSEUMS
* He's known as the "King of Conscious Hip Hop," and he's coming to the 2014 Gantt Symposium. Rapper, actor, philanthropist, and artist Common will help mark the 40th anniversary of the Harvey B. Gantt Center for African-American Arts + Culture Center by speaking at the annual symposium at the Knight Theater on October 2.
* There aren't any Beatles in the British Invasion exhibit at the Bechtler Museum of Modern Art this fall, but the work's impressive. Check out pieces by Henry Moore, Ben Nicholson, Bridget Riley, Lynn Chadwick, and Barbara Hepworth, starting September 10.
* Also, the Bechtler's Modernism + Film series this season offers The Vision of Paolo Soleri: Prophet in the Desert (September 26), If You Build It (October 17), and Sol Lewitt (November 21).
* Mint Museum Uptown debuts two exhibits this fall that will continue into 2015. Connecting the World: The Panama Canal at 100 (beginning November 1) marks a century since the titular ship canal was born by highlighting the work of American artists who documented its construction. Beyond Craft: Decorative Arts from the Leatrice S. and Melvin B. Eagle Collection (beginning September 6) showcases studio objects made between the 1960s and 2000s. The Eagles collected decorative art—such as furniture, glass, fiber art, sculptures, and paper works—for decades, and now, the rest of the world can enjoy it.
***
THEATRE & COMEDY
COURTESY
* Once, the 2006 film that starred musicians Glen Hansard and Markéta Irglová, captivated audiences. But the Tony-winning stage adaption takes things a bit further. The voices are live. The instruments are live. It's the kind of show that warrants multiple viewings, but certainly at least once while it's here. September 30 through October 5 at Belk Theater.
* Return to the Belk Theater November 4-9 for Rodgers and Hammerstein's Cinderella, an update on the classic rags-to-riches story. Like Once, this musical is a Tony-winner.
---
* Comedian and Charlottean Julie Scoggins is part of a network of road comics throughout the country—the kind you can see for yourself every week at the Comedy Zone. She's among the headliners making the rounds at the club in October, but unlike peers Tommy Davidson (October 16-18) and Carlos Mencia (October 23-25), one of her shows comes with a cause. Feathers, Friends, & FunDS, A Comedy Benefit for Companion Parrots Re-homed has a funny name but serious goals. I talked with Scoggins about comedy in Charlotte, starting out, and the October 8 benefit that kicks off a string of local dates.
LOGAN CYRUS
AS: What's the cause for this benefit?
JS: Companion Parrots Re-homed is a rescue organization dedicated mostly to parrots that need homes. With dogs and cats, they live about 15 years, but small parrots live to 25 years and big ones can get to 80. It's a lifelong commitment. People will frequently get a bird, and then their lives will change. So what do you do? This organization educates folks and helps against potential relinquishing.
AS: How did you get hooked up with them?
JS: I have a bird myself—a Green-cheeked Conure—that I love to pieces. [Not long after I got the parrot], I found Parrot University in Pineville. It led me to a relationship with this group. I'd take all the birds if I could. But I can't. My bird goes to Home Depot with me; she rides on my shoulder. But really, she's a very domesticated bird. Her name's Cheeky Bird.
AS: You're a touring comedian. Would you call the Comedy Zone your home club?
JS: Oh, yeah. I started with them 16 years ago, in 1997. I had to work my way up. I started out with open mics. You don't get paid anything for those; you just get better. You go to open mics, and then you host shows. After that, you become what's called a "feature act," and then eventually, you headline, once you get good enough.
AS: What's different about the Charlotte comedy crowd?
JS: Well, I'm from here; I'm home. I have a better relationship here than everywhere else in the country. I don't need a translator; I know sweet tea is the law.
Scoggins performs at the Comedy Zone October 8-11. You can also hear her on local radio shows and the nationally syndicated John Boy & Billy Radio Show.
---
* Theatre Charlotte has two well-known shows this fall:
>> First up is the song-and-dance-driven Footloose. From September 5-21, audiences can travel to Bomont, a town that has banned contemporary music and dancing. And then, as with most stories from the 1980s, one teenager changes everything.
>> The second offering, from October 24-November 9, takes attendees to a Depression-era courtroom in To Kill a Mockingbird. This drama about race and prejudice proves that classics never go out of style, and we can never stop learning from them.
* Charlotte Ballet, formerly known as N.C. Dance Theatre, enters its first fall with its new name. The 44-year-old company brings Dangerous Liaisons to the Knight Theater in October.
* The Giver hit the silver screen on August 15, but if you want more from the adaption of the 1993 story, check out Children's Theatre of Charlotte's take during its September 26-27 run. The narrative of a utopia with a dark past is part of the group's fall season. For lighter fare, the Children's Theatre has an adaption of 101 Dalmatians, coming to McColl Family Theatre September 19-October 19.
---
MUSIC
COURTESY
* Rock enthusiasts know the music of Ben Folds. Since the 1990s, the Chapel Hill native has thrilled audiences with his kinetic brand of piano-driven tunes. His return to North Carolina on September 27 will be marked by fanfare, with the Charlotte Symphony backing him at Belk Theater as part of the symphony's Pops series.
"We're trying to remain relevant with what audiences want," says Bud Simmons, director of operations and Pops programs for the symphony. "Ben Folds is a popular artist with kind of a classical edge. He actually has written a concerto that the symphony will perform with him."
The Pops series was created to combine orchestra music with radio favorites. Symphony season-ticket-holders will be there, but organizers say the Pops shows attract a wider audience. They're targeting casual symphony-goers, or even attendees who are seeing their first orchestra performance. Folds, a North Carolina Music Hall of Fame inductee, has that kind of pull, with a history of collaborating with artists across genres and even a stint as a judge on the reality TV show The Sing-Off.
"The series has become something of an entry point," Simmons says. "And hopefully, it will lead to audiences wanting to see more of the symphony and buy tickets to our other programs."
Playing with someone such as Folds is also a welcome change for the orchestra members. "They love to show
all that they're capable of," Simmons says.
Albert-George Schram will conduct this performance.
The Folds show is just one of the Pops offerings this fall. A John Denver Celebration celebrates the folk legend's career November 7-8, and Cirque Musica mixes circus performers and classical music November 21-22. Other symphony offerings: Beethoven's Eroica (September 19 and 20), Schubert's "Tragic" Symphony No. 4 (October 10-11), Bachtoberfest II: Bach & Beer (October 24), Beethoven's Emperor Concerto (October 21-November 1), and the Brahms Requiem (November 14-15).
---
* One Direction. September 27. PNC Music Pavilion. Pass it on to the nearest teenager.
CAMILLE NOLAN
Taking Back Sunday plays the Fillmore in October.
* Taking Back Sunday was born out of the Long Island hard-core scene, but members Adam Lazzara and John Nolan call NoDa home. Their October 8 performance at the Fillmore is considered a "hometown" show, with fellow rockers The Wonder Years and Modern Baseball joining the bill. In an interview for the magazine's Revue blog last fall, Nolan said he's enjoyed his first few years as a Charlottean. "We like living in a place where you can just walk to get food or go out at night," he said.
* It's not often you see two virtuosos in a single evening. Mandolinist/songwriter Chris Thile and bassist/composer Edgar Meyer are both MacArthur Fellows, and their Grammy-winning work is in its most raw form on the stage. The Knight Theater (October 5) is a fittingly intimate venue to showcase them.
* St. Paul and the Broken Bones is quickly becoming one of the most exciting bands in the South. You can see the Birmingham soul act at the Neighborhood Theatre on October 14. Now's a good time to see them, because soon tickets to their shows will cost more than this one, which is $15.
COURTESY
Ed Sheeran performs at the Time Warner Cable Arena this fall.
* From London coffee houses to the Time Warner Cable Arena, singer-songwriter Ed Sheeran's folk-pop style is now embraced by fans worldwide. On September 11, see something different for the arena backdrop.
* Just as with its spring season, the Fillmore's fall line-up is sure to produce several sold-out shows. Coheed and Cambria performs the entire, certified gold record In Keeping Secrets of Silent Earth: 3 (September 21), Nick Carter & Jordan Knight bring a heavy dose of boy-band nostalgia (October 15), and the Southern boys in The Drive-By Truckers make their Charlotte return on November 1.
***
EVERYTHING ELSE
* At the annual Charlotte Oktoberfest (September 27) at the NC Music Factory, local acts Stella Rising and U-Phonik will perform. The first is a female-fronted, rock-pop experience; the latter hails from Canada, but brought its rock to the Queen City in 2001.
* For 50 years, Festival in the Park has invited Charlotteans to enjoy food, music, and art. It started in the city's humbler days, but the festival has grown to accommodate Charlotte's ballooning population. This year's festival runs September 19-21 and includes main-stage performances by Madison Lucas & Modern Moxie, Analog Daze, and Grown Up Avenger Stuff.
* One of the most highly anticipated festivals of the season, Yiasou Greek Festival, runs from September 4-7 at Holy Trinity Greek Orthodox Church in Dilworth. Grab a gyro and roam the grounds, as you learn about Greek art and dance. And you won't want to miss the baklava.
* Each year, Carowinds transforms into Scarowinds, keeping the thrills at ground-level. This special section of the park (September 12-November 1) is dedicated to frightening you, with live actors portraying the undead.